First introduced by Apple in 2020, the MagSafe technology for smartphones quickly caught on. Nowadays almost all brands create phone models that use this technology. And such a wide variety of MagSafe-compatible power banks also appeared.
The key characteristics of such power banks are:
They can be easily attached to compatible phones
They offer 0.5 to one full recharge, depending on the phone's capacity
They are light and compact, easily fitting in a pocket alongside your smartphone
Although there are multiple options for MagSafe portable chargers out there, we settled on the models we believe are best. These have been directly tested by us and as such, we can stand behind them.
1. Anker 622 Magnetic Power Bank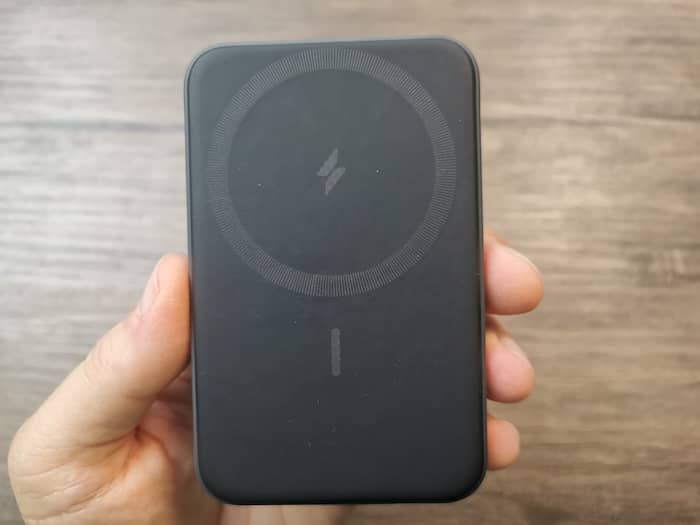 Capacity: 5000mAh
Max Output: 7.5W wireless charging
Ports: 1x USB Type-C
Size:4.13 x 2.62 x 0.5 in
Weight: 5 oz / 141 g
Or find it on Anker.com or on Walmart.com
The Anker 622 magnetic portable charger is designed with the Apple iPhone in mind, being compatible with all iPhone models starting with series 12. In fact, it directly competes with the Apple MagSafe power pack which costs almost twice as much. Frankly, it does the same job as the original and even comes with some extra features such as a foldable kickstand.
This small, nimble power bank can easily be attached to the back of any compatible phone. It can deliver up to 7.5W of power in the wireless mode, which is well above the standard 5W of power for similar portable charger models.
You can also charge incompatible phones or other gadgets using the USB type C in/out port. This one can deliver up to 12W of power so you'll see faster charging times than compared to Qi. charging.
The most fun feature of this power bank, however, is the foldable kickstand. With it, you can charge the phone wirelessly while watching a video for example. While the stand is folded, you don't even notice it. However, the one drawback is that you can't use the kickstand while charging the power bank via the USB type C port simultaneously.
Unboxing video
What we like about it
MagSafe compatible
Foldable kickstand
7.5W wireless charging output
What we dislike about it
Only a single charging port
Small capacity
Read our full review of the Anker 622 Magnetic Power Bank
2. RAVPower/iSmart Magnetic Wireless Power Bank
Capacity: 5000mAh
Max Output: 7.5W wireless charging
Ports: 1x USB Type-C
Size: 4.4" x 2.7" x 0.5"
Weight: 4.9 oz / 138 g
Or buy it on Ebay or Xcite.com
The RAVPower/iSmart Magnetic Wireless Power Bank is a bit more efficient when it comes to delivering an optimal charge for an iPhone 12. That's because the magnet wireless charge feature delivers power at 7.5W, which is faster than the standard speed. This feature only works after you press the power button. Additionally, the power bank comes with a bi-directional 10W USB Type-C input/output port to charge an iPhone 12 and other less power-intensive compatible devices. It will also charge the power bank itself, which takes 2.5 hours.
Although it doesn't have much capacity, rated at 5000mAh, it's still sufficient to charge an iPhone 12/Pro 0.8 times, iPhone 12 Pro Max 0.8 times, and iPhone 12 mini 1.2 times. What's even better is that it supports pass-through charging, allowing you to power up a connected device and the power bank at the same time.
Overall, the iSmart Magnetic Wireless Power Bank is designed with safety in mind. It provides protection against overvoltage, short-circuit, overheating, and overcurrent
Unboxing video
What we like about it
Very slim and compact
Trickle-charging feature
7.5W wireless charging output
Takes under 3h to charge
What we dislike about it
Only a single charging port
Small capacity
Read our full review of the RAVPower Magnetic Power Bank
FAQs
What is MagSafe anyway?
MagSafe, developed by Apple, is a magnet-based technology built into all iPhone 12 models. This accessory was originally designed for MacBook's charging cables, but now it's integrated into iPhone 12 models to offer a quick wireless charging solution.
iPhone 12 models contain a magnetic array that connects to other accessories with built-in magnets. For instance, a MagSafe power bank will directly attach to the back of an iPhone 12. One magnetic array consists of 18 rectangular magnets placed just beneath the wireless charging coil. Earlier iPhone versions have this wireless coil without the magnets, so those are not MagSafe compatible.
Is it better to charge with MagSafe?
Charging via MagSafe is faster if you compare it to traditional Qi wireless charging. It provides up to 7.5W of power compared to an average of 5W. So your phone will charge in a shorter amount of time. However, MagSafe is slower than traditional wired charging. So if you want to get your device up to 100% in the fastest way possible, then charging via a USB port is the way to go. Although faster than Qi, MagSafe is just a generally more convenient way of charging your phone.
Can MagSafe charging damage your phone?
There is a general misconception that magnetic fields can damage electronic devices. While this may be true if you set your devices near industrial-level magnets, this is not the case when it comes to average magnets. This is also the case with MagSafe, a technology that has widely been proven to be safe and not affects other devices it comes in contact with. So you should not worry that magnetic power banks can hurt your smartphone in any way. However, please make sure to always follow the manufacturer's instructions that can be found in the user manual which comes along with your charger.
Is it normal for the phone to become hot while charging using a MagSafe power bank?
Any charging process, be it wired or wireless, generates heat as electrons move from one batter to another. This is actually one of the reasons why not 100% of the power bank capacity can be used to charge your devices (more on this subject here). So it is normal to experience heat while your phone is being charged by a MagSafe power bank. If the heat becomes too intense, you should simply disconnect the power bank and let the devices cool off before resuming again.
Pros and cons of MagSafe power banks

Pros
Easy to use and carry around

Cons
A limited number of ports