iOttie iON Wireless Portable Charger at a glance

Key specs
Dimensions (LxWxH)
6.3 x 4.1 x 1.9 in
16.00 x 10.41 x 4.83 cm

Charging technology

PBE metrics
Affordability
249.56 mAh/$
Average
324.97 mAh/$
Portability
31.55 mAh/g
892.86 mAh/oz

Ports

Output: QC 3.0

Input:
Output: PD

Flight status
Status: Safe
The power bank is safe to take on board. It's under the specified TSA limit of 100 Wh. Read more about taking power banks on planes.

Other features

Charging capacity calculator
Use the search bar below and find out exactly how many times can the iOttie iON Wireless Portable Charger charge your smartphone battery

iOttie iON 1000mAh Wireless Portable Charger Review
The iOttie iON 1000mAh Wireless Portable Charger is a sleek and powerful battery pack that's capable of wirelessly charging Q-certified smartphones. It can also provide power to multiple devices at the same time via the bidirectional USB-C (Power Delivery) and USB-A (Qualcomm 3.0) ports. The 10000mAh battery can charge any Qi-compatible smartphones at standard charging speed. The max 18W output is perfect for you to charge your devices while you're on the go.
Charging technology
The iOttie iON 1000mAh Wireless Portable Charger supports USB-C Power Delivery, which offers fast charging while you're on the move. As long as you have a USB-C to USB-C cable, you can hook up your mobile device to the USB-C port, which doubles up as an input/output port. You can even use the USB-C port to replenish the wireless charger itself too.  There is also a USB-A port with Qualcomm 3.0 that's useful for providing a quick charge to the majority of Android smartphones and smaller gadgets like a pair of headphones. In total, the PD USB-C and QC 3.0 USB-A ports have a max output of 18W.
One of the most useful features on the power bank is the built-in Qi-wireless charging. Even though it refreshes your mobile device pretty slowly at 5W speed, it's still pretty handy if you don't have a cable with you. It's also convenient if you need it to replenish a device overnight while you're on a trip somewhere.
Qi-compatible Samsung smartphones and the iPhone X and iPhone 8 are the two different brands that are able to wirelessly fast-charge using this power bank. Samsung mobile devices are able to power-up at a speed of 10W with this power bank. Meanwhile, the iPhone X and iPhone 8 have a fast wireless charging speed of 7.5W. Any other Qi-compatible smartphone using the wireless charging feature will have a rating of 5W, so it's not as fast as the others. However, if you're using the wireless charging feature, the USB port will output 5W.
You can use both the wireless charging and USB ports to refresh up to three devices at the same time. The iOttie iON 1000mAh Wireless Portable Charger can power-up the iPhone 11 3.2 times, iPad 10.2" 1.2 times, and the Galaxy S10 up to 2.9 times. So overall, it can provide up to three charges for most devices.
This power bank also supports pass-through charging, so you can replenish the iOttie iON Wireless Portable Charger and a mobile device wirelessly at the same time. If you press the power button while it's refreshing, it will power the wireless coil.
Portability
With measurements of 6.3" wide, 4.1" long and 1.9" thick, this wireless charger is the perfect size to place on a desk and it isn't too big to put in a backpack, back pocket or a purse. Weighing 11.2 ounces, it's not too heavy to carry around with you when you're on the go. Part of the reason why it's bigger than other devices because it uses a wireless charging pad with USB ports and heat dissipation components.
You can take the iOttie iON 1000mAh Wireless Portable Charger with you if you're taking a flight somewhere. It only has 37Wh, which is safe enough for air travel and falls below the TSA's 100Wh limit.
It's also very similar in size to Rleron's 25000mAh wireless portable charger (6.49" x 3.22" x 0.59", 12 ounces) and Gnceei's 25000mAh wireless charger (7" x 4.3" x 1.3", 12.3 ounces). Depending on your needs, any one of these devices could be beneficial for you.
Look and feel  
The slim and stylish iOttie iON 1000mAh Wireless Portable Charger features a soft-fabric-wrapped heathered finish, giving it a striking appearance, available in ruby red or ash grey. All four rounded corners give it an enhanced, durable and smooth design while making it convenient to use whenever you're traveling. The compact build is also easy to hold onto, so you won't have to worry about it slipping out of your hand and potentially dropping it on the ground. Additionally, this package includes a short color matching USB-A to USB-C cable.
On the front face, you'll find a round charging pad with raised rubber to help keep your smartphone in place while it's wirelessly charging. It also uses a large single charging coil, which allows you to place the phone on the charger in a specific position.
At the top of the charger, you'll be able to find both USB-C and USB-A ports next to each other, along with the power button. Pressing the button will illuminate white LED lights that display how much power is remaining in the battery. This will be shown as a percentage, which can be found above the wireless charging pad on the front, just underneath the fabric.  There is also a small white LED on the power button that illuminates when your Qi-compatible mobile device is being replenished. If a device is not charging or when a smartphone is incompatible, a red light will be displayed.
Durability & build quality
Unfortunately, there aren't any shock-resistant or water-resistant ratings for the iOttie iON Wireless Portable Charger, but there are still some features that will keep it safe. On the back, you will find a heat ventilation, which will prevent the charger from overheating if you're replenishing two devices at the same time.
The iOttie iON 1000mAh Wireless Portable Charger is also Qi-certified, so you're ensured of a safe and reliable charging experience.
When you purchase this product, you'll receive a one-year warranty with a free 30-day return period. For peace of mind, the warranty covers products with a manufacturer's defect, products that sustained damages while being shipped, and products that stop working correctly.  You may also receive a replacement if you discover the device is defective, even beyond the 30-day refund period.

Pros
Qi-Certified wireless charging
USB-A port supports Quick Charge 3.0
USB-C port supports Power Delivery

Cons
Charging speed decreases if both port and wireless charging are in use
Final Thoughts
Overall, this unit features a soft-fabric wrapping that keeps it protected if it falls to the ground. The iOttie 1000mAh iON Wireless Portable Charger contains two USB ports that can provide quick-charging speeds for both the battery pack and any connected devices. This unit's 18W max output rating also delivers power to multiple devices at the same time. If you're searching for something that will wirelessly charge any of your Qi-certified devices while you're on the go, this product may be perfect for you.
Compare it with these other wireless portable chargers: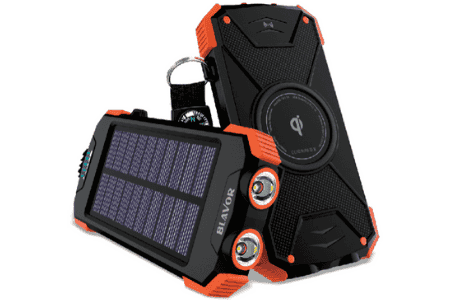 BLAVOR Qi 10000mAh Solar Portable Charger
The BLAVOR Qi solar power bank offers wireless and USB charging, and thanks to its solar panel, it's a great choice for powering devices while being outdoors.
Read More
Samsung Wireless Portable Charger 10000mAh
The Samsung Wireless Charger Portable Battery 10000mAh has an elegant design, and it offers two ways to fast charge your devices: wireless or via its USB port.
Read More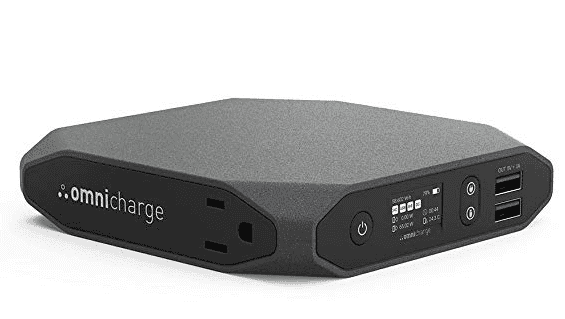 Omni 20+ Power Bank Bundle
The Omni 20+ Bundle AC/DC/USB-C Power Bank is a top-class portable charger. Robust and with a 20000mAh capacity, it charges multiple types of devices in one go.
Read More