iMuto 20000mAh at a glance

Key specs
Dimensions (LxWxH)
1.9 x 7.2 x 4.5 in
4.83 x 18.29 x 11.43 cm

Charging technology

PBE metrics
Affordability
mAh/$
Average
329.84 mAh/$
Portability
49.02 mAh/g
1388.89 mAh/oz

Ports

Output: 5V/2.4A

Output: 5V/2.4A

Input: 5V/2.1A

Flight status
Status: Safe
The power bank is safe to take on board. It's under the specified TSA limit of 100 Wh. Read more about taking power banks on planes.

Other features

Charging capacity calculator
Use the search bar below and find out exactly how many times can the iMuto 20000mAh charge your smartphone battery

iMuto 20000mAh Portable Charger Review
The iMuto 20000mAh Portable Charger packs a powerful punch and should be able to handle all your portable charging needs. It comes with some handy features, most notably an LED screen which displays an exact percentage of the battery's level. It also represents very good value for money, we challenge you to find a power bank offering 20000mAh at this price point. A great offering from iMuto.
Unboxing video
Capacity & Charging speed
Going by its full name, the iMuto Taurus X4 20000mAh Portable Charger is definitely not lacking in the power department. 20000mAh will go a long way, just check out our table below to get an idea of how many times you will be able to charge your devices.
A stand out feature of this power bank is its LCD screen which displays an exact percentage of the power left. Its standard practice for manufacturers to have 4 LED lights which indicate charge. In our experience, these are confusing, and often misleading. It really is a pet peeve of ours, and it is so refreshing to see iMuto let you know the exact remaining power. Kudos iMuto!
It sports a Micro USB 5V/2.1A input, which is a necessity for a charger of this capacity. We saw a full recharge in about 10 hours (no problems when you leave it to charge overnight). However, you will want to make sure you have a compatible wall charger to maximize its recharge speed.
The iMuto offers two output charging ports rated at 2.1A & 1A, which is fairly standard at this price point. Whilst there are certainly faster chargers on the market, we were very happy with the recharge speed of the iMuto 20000mAh Portable Charger. Like many power banks, the iMuto has smart power technology – basically the USB ports detect your device and intelligently deliver the fastest, safest charge possible.
We should also point out that iMuto claims that with a USB A to Type-C Cable this power bank will charge the new MacBook Pro. Unfortunately, we have not been able to confirm this, but its certainly an interesting selling point for MacBook Pro owners.
Look and feel
No power bank is perfect, and we think looks are one area where the iMuto 20000mAh Portable Charger does not excel. It doesn't look bad, it's just that it's not all that exciting. The term 'function over form' springs to mind. However, beauty is in the eye of the beholder – so please use your own judgment.
The iMuto 20000mAh Portable Charger has a two-tone plastic body of shiny black plastic, with a band of bronze plastic running around the outer edges of the device. At the top edge of the unit, you will find two USB output ports, plus a small LED flashlight that provides a reasonable amount of light. On the front side is the above-mentioned LED power indicator, and the iMuto logo etched into the plastic. To either side of the LED screen on the leading edges, you will find a micro-USB input plug and power button.
The unit comes with a USB charging cable, operating instructions and a sleek carry case.
Durability & Construction
The iMuto 20000mAh Portable Charger certainly feels well put together. There is no flex in the body, and the power button has a nice springy feel to it. The heavily rounded edges make it easy to pick up. It is made of plastic, which is not always the best news for durability, but it also helps keep the weight down. We've also heard pretty good things about the reliability of the iMuto 20000mAh Portable Charger. Overall it feels solid and well made.
Portability
When you're talking about a 20000mAh power bank, then portability is a relative term. And the iMuto 20000mAh Portable Charger tips the scales at 1 pound and measures 5.4 x 1.2 x 3.1 inches. This is by no means a small, light device. iMuto proudly proclaims that this power bank is 'smaller than an iPhone 6 Plus'. Whilst this is technically true when viewing the two devices from front-on, the iMuto is actually very thick. We can also tell you it weighs significantly more than the iPhone!
Whilst this is not the type of device you can slip into your back pocket, it certainly is possible to take it with you in a bag. Comparing it to other power banks in this power category it is shorter and squatter, which can make it easier to fit into some bags. Most competitors have opted for longer, thinner profiles. In terms of weight, the iMuto 20000mAh Portable Charger sits right in the middle of the pack. But it is cheaper than all of them.

Pros
Digital screen shows exact percentage of power left
Ridiculously good value for money

Cons
Not the sexiest looking power bank
Compare the iMuto 20000mAh Portable Charger with these similar power banks:
Anker Portable Charger PowerCore Essential 20000mAh
The PowerCore Essential 20000 is one of the latest Anker portable charger models. It features an updated look and premium design. With a generous capacity, it can keep you charged for days.
Read More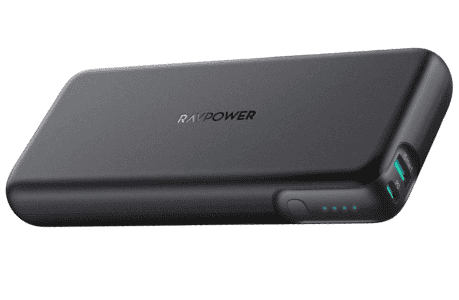 RAVPower 20000mAh PD 60W
Compact, portable, well-built, and equipped with PD and QC, the RAVPower 20000mAh is the perfect companion to charge your devices.
Read More
AUKEY 20000mAh Power Bank
The AUKEY USB C 20000mAh External Charger holds enormous resources to power up your adventures. It charges up to 4 devices in one go, on top of its sexy looks.
Read More