iHome Power Bank 10000mAh at a glance

Key specs
Dimensions (LxWxH)
5.31 x 2.75 x 0.55 in
13.49 x 6.99 x 1.40 cm

Charging technology

PBE metrics
Affordability
250.06 mAh/$
Average
341.92 mAh/$
Portability
33.00 mAh/g
934.58 mAh/oz

Ports

Output: 5V/2.4A

Output: 5V/2.4A

Input: 18W
Output: 18W

Input: 5V/2.4A

Flight status
Status: Safe
The power bank is safe to take on board. It's under the specified TSA limit of 100 Wh. Read more about taking power banks on planes.

Other features

Charging capacity calculator
Use the search bar below and find out exactly how many times can the iHome Power Bank 10000mAh charge your smartphone battery

iHome is an electronics manufacturer that's known primarily for its fun, quirky devices. From smart alarm clocks to mirrors to rainbow-colored lamps, they have their own unique style of home electronics. One of their more conventional offerings is the Ultra Boost line of charging accessories, which are designed to provide a variety of quick charging options for your devices. Today, we'll be looking at an iHome power bank with 10000mAh of capacity. Let's see how it performs compared to others in its class.
Charging Technology
This iHome power bank's 10,000mAh capacity is sufficient for charging an iPhone X about 3.5 times, or a Samsung Galaxy S8 just under 3 full times. It features a USB Type-C port that supports PD charging, which can fully charge a modern smartphone in less than an hour. This requires a compatible PD cable. There's one included in the kit, but it's Type-A to Type-C. This is designed for charging the iHome power bank itself and will get the job done in less than two hours. But you'll need a Type-C to Type-C PD cable to quick charge your devices.
The iHome Power Bank has a total of three charging ports: the USB Type-C PD port, which can be used as an input or an output, and two USB Type-A output ports. The USB Type-A ports have a shared capacity of 2.4 amps. Charging a single device will draw the full 2.4 amps through a single port. Plugging in two devices will reduce the flow to 1.2 amps through each port. All three charging ports, including the PD port, can be used simultaneously. In addition, there's also a Micro USB input port. Keep in mind, though, that fully charging three modern smartphones will fully drain your battery. The iHome Power Bank supports pass-through charging if you use the Micro USB input port. However, Micro USB will not keep up with the rate of drain if you're using the PD port or more than one of the other ports. It will, however, keep up with charging a single device via USB Type-A.
Portability
The iHome Power Bank measures just over half an inch thick, 5.3 inches long, and 2.75 inches wide. This makes it about the same size as a mid-sized smartphone in a plastic case. It's small enough to carry in your pocket, and can also be easily carried in a backpack or carry-on bag. It weighs 10.7 ounces, which is fairly light for a device of this size. It's actually lighter than an iPhone, so you won't have any worries about carrying excessive weight.
With a capacity of 37 watt-hours, the iHome Power Bank is halfway to the TSA's limit for carry-on travel. You'll breeze through airport security with nary an issue. This makes it a solid choice for business travelers, or for anyone who spends a lot of time in the air.
Look and Feel
This 10000mAh iHome Power Bank has a matte plastic finish that's attractive to look at. There's a small glossy iHome logo on the bottom corner. It's available in two different finishes: black and silver. The black design is one solid color, while the silver design is silver on both sides and black around the edges. The only other splash of color is the USB Type-A ports, which have orange tabs on the inside. This makes it easy to tell which way you're supposed to plug in the cable.
All four USB ports are positioned along the same side of the iHome Power Bank. If you want to charge more than one device with the power bank while it sits in a laptop bag pocket, this is a great feature. At the top corner, there's a row of four small LED lights, which indicate the current battery status. The lights will illuminate when a cable is connected, whether you're charging the power bank or charging another device. Otherwise, they'll remain off to save the battery.
Durability & Build Quality
The iHome Power Bank is designed more for travel and leisure than it is for intense activities. It's not shock-proof or waterproof at all. If you want to go hiking, camping, or rock climbing, leave this puppy at home where it will be safe. We haven't seen any reports of drop damage, but since this is a relatively new power bank, that's not necessarily telling us much.
The iHome Power Bank does offer some measure of protection for your device. For example, it has overheating protection, which prevents the power bank itself from getting damaged. It also comes with overvoltage protection, which ensures that your device won't get damaged due to excessive power levels. There's no information from iHome on how long this power bank is rated to last. That said, this is fairly common among portable power banks. iHome does offer a 12-month manufacturer's warranty, so you don't have to worry about any manufacturer's defects. Make sure to register your power bank in order to take advantage of this warranty.

Pros
Supports pass-through charging

Cons
Not shock-proof or waterproof
Final Thoughts
As you can see, there are a lot of reasons you might want to use the iHome Ultra Boost 10000mAh power bank. To begin with, the charging performance is excellent. If you own a modern cell phone that supports PD charging, you'll appreciate the ability to charge it in less than an hour. The capacity and durability aren't as good. You won't be able to use the iHome Ultra Boost for charging a laptop or for outdoor excursions. That said, the lightweight, compact design is ideal for travelers. If all you need is a way to stay charged on the road, you're looking at a solid choice.
Compare it with these other AC power banks:
iHome Portable Charger 6000mAh
With a capacity of 6000mAh and a 2.4A max. output, the incredibly slim and light iHome External Battery Pack promises to extend the battery life of your devices.
Read More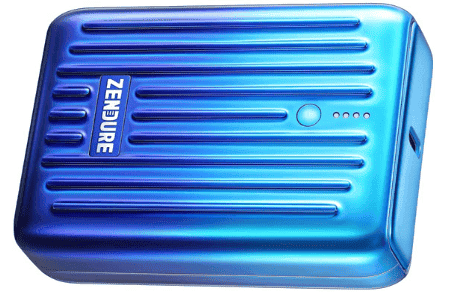 Zendure Supermini 10000mAh USB C Portable Charger
The Zendure Supermini 10000mAh USB C Portable Charger is compact and stylish. But maybe its most important feature is the fast charging USB C port with PD (Power Delivery).
Read More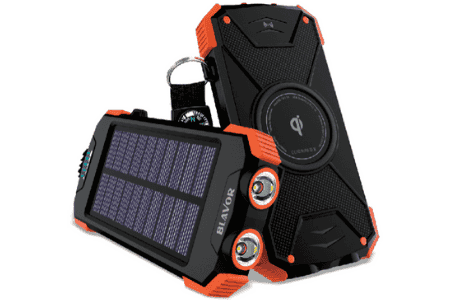 BLAVOR Qi 10000mAh Solar Portable Charger
The BLAVOR Qi solar power bank offers wireless and USB charging, and thanks to its solar panel, it's a great choice for powering devices while being outdoors.
Read More