Goal Zero Sherpa 100PD at a glance

Key specs
Capacity
25600 mAh
94.7 Wh
Dimensions (LxWxH)
7.5 x 3.7 x 1 in
19.05 x 9.40 x 2.54 cm

Charging technology

PBE metrics
Affordability
mAh/$
Average
300.48 mAh/$
Portability
40.31 mAh/g
1142.86 mAh/oz

Ports

Output: 5V/2.4A

Output: 5V/2.4A

Input: 5V/9V/12V/15V/20V/3A
Output: 5V/9V/12V/15V/20V/3A

Flight status
Status: Safe
The power bank is safe to take on board. It's under the specified TSA limit of 100 Wh. Read more about taking power banks on planes.

Other features
Or buy on GoalZero.com or on BesBuy.com

Charging capacity calculator
Use the search bar below and find out exactly how many times can the Goal Zero Sherpa 100PD charge your smartphone battery

Goal Zero Sherpa 100PD Review
Goal Zero is primarily known for outdoor power equipment. They produce portable power stations, solar panels, lights, batteries, and power banks. Today, we'll be looking at their Goal Zero Sherpa 100PD, which has a capacity of 25600mAh. But does it live up to Goal Zero's rugged reputation? Let's find out!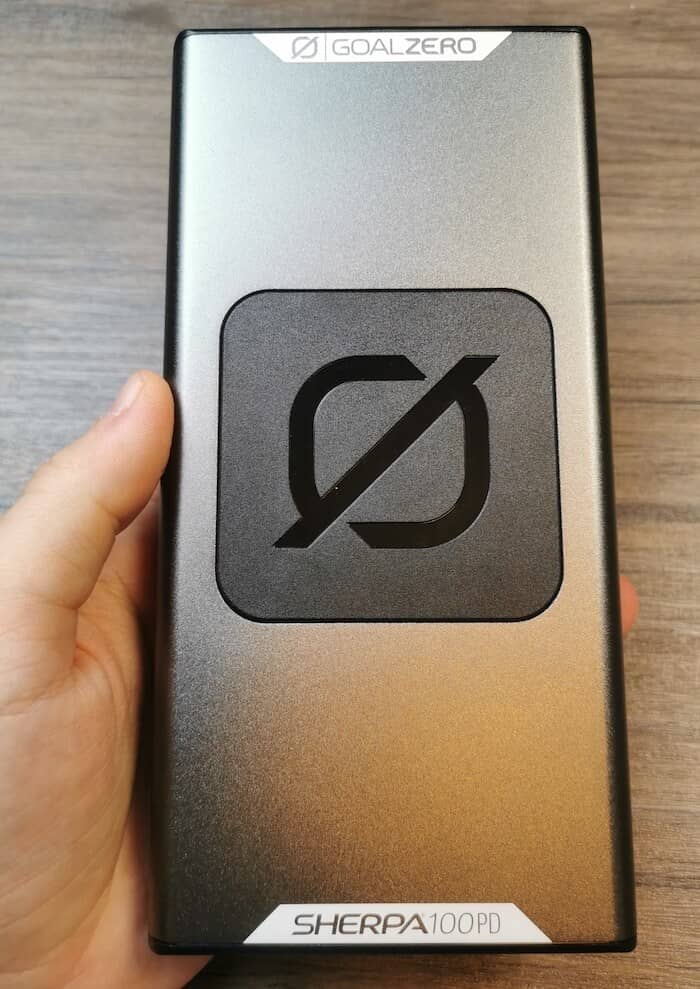 Unboxing video
Charging technology
The Sherpa 100PD offers three different charging ports. The first two are simple USB Type-A ports. They provide up to 12 watts of power each, which is enough for standard charging on most smartphones. If you want a bit more power, you can use the USB Type-C PD port, which will provide up to 60 watts of power on compatible devices. That's enough to charge a modern smartphone in just over an hour or a laptop in just over two hours. It's not enough to charge most laptops while running them, though. Unless they're very small, most modern laptops draw between 60 and 100 watts.

On top of the power bank, you'll find a wireless Qi wireless charging pad that can charge at up to 5 watts. This isn't blazing fast, but it's convenient, and it's pretty fast for wireless charging.
In theory, you can use all four charging methods at the same time. The battery has an unusual, four-cell design, but the total works out to a capacity of 25,600mAh. That's sufficient for charging most modern laptops at least once, or a smartphone eight or nine times. Alternatively, you could take advantage of pass-through charging, and charge the Sherpa 100PD while you're using it. This means plugging a charger into the Type-C PD port, though, so you lose your most powerful charging option.
When plugged into a 60-watt charger, the Sherpa 100PD's batteries will recharge in about 3 hours. On an ordinary USB charger, it will take a full nine hours. You can also recharge with a solar panel, but only if the solar panel has a 5-volt USB output. In that case, your charging performance will depend on your solar panel's performance.
Portability
The Sherpa 100PD measures 7.5 inches in length and 3.7 inches in width, about the size of a large smartphone. It's also an inch thick, which gives it a beefy profile. At 1.41 pounds, it's relatively light for its size. It might be a bit too big for your pocket, but you won't notice the extra weight in a backpack or a carry-on bag. And using the Sherpa 100PD as a travel charger is perfectly feasible since it has a total capacity of 94.7 watt-hours, just under the 100 Wh limit imposed by the TSA.
Look and Feel
At first glance, the Goal Zero Sherpa 100PD looks like it's constructed from anodized aluminum. Upon further inspection, though, it's just a very sleek, shiny plastic. This finish is surprisingly easy to keep clean, but it's not quite as sturdy as aluminum. Still, the plastic construction helps keep the Sherpa 100PD relatively lightweight. The black front and end panels, along with the black Qi charger, form a sharp contrast with the rest of the power bank's silver housing.
The coolest part of the design is the front interface. Instead of a couple of simple lights, there's a power button with an indicator light next to it. A digital LCD display shows you the current percentage of battery charge, while a separate indicator lets you know if wireless charging is active. All three USB ports are located on the same side of the unit, directly next to the display. This makes everything easy to access, although the black ports are difficult to see in the dark.
Durability & Build Quality
The Goal Zero Sherpa 100PD isn't made for heavy-duty use. This isn't to say that it can't survive a drop or two, but it isn't rated for shock resistance. Moreover, it doesn't carry any rating for dust or water resistance. This is not unusual for a portable power bank, but it's something to keep in mind if you're camping.
The battery does come with a battery management system that includes a full suite of safety features. These include protection from short circuits, overheating, overcharging, and other everyday risks. If anything does go wrong, Goal Zero provides a 12-month manufacturer's warranty.

Pros
Fun, attractive interface
Some support for solar charging
TSA-approved for air travel

Cons
Not water or dust-resistant
Final Thoughts
The Goal Zero Sherpa 100PD has an exceptionally large capacity for its size. If you're looking for a powerful travel charger, it's an excellent choice. Given Goal Zero's reputation for outdoor equipment, we would have at least liked to see a little waterproofing. That said, considering the power and the interface, it's still worth getting your hands on.
Or buy on GoalZero.com or on BesBuy.com
Or check out these other power banks with Qi wireless charging:
AUKEY Basix Pro
The AUKEY Basix Pro is a unique power bank that besides the fact that it comes with QC 3.0, PD, and wireless charging, it also doubles as a highly practical phone stand.
Read More
Crave PowerPack 2 50000mAh
The Crave PowerPack 50000mAh is a massive power bank that can keep you charged for days at a time. It can even charge laptops.
Read More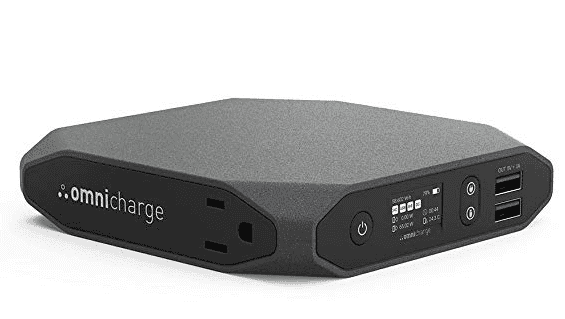 Omnicharge 20+ Power Bank Bundle
The Omni 20+ Bundle AC/DC/USB-C Power Bank is a top-class portable charger. Robust and with a 20000mAh capacity, it charges multiple types of devices in one go.
Read More