FosPower PowerActive 10050mAh at a glance

Key specs
Dimensions (LxWxH)
3.98 x 2.54 x 1.06 in
10.11 x 6.45 x 2.69 cm

Charging technology

PBE metrics
Affordability
372.36 mAh/$
Average
329.84 mAh/$
Portability
45.48 mAh/g
1288.46 mAh/oz

Ports

Output: 5V/2.1A

Input: 5V/2A
Output: 5V/2A

Flight status
Status: Safe
The power bank is safe to take on board. It's under the specified TSA limit of 100 Wh. Read more about taking power banks on planes.

Other features

Charging capacity calculator
Use the search bar below and find out exactly how many times can the FosPower PowerActive 10050mAh charge your smartphone battery

FosPower PowerActive 10050mAh Review
Charging your smartphones and other devices has never been so easy, safe, and fun as it is with the PowerActive, one of FosPower's most prominent products. With a 10050mAh capacity and a sturdy and ruggedly built waterproof case, this power bank is a fantastic companion for outdoor adventures. The FosPower PowerActive 10050mAh rugged power bank has so much more to offer, so let's dive right in.
Charging technology
The FosPower PowerActive 10050mAh rugged power bank is compatible with a number of smartphones and devices from well-known brands, including iPhones, Android smartphones, tablets, iPads, and other USB-powered devices like mp3 players and speakers.
The real capacity of the FosPower PowerActive 10050mAh rugged power bank is around 7500 mAh. It's enough to recharge your devices at least a couple of times, so you'll have no problem with running out of battery during a backpacking or camping weekend.
The FosPower PowerActive 10050mAh comes with a 5V/2.1A USB A output port and a 5V/2A USB Type C port, with which you can extend the battery life of your device at an acceptable speed, although it does not support fast charge or Qualcomm Quick Charge.
As for recharging the FosPower PowerActive 10050mAh, you can do so through the 5V/2A Type C input port. The total recharging time is no more than 5.5 hours if a wall charger of the same amperage is used, but this could reach up to 9 hours if a 1A charger is used.
Lastly, this power bank supports pass-through charging, but we do not recommend doing so. In fact, most manufacturers discourage users from recharging power banks while they are powering a smartphone because it can incur damage to their internal circuitry, and maybe the smartphone itself.
Portability
The FosPower PowerActive 10050mAh rugged power bank is highly portable as it isn't too bulky or heavy. Measuring 4 inches in length, 2.5 inches in width, and 1 inch in thickness, and with a total weight of just 7.8 ounces, this power bank is the perfect size to carry around almost any outdoor activity.
However, considering that this power bank was designed for adventures, it's inconvenient to hold it in your hands for a long time, which is why it has a carabineer. Overall, the carabiner increases its portability as you can simply attach it securely to your backpack or your jeans while doing activities that require the use of your hands such as mountaineering, cycling, or canoeing.
If you need to take a flight, you won't have any run-in with airport security due to carrying your FosPower PowerActive 10050mAh. You can take it aboard thanks to a capacity of 37Wh, which it's less than the 100Wh limit set by the TSA.
Look and feel
The FosPower PowerActive 10050mAh has a nice-looking and functional design. Throughout the casing, there are many grooves that grant a solid grip, while the surface is black with a matte finish, the details are in orange, and the name of the brand is in white. It also comes with many useful bonus features, including a carabiner, a compass, a built-in flashlight, and an LED battery level indicator.
The ports and the flashlight are located on the frontal side of the power bank. These are protected by a lid that functions as a water seal, so it's really hard to open. The carabiner and the compass come together in one piece and can be placed in a slot on the top left corner, away from the rest of the functional components.
On the left side, there's a small button with a battery icon engraved on it. If you press it once, the light battery indicator that is underneath the case will start flashing, so you'll know how much power is left. If you double-tap it, then the flashlight will turn on, and doing so again will turn it off.
The only bad part of this design is that the LED power indicator is too bright, causing discomfort as it's continually blinking while the power bank is being recharged.
Durability & build quality
As it's the norm with power banks designed to be used outdoors, durability and the capability of withstanding a number of weather conditions are their main selling points. The FosPower PowerActive comes with several design features that make it extremely sturdy, rugged, and durable.
Its casing is made of durable and resistant polycarbonate and polymerizing styrene and acrylonitrile, also known as PC and ABS, respectively. For this reason, the power bank is shockproof, waterproof, dustproof, and even snowproof. What's more, it boasts IP67 certification, which makes it capable of being submersible up to 3ft/1m for 30 minutes, while the lid that covers the charging ports and the battery level indicator is tight to prevent water from going inside.
The FosPower PowerActive 10050mAh is equipped with a top-quality multi-protection mechanism against a number of charging problems, including short-circuit, over-charge, and over-heat.
Moreover, FosPower products are backed by a Limited Lifetime Warrant in case of malfunctions, but it does not cover those caused by a number of reasons, such as accidents, abuse, misuse, other uses than its intended purpose, acts of God, alterations, or modifications.

Pros
Snow proof, dirt proof, drop proof, and water proof.
Durable, rugged, light, and highly portable
Excellent bonus features for outdoor activities (carabiner, compass, and flashlight)

Cons
Does not support fast charging
Final thoughts
There are plenty of power banks designed for outdoor recreational purposes, but the truth is that the FosPower PowerActive is one of a kind. Thanks to its portable and sturdy design, you can expect the FosPower PowerActive to withstand extreme weather conditions, and its 10050mAh capacity is enough to provide multiple recharges to your smartphone. So, if you're an avid fan of outdoor experiences who's on the hunt for a power bank of this kind, don't look any further; the FosPower PowerActive 10050mAh is ready for your next adventure.
Check out these other rugged power banks: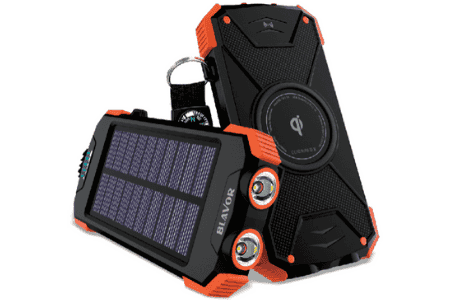 BLAVOR Qi 10000mAh Solar Portable Charger
The BLAVOR Qi solar power bank offers wireless and USB charging, and thanks to its solar panel, it's a great choice for powering devices while being outdoors.
Read More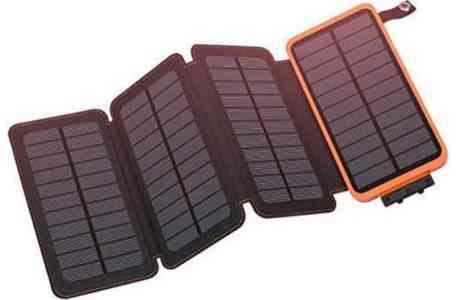 Hiluckey 25000mAh Solar Charger
With 2 USB output ports and 4 solar panels, the Hiluckey 25000mAh Solar Charger is the perfect companion for outdoor enthusiasts who need power backup for days.
Read More
DBPOWER Jump Starter 2500A 21800mAh
The DBPOWER Jump Starter and power bank is a truly remarkable multi-purpose device. It's something everyone needs to have in their car for peace of mind.
Read More