Excitrus 9600mAh 45W Power Bank at a glance

Key specs
Dimensions (LxWxH)
4.5 x 2.5 x 0.9 in
11.43 x 6.35 x 2.29 cm

Charging technology

PBE metrics
Affordability
160.13 mAh/$
Average
324.97 mAh/$
Portability
48.48 mAh/g
1371.43 mAh/oz

Ports

Output: 18W QC3.0

Output: 10.5W

Input: 45W PD
Output: 45W PD

Flight status
Status: Safe
The power bank is safe to take on board. It's under the specified TSA limit of 100 Wh. Read more about taking power banks on planes.

Other features

Charging capacity calculator
Use the search bar below and find out exactly how many times can the Excitrus 9600mAh 45W Power Bank charge your smartphone battery

Excitrus 9600mAh 45W Power Bank Review
The Excitrus 45W Power Bank Air is a small and feisty device that comes packed with the latest quick charging technology. It's also one of the fastest charging power banks as it can be recharged to 94% capacity in just one hour!
Charging Technology
The Excitrus Power Bank Air has a capacity 9600mAh and is compatible with a range of smartphones, tablets, laptops, the Apple Watch, the Nintendo Switch, Bluetooth headphones, and more.
Moreover, with an output of 45W, it's powerful enough to charge laptops. For example, it can boost a MacBook Pro 13-inch by 30-35 percent in 30 minutes.
Here are some facts on how quickly it can charge these common devices:
iPhone 11 Pro: Adds 39.5 hours.

iPad Pro 11-Inch: Adds 8.5 hours.

MacBook Air: Adds 6.5 hours.

MacBook Pro 13-Inch: Adds 4 hours.
This power bank can charge three devices simultaneously, allowing you and your friends to stay connected. It has the following charing ports: USB A 18W output, USB C 45W output, and USB A 10.5W output. The USB A 18W port supports Quick Charge 3.0, while the USB C 45W supports Power Delivery 2.0, which are some of the latest fast charging technologies. 
It also features a low-power mode for charging an Apple Watch or other low-powered devices such as wireless headphones. This is something not all power banks on offer.
Recharging this device is quick and easy via a wall output. In 30 minutes, it'll boost by 63 percent, which is perfect if you're looking for a portable power bank that you can use on a regular basis. Many of the power banks we've reviewed typically charge around six hours to fully recharge, which can be inconvenient.
Portability
This 9600mAh power bank measures 4.3 x 2.5 x 0.9 inches, making it similar to a deck of cards and smaller than an iPhone 8. This is great for taking up minimal space in your bag or on your work desk. Plus, you can store it in your pocket without much of a struggle.
It weighs 7 ounces, making it one of the lightest devices we've reviewed on our website. This measurement is lighter than the Aukey 10000mAh power bank, although it remains nearly 2 ounces heavier than the iPhone 8.
Your package includes two compatible charging cables (1 x USB A to USB C,1 x USB C to USB C), both measuring 50cm. This might be a disappointment for some, as these short lengths make you unable to charge your smartphone while using it with the power bank in your bag. The best solution is to place the power bank and your device in your bag for charging times.
Fortunately, the capacity of the Excitrus is under 100Wh, making it appropriate to take on planes, allowing you to watch your favorite movies or listen to music without your battery draining.
Look and Feel
The Excitrus 40W power bank is only available in one color. There's certainly a simplicity to it, but that makes it versatile for a lot of different people to use. The small mention of the brand's name at the bottom right adds some excitement, though, it's lacking in other standout features.
The sides are a shiny black, while the front and back are a matte grey. Had the manufacturer kept a shiny black look throughout, it would've added more elegance and sophistication. Fortunately for users, the matte grey reduces the appearances of smudges and marks. 
When that being said, when the power bank is in operation, it comes alive with an LED screen along the side, notifying you of the percentage of charge remaining. The screen also notifies you of the charging speed and charging mode (with the option of a Quick Speed through one port). These features are our favorite as the glowing white against the black makes the device outshine some of the others reviewed. Plus, it's helpful to see this information from afar.
Durability and Build Quality
The Excitrus boasts numerous safety features that'll keep the power bank and your device safe during use. As you use the device, it automatically regulates the temperature to prevent any overheating that could damage either devices. As a result, it'll never be too hot to hold, allowing you to hold the power bank while charging your smartphone.
It's also equipped with other safety features, such as:
Input overcurrent protection.

Output overcurrent protection.

Over-discharge protection.

Overcharge protection.

Output short circle protection.

Overvoltage protection.

Under-voltage protection.
Compared to other power banks we reviewed on our website, it doesn't have any shockproof or waterproof features. As such, you should use the device with care and possibly purchase an additional case to protect its exterior.

Pros
Fully charges in one hour
Comes with both PD 2.0 and QC 3.0
Includes a low-power lead

Cons
The capacity is pretty small
Final Thoughts
After exploring the Excitrus 9600mAh Power Bank's features, we'd recommend this for those who are looking for a device that'll fully charge quickly. What sets it apart from other power banks of similar capacity, is the fact that it comes with the latest charging technologies, both PD 2.0 and QC 3.0. 
Compare it with these similar power banks: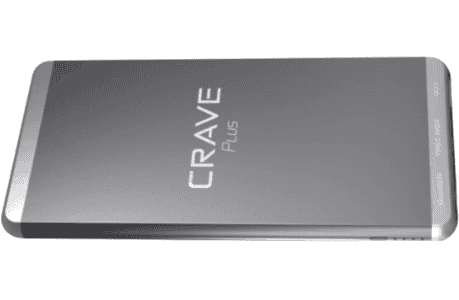 Crave Plus 10000mAh Slim Portable Charger
The Crave Plus 10000mAh is a slim portable charger with QC 3.0. Built with an aluminum frame, this stylish power bank is the size of the iPhone X.
Read More
Xiaomi Mi Power Bank 10000mAh
This Xiaomi Mi Power Bank has a decent 10000mAh capacity which is more than enough for day-to-day use. One of the thinnest devices of its class, it comes with a fast charge USB port that supports both QC 2.0 and 3.0.
Read More
Samsung Portable Charger 25W
The elegant and fast Samsung 25W power bank offers Adaptive charging and Qualcomm Quick Charge to fast charge a wider range of the latest devices on the market
Read More