Apollo Traveller at a glance

Key specs
Dimensions (LxWxH)
5.97 x 2.83 x 0.47 in
15.16 x 7.19 x 1.19 cm

Charging technology

PBE metrics
Affordability
56.82 mAh/$
Average
327.45 mAh/$
Portability
17.01 mAh/g
480.77 mAh/oz

Ports

Output:

Input:
Output:

Flight status
Status: Safe
The power bank is safe to take on board. It's under the specified TSA limit of 100 Wh. Read more about taking power banks on planes.

Other features

Charging capacity calculator
Use the search bar below and find out exactly how many times can the Elecjet Apollo Traveller charge your smartphone battery

Elecjet Apollo Traveller Review
Elecjet is a well-known electronics manufacturer that produces a variety of power solutions, from adapters to charging cables to power banks. Their Apollo Traveller is one of the most advanced power banks on the market, being built using modern Graphene technology. This allows it to recharge in an unprecedented 18 minutes, the fastest recharging time of any power bank on the market today. Let's take a closer look, and see what else it brings to the table.
Unboxing video
Charging Technology
The Apollo Traveller has two power output ports. The first is a USB Type-C PD port, which delivers up to 45 watts. This is sufficient for charging any smartphone in a maximum of an hour. It's also sufficient for charging PD-compatible laptops at a reasonable speed. Keep in mind, though, that most laptops require between 60 and 90 watts of power for operation. You won't be able to charge your laptop while it's running. The second output port is a QC 3.0 USB Type-A port. This port is a bit slower. But with a maximum power of 18 watts, it can still charge a smartphone very efficiently.
The total charge capacity of 5000mAh is at the lower end of what we're used with, but it's still suitable for many purposes. On a modern smartphone such as the iPhone X or Samsung Galaxy S10, you're looking at about 1.5 additional charges. For laptops, your performance is a bit more limited. Laptop battery capacity can vary widely, but you're looking at roughly a 20% charge on most modern laptops. In other words, you're nowhere close to fully recharging your battery. But if you need a few minutes to access a document or fire off an email, you'll be able to do that.
The Apollo Traveller delivers a maximum total charge of 45 watts. Charging two devices at once is perfectly feasible. But in that case, you won't be able to get the full 45 watts out of your PD port. For example, if the QC 3.0 port is drawing 15 watts, the PD port will be limited to 30 watts of output. You can also charge the Apollo Traveller while it's in use. However, the USB Type-C port is used for the power input. If you want to take advantage of pass-through charging, you'll be limited to using the USB Type-A port.
One of the Apollo Traveller's most impressive features is that the advanced graphene battery can charge in as little as 18 minutes. This requires a 60-watt USB Type-C PD charging block. Depending on the type of charger you're using, your mileage may vary. But if you're willing to spend a few extra bucks on a powerful charging block such as any of these GaN chargers, you're looking at a top performer.
Portability
The Apollo Traveller is relatively compact, measuring 5.7 inches long, 2.75 inches wide, and 0.4 inches thick. This is about the size of an average smartphone, so it's small enough to carry in your pocket. At 12.4 ounces, it's fairly lightweight for the size.
Not only is the Apollo Traveller convenient for everyday portability, but it's also useful for travel. With a charge capacity of 19 watt-hours, it's well within the TSA's guidelines for safe air travel. You won't need a waiver to take it with you on your next business trip.
Look and Feel
The Apollo Traveller has an anodized aluminum case, with a brushed black finish that's attractive to look at. On the top, there's a silver plate with an Elecjet logo. Other than that, it's completely plain, with no extra decorations. Both charging ports are located on the short end of the unit, which makes them easy to access, even in your pocket. The USB Type-A port has a blue inner tab, so there's no confusion as to how the plug should be oriented.
Alongside the USB ports, there's a row of five LED lights. The first light is green, and will illuminate when the Apollo Traveller is being charged. The next four lights are white and indicate the current charge status of the battery.
Durability and Build Quality
The Apollo Traveller's anodized aluminum case is very durable, and won't be easily damaged by everyday bumps and dings. Keep in mind, though, that it's not fully shockproof. If you drop it down the stairs, it's liable to get damaged. In terms of electronic protection, it's quite robust. It's protected from short circuits, overheating, overcharging, and over-discharging. It's also rated for 3000 charge cycles, so it will last for years without requiring a replacement. There is no official warranty period, but Elecjet does offer a refund or replacement in the event of a factory defect.

Pros
Graphene battery recharges in as little as 18 minutes
Compatible with QC 3.0 and PD devices
Rated for 3,000 charge cycles

Cons
Final Thoughts
The Elecjet Apollo Traveller is a great choice for an everyday carry charger. It's not powerful enough for laptops or for multiple recharges, but it charges very quickly, and its battery will last for years.
Check out these similar power banks: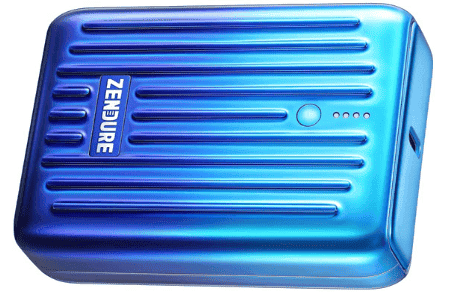 Zendure Supermini 10000mAh USB C Portable Charger
The Zendure Supermini 10000mAh USB C Portable Charger is compact and stylish. But maybe its most important feature is the fast charging USB C port with PD (Power Delivery).
Read More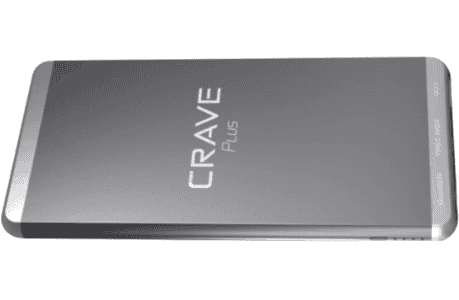 Crave Plus 10000mAh
The Crave Plus 10000mAh is a slim portable charger with QC 3.0 and also comes with an aluminum frame
Read More
Anker PowerCore 10000 PD Redux Review
Small, light, powerful, and premium quality. These are the key details of the Anker PowerCore 10000 PD Redux. You simply can't go wrong with it.
Read More