EC Technology 22400mAh at a glance

Key specs
Capacity
22400 mAh
82.88 Wh
Dimensions (LxWxH)
6.3 x 3.1 x 0.9 in
16.00 x 7.87 x 2.29 cm

Charging technology

PBE metrics
Affordability
mAh/$
Average
324.97 mAh/$
Portability
48.80 mAh/g
1382.72 mAh/oz

Ports

Output: 5V/2.4A

Output: 5V/2.4A

Output: 5V/2.4A

Input: 5V/2A

Flight status
Status: Safe
The power bank is safe to take on board. It's under the specified TSA limit of 100 Wh. Read more about taking power banks on planes.

Other features

Charging capacity calculator
Use the search bar below and find out exactly how many times can the EC Technology 22400mAh 2nd gen deluxe charge your smartphone battery

EC Technology 22400mAh Power Bank Review
Attention all power users – the EC Technology 22400mAh Power Bank could be just the power bank you're searching for. Boasting three USB output ports – this beast packs a huge amount of power into its solidly built chassis. Solid construction, good value, and high power make this a power bank well worth considering.
Capacity & Charging speed
The EC Technology 22400mAh Power Bank is the first piece of kit we've had the chance to review from this manufacturer – and it doesn't disappoint! Hailing from Texas USA, EC Technology has certainly managed to cram a whole lot of power into this portable charger. To give you an idea of what we're talking about, 22400mAh is good enough to recharge an iPhone 6s eight times!
One of our favorite features of the EC Technology 22400mAh Power Bank is it comes with three separate USB output ports. For heavy users with multiple devices, this means you can simultaneously charge your electronics when you can't get to a wall socket. This would be the perfect device for a long haul flight or a road trip.
The three output ports are rated at 1A for iPhone, 2A for Samsung Tab and 2.4A for iPad. (Each port is labeled.) It comes with AUTO-IC technology, which will automatically recognize what type of device you have plugged in to charge, and deliver the fastest, safest, most efficient current. And with over-charge, over-voltage, over-current and short-circuit protection you can be sure your expensive electronics are in safe hands.
The EC Technology 22400mAh Power Bank has a single DC 5V 2A input port for recharging the device. Charge times are pleasingly quick, although keep in mind the battery is huge – so don't expect miracles! We'd certainly recommend purchasing a quick charge wall charger such as the Anker PowerPort Atom III (if you don't already own one). This will see your recharge times quicken considerably.
Look and feel
This EC Technology power bank has a no-nonsense rugged look to it, that's backed up by its high power output. Easy to hold due to its rounded edges, the plastic body feels solid and well constructed. The textured plastic reflects light subtly due to its dull sheen. The device comes in three colorways – we tested the black and red model. The main part of the body is in black plastic and is offset by a red stripe that runs around the narrow edges of the power bank.
On the top side of the device, you will find the EC Technology logo, as well as four, LED power lights to indicate the charge level. At the business end, there are the three USB output ports – each is labeled for its intended device (iPhone, Samsung tab and iPad). Above the output ports is a small flashlight that is reasonably bright and could be a welcome feature for some users. Flip the power bank over and you'll find the power button on the leading edge, with the micro-USB input port, and on the other side.
Durability & Construction
The EC Technology 22400mAh Power Bank feels extremely well constructed and rugged. The plastic body feels thick and solid, with excellent fit and finish. The ports all seem well made, as plugging and unplugging cables was smooth and easy every time. On some cheaper power banks, you can feel some flex, particularly when unplugging cables – it can sometimes feel as if you are going to rip the port out of the body.
The power button also feels springy and well made, although we're not set on its location on the leading edge of the power bank. This is because we did accidentally switch the device off when carrying it in our bags (something in the bag must have bumped against the switch.) We're also unsure of the warranty conditions for the EC Technology 22400mAh Power Bank which is not great. We'd like to see at least a year warranty provided as standard.
Portability
We won't sugar coat this for you – the EC Technology 22400mAh Power Bank is not a featherweight. Weighing in at 1 pound, it is certainly towards the heftier weight scale of the 20000mAh power bank market. We'd certainly rate this as a heavyweight, but then that's to be expected at this power level.
Whilst it's not the lightest power bank in this power category we feel that's offset by its solid build and construction. Its also not nearly as big as some of its competitors. At 0.9 inches high it has a very flat profile, with a length of 6.3 inches and a width of 3.1 inches. The slim profile makes it easy to slip the EC Technology 22400mAh Power Bank into a laptop bag. Whilst the rounded and beveled edges make it easy to hold.

Pros

Cons
Not the lightest powerbank on the market
No-nonsense aesthetics may not be to everybody's taste
Compare the EC technology power bank to these similar 20000mAh chargers:
Anker Portable Charger PowerCore Essential 20000mAh
The PowerCore Essential 20000 is one of the latest Anker portable charger models. It features an updated look and premium design. With a generous capacity, it can keep you charged for days.
Read More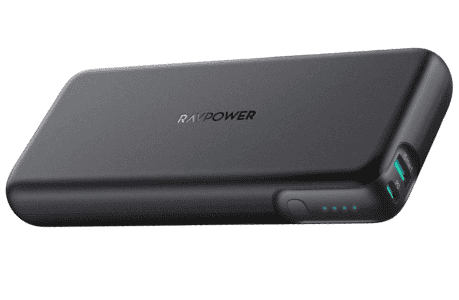 RAVPower 20000mAh PD 60W
Compact, portable, well-built, and equipped with PD and QC, the RAVPower 20000mAh is the perfect companion to charge your devices.
Read More
AUKEY 20000mAh Power Bank
The AUKEY USB C 20000mAh External Charger holds enormous resources to power up your adventures. It charges up to 4 devices in one go, on top of its sexy looks.
Read More