Crave PowerPack at a glance

Key specs
Capacity
50000 mAh
184 Wh
Dimensions (LxWxH)
8.2 x 5.4 x 1.3 in
20.83 x 13.72 x 3.30 cm

Charging technology

PBE metrics
Affordability
200.01 mAh/$
Average
300.48 mAh/$
Portability
34.60 mAh/g
980.39 mAh/oz

Ports

Output: 5V/3A, 9V/2A, 12V/1.5A (18W Max)

Output: 5V/3A, 9V/2A, 12V/1.5A (18W Max)

Input: 5V/3A, 9V/3A, 12V/3A, 15V/3A, 20V/3A (60W Max)
Output: 5V/3A, 9V/3A, 12V/3A, 15V/3A, 20V/3A (60W Max)

Input: 5V/3A, 9V/3A, 12V/3A, 15V/3A, 20V/3A (60W Max)
Output: 5V/3A, 9V/3A, 12V/3A, 15V/3A, 20V/5A (100W Max)

Flight status
Status: Not Allowed
This power bank is over160 Wh and is not allowed on planes. Read more about it here.

Other features
Or buy on CraveDirect.com or on Ebay

Charging capacity calculator
Use the search bar below and find out exactly how many times can the Crave PowerPack charge your smartphone battery

Crave PowerPack 2 50000mAh Review
The Crave PowerPack 2 is an iteration of the inial model developed by Crave. The initial Crave PowerPack had the same 50000mAh capacity but featured an older tech setup. Although overall the older model had more ports (7 vs 4), it did not feature any USB type C input/output ports. It also did not feature modern fast charging technologies such as Power Delivery (PD). But enough about the old, let's check out what the new model boasts.
Unboxing video
In the box, you will find:
The Crave PowerPack 2
Charging brick
USB C to USB C charging cable
Carrying pouch
User manual
Unlike most power banks, the Crave PowerPack 2 comes with a high-speed wall charger in the box. This is a great plus because you'll have a fully compatible charger that will make sure the PowerPack gets topped up in the fastest time possible.
On the other hand, the charging cable that the product comes with is very short. Although it's perfectly fine to charge the power bank with it, it will drastically limit your flexibility. Most likely, you'll need to use a replacement charging cable.
Charging technology
Let's have a look at what the Crave PowerPack 2 provides in terms of charging technology
Ports
When it comes to charging ports, you'll notice that the PowerPack provides the following:
One USB type C in/out port that can provide up to 60W of charging speed. This port is PD-compatible
One USB type C in/out port that provides up to 100W. This is the most powerful charging port on the device and it's compatible with the PD 3.0 charging protocol.
Two USB type A ports, both of which are compatible with the QC 3.0 charging protocol and which can provide up to 18W of power, enough to quick-charge any smartphone.
This is a good overall port setup. The most important feature is that they can provide high charging speeds and that they use the most up-to-date charging protocols. But compared to the initial PowerPack model, we see a reduction in the total amount of ports. We believe that it would have been better to keep at least one DC barrel-type port, of which the previous model had 3.
Laptop power bank
One of the key features of this portable charger is that it can be used to charge laptops. This can be achieved due to the high charging power of the 2 USV type C ports: 60W and 100W, respectively. This means that you can use the PowerPack 2 to charge basically any laptop that uses a USB type C charging laptop, which is the case in most of the latest laptop models. This is why we included it in our laptop power bank roundup.
Charging times
In terms of charging times, you can expect the Crave PowerPack to charge itself in 5 to 6 hours. For the given capacity this is great charging time. It amounts to about 1h per 10000mAh, which is much faster than what the average 10000mAh power bank can do unless it uses ultra-modern charging technologies such as graphene.
Portability
At 51 oz (1145 g), the Crave PowerPack 2 is not a lightweight power bank, on the contrary. In order to accommodate its massive capacity, it's also quite bulky. But the sheer amount of power that it can accumulate more than makes up for its size and weight limitations.
It can fit easily in a school-sized backpack. It's a great companion for long camping trips in nature or to have in your camper van. For extra protection during transport, you can use the carrying pouch that is included in the box.
One key factor you need to keep in mind about the Crave PowerPack 2 is that it is not allowed on flights. At 185Wh, it's easily over the maximum 160Wh limit imposed by flight regulations. For more info on what types of power banks are allowed on planes, check out this article.
This means you'll only be able to travel with the PowerPack on land or water. Depending on what you're planning to use the power bank for, this might limit your options. This unit is perfect for camping trips and also to keep around the house in case of power outages.
Look and Feel
In terms of looks, the Crave PowerPack 2 comes in a flat design, with the Crave logo on its top side. The dark grey color with a blueish hue allows it to fit in a lot of different settings without standing out. It has an overall elegant feel to it.
It's generally not fingerprint-prone, with the exception of the black shiny plastic strip it has on both its sides. The black strip gives it a sleek look but at the same time, it's a magnet for fingerprints. Although this is a very slight inconvenience, some people might get bothered by it.
On the side of the charging ports, the Crave PowerPack also features a power button and 4 LED indicator lights. These are pretty standard for the wide majority of power banks. However, given the large capacity of this portable charger, it would have been handier to have a display screen instead of the 4 LED lights.
Durability and Build Quality
The Crave PowerPack 2 casing is built out of 3 different materials. We have strong and sturdy metal on both its widest faces, then there's the shiny black plastic strip on the sides and another different type of plastic, more industrial-looking that the two ends of the device.
Overall, the casing is mostly made of metal. This gives it structural strength and it also provides resistance to scratches. But if you look very closely, the juncture between the metal and plastic parts is not done perfectly. You can see very slight variations between the two different materials as they come together.
One part where we believe Crave could have done a better job is the power button. It's made of plastic itself and feels rather flimsy. For such an important piece, we believe it could have received more attention and maybe should have been made out of metal instead of plastic.
But overall, the PowerPack 2 does have a very solid build, despite our nitpicky observations.
Pros and Cons
Pros

Can provide up to 100W of power

PD 3.0 & QC 3.0 compatible

Comes with its own wall charger

Cons
Final Thoughts
Overall, the Crave PowerPack 2 is a great choice for either people that go on long trips in nature or for those looking to have a backup in case of a power outage. It's a great device if you plan on charging laptops or gaming consoles. But the fact that it's over the flight limit, limits its flexibility quite a lot. The PowerPack 2 is made for a dedicated group of people that will absolutely love it for its features and capabilities.
Or buy on CraveDirect.com or on Ebay
Check out these similar power banks:
Goal Zero Sherpa 100PD With Qi Wireless Charging
The Goal Zero Sherpa 100PD is a rugged power bank that also comes with Qi wireless charging. With a hefty capacity of 25600mAh, it can keep you powered up for days.
Read More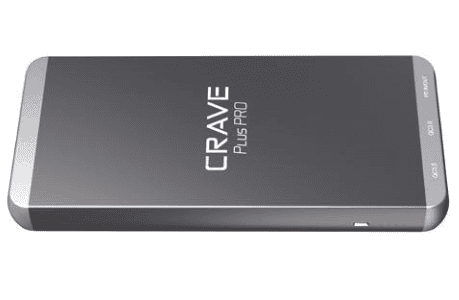 Crave PLUS Pro
The Crave Plus PRO is a sturdy power bank that comes with a generous capacity of 20000mAh. With both QC and PD charging technologies, it can even charge laptops.
Read More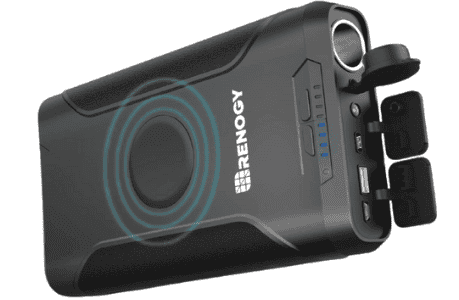 Renogy 72000mAh Laptop Power Bank
The Renogy 72000mAh is a hugely powerful power bank that's specially made for charging laptops. It comes with a multitude of ports and adaptors.
Read More