CIO 60W Portable Charger at a glance

Key specs
Dimensions (LxWxH)
5.2 x 2.68 x 0.94 in
13.21 x 6.81 x 2.39 cm

Charging technology

PBE metrics
Affordability
mAh/$
Average
324.40 mAh/$
Portability
49.02 mAh/g
1388.89 mAh/oz

Ports

Output: QC 5V-3A/9V-2A/12V-1.5A(18W Max)

Input: QC 5V-3A/9V-2A/12V-1.5A VOOC 40W (40W Max)

Input: PDO 5V-3A/9V-3A/15V-3A/20V-3A(60W Max)
Output: PDO 5V-3A/9V-3A/15V-3A/20V-3A(18W Max) PPS 3.3-11V 5A/3.3-16V 3.75A/3.3-21V 2.85A

Input: QC 5V-2A/9V-2A/12V-1.5A(18W Max)

Flight status
Status: Safe
The power bank is safe to take on board. It's under the specified TSA limit of 100 Wh. Read more about taking power banks on planes.

Other features

Charging capacity calculator
Use the search bar below and find out exactly how many times can the CIO 60W Portable Charger charge your smartphone battery

CIO 60W 20000mAh Review
The CIO 2000mAh 60W portable charger is a high-capacity, fast-charging battery pack charger that can be used for smartphones, tablets, and even laptops. CIO's portable battery back is impressive and features 60W power transfer, a large 20000mAh capacity, and a high degree of compatibility with modern devices. At just over 5 inches long and under a pound in weight, the CIO is built for portability and is a useful piece of tech to have when you are on long trips where a wall plug might not be readily available.
Unboxing video
Charging Technology
The CIO features 2 USB-A output ports and one USB-C input/output port and one Micro USB input port. It can charge up to three devices simultaneously. CIO takes advantage of the latest fast-charging technology that can charge a modern iPhone 12 up to 4.5 times at a consistent 20W of power. That is about twice as fast as some other power banks out there. The pack also can use what's called a Programmable Power Supply (PPS) that modulates current and frequency to optimize charging for PPS-enabled devices like the Galaxy Note 10 plus and certain laptops.
The battery pack itself is also fast-charging. It charges using USB-C and can reach the full 20000mAh capacity in just 1.5 hours. It also has a pass-through function so you can charge your device while the battery pack is charging on a wall plug.
As far as charging potential, the CIO has a max output of 60W, assuming optimal charging conditions. Most fast charging devices use about 18W so the CIO can easily charge a battery quickly. Tablets also charge quickly enough that you can use them and still get a positive charge. However, you might have difficulty charging and using a laptop at the same time, especially if you are using the laptop for something taxing.
Portability
The CIO markets itself as the 'world's smallest 20000mAh power bank.' We don't know if that is true, but it is very small and portable for its capacity. It measures just over 5" long and less than 1" thick. It has a slim, sleek profile so you could comfortably keep it in your pockets even with tighter pants like jeans. It also weighs less than a pound so you'll barely notice it in your pocket. Overall, it's about the size of an iPhone X XS.
The CIO also comes with a useful mesh pouch for storage and carrying. You do not need to use this pouch to carry it around, but it will protect the surface from scratches or smudges while in your pocket or bag.
Look and Feel
One thing we really like about the CIO is the look and feel of the device. It has a sleek design with a shallow profile and rounded corners. The surface is a smooth black matte material that is tactile to the touch and gives a good grip. We appreciate the low-profile design as we think that power banks should be as nondescript as possible.
The outer case of the pack has some useful features too. On the bottom right corner near the charging ports, there is a small LED screen that measures the remaining battery capacity from 1-100. We think it's pretty cool that they programmed an actual numerical display instead of just an LED that changes color when the battery is <30%, like so many other power banks have.
Durability & Build Quality
Holding the CIO in your palm, it has a certain weight and density to it, despite the overall low weight. It feels like a solid piece of hardware that will not fail on you. The pack uses a lithium-ion battery which, thanks to modern technology, have become very reliable and advanced. Unfortunately, we could not find any ratings on how many charges the pack can produce during its life. However, the standard lithium-ion battery lasts about 500 charging cycles, which is a pretty large amount, especially considering the high max charge capacity.
Overall, we would expect the CIO to last for a while. It has a solid feel, a good manufacturer reputation, and good technological specifications. The battery is designed with multiple layers of safety including overcharge protection, discharge protection, and short circuit protection. We could not, however, find information about any product warranty or money-back guarantee.

Pros
Large 20000mAh power capacity
Charges up to 3 devices at once
Pass-through and PPS charging
Very fast charging times for devices and battery pack
Useful numerical capacity indicator

Cons
The Micro USB port is outdated
Final Thoughts
So, do we recommend the CIO Portable 60W Battery Charger Power Bank? Yes, 100%! The CIO is a great battery power pack and is a good tool to have when on the go and you need to keep your devices topped off. It has a high battery capacity, fast charging technology, and some good safety features that keep it efficient and secure. The modern world requires people to have their tech on them at almost all times and the CIO is a good way to ensure you can stay ready and connected.
Or check out these similar power banks:
AUKEY Basix Pro
The AUKEY Basix Pro is a unique power bank that besides the fact that it comes with QC 3.0, PD, and wireless charging, it also doubles as a highly practical phone stand.
Read More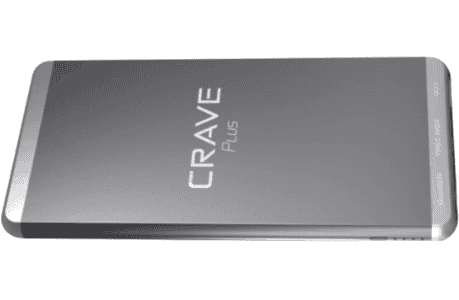 Crave Plus 10000mAh
The Crave Plus 10000mAh is a slim portable charger with QC 3.0 and also comes with an aluminum frame
Read More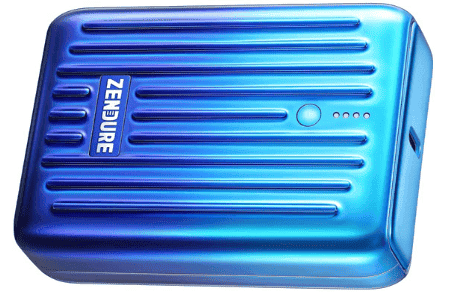 Zendure Supermini 10000mAh USB C Portable Charger
The Zendure Supermini 10000mAh USB C Portable Charger is compact and stylish. But maybe its most important feature is the fast charging USB C port with PD (Power Delivery).
Read More