Charmast 10400mAh at a glance

Key specs
Capacity
10400 mAh
38.48 Wh
Dimensions (LxWxH)
3.56 x 2.44 x 0.87 in
9.04 x 6.20 x 2.21 cm

Charging technology

PBE metrics
Affordability
346.78 mAh/$
Average
357.43 mAh/$
Portability
32.81 mAh/g
928.57 mAh/oz

Ports

Output: 5-6V=3A, 6-9V=2A, 9-12V=1.5A (QC3.0)

Output: 5-6V=3A, 6-9V=2A, 9-12V=1.5A (QC3.0)

Input: 5-6V=3A, 6-9V=2A, 9-12V=1.5A (PD 3.0)
Output: 5-6V=3A, 6-9V=2A, 9-12V=1.5A (PD/QC3.0)

Input: 5V=2A, 9V=2A

Flight status
Status: Safe
The power bank is safe to take on board. It's under the specified TSA limit of 100 Wh. Read more about taking power banks on planes.

Other features
Or buy on Charmast.com or on Ebay.com

Charging capacity calculator
Use the search bar below and find out exactly how many times can the Charmast 10400mAh charge your smartphone battery

Charmast 10400mAh Compact Power Bank Review
This Charmast power bank has a 10400mAh capacity, making it extremely powerful, and can charge a smartphone twice, on average. It stands out from the rest with its quick charge function that gets you back online quickly and can charge multiple devices at the same time.
Unboxing Video
Charging Technology
The Charmast 10400mAh features iSmart charging technology that enables the power bank to charge your smartphone, tablet, or laptop quicker and smarter than other power bank models. Specifically, it automatically detects the device it's charging and delivers an optimal charging current for that connected device. Not only does this feature have safety benefits, but it ensures a safe and efficient charge.
The Charmast power bank also comes with both QC 3.0 quick charge and Power Delivery (PD) functions that charge your device very fast, no matter the output you choose. Overall, the power bank can add up to 80 percent battery to your smartphone within 45 minutes.
Once the power bank's battery reaches zero percent, it takes around 3.5 hours to fully charge, thanks mostly to its Micro USB/USB type C dual input. This is impressive, compared to similar power banks that take up to 8-10 hours to recharge.
This device features two USB type A ports and one USB type C port, so you can charge up to three devices simultaneously. You can even charge your devices while boosting the power bank's battery. However, the quick charge technology is only applicable to one device at a time.
Portability
This Charmast power bank is suitable for a range of occasions, thanks to its portability. Measuring 3.56 x 2.44 x 0.87 inches and weighing 6.6 ounces, it can fit in the palm of your hand or in your pocket while you're traveling. It's also convenient to slide into your pocket or store in your purse while not in use.
You won't have any complications taking the power bank through airport security, either as its 38 Wh is well under the 100 Wh limit imposed by the TSA. As it's lightweight, you can store it in your pocket while charging your smartphone, making it an excellent purchase for people making business calls on the move or festival-goers.
A case of misleading advertising?
While looking into the portability aspect of the Charmast power bank, I noticed the following image on the Amazon product page:
We tried to replicate the pose, however, our results look quite different as you can see below:
It turns out that the power bank is considerably larger than what the manufacturer wants us to believe.
We were aware of the fact that manufacturers tinker with their product photos to make them look better than they actually are, but in this case, they seem to have gone overboard with it. This is something that other users also report in the Amazon review section.
This power bank is actually quite compact for its capacity, so we don't see why Charmast felt the need to create this obviously exaggerated product image.
Look and Feel
The Charmast 10400mAh power bank has a simplistic design that makes it unconfusing to non-tech-savvy users. Its rectangular shape and smooth edges allow you to place the power bank on a table while charging your devices. These smooth edges and its untextured design make the power bank comfortable to hold in your hand.
The four LED charge level indicators represent the amount of battery remaining on the device. Plus, it features a light to notify you when it's connected to a device. Using the power bank is easy, too, thanks to the small button that you push to switch it on and off to preserve the battery when not in use.
The power bank's front panel has a minimalist design that's only available in black. However, its focus is on function and safety rather than appearances. On top of the device, it showcases the name, Charmast, and all USB ports are neatly organized underneath. It's easy to keep the device smudge-free with a damp cloth, though be careful not to get any moisture into the ports, as they don't come with a protection cap.
Durability and Build Quality
This Charmast power bank is designed to last and comes with built-in safeguards that protect your devices from overheating and overcharging. These safety features also protect your smartphones against excessive current.
Despite the plastic casing, this power bank remains firm to hold. Plus, the slightly textured exterior means it doesn't highlight scratches easily. The product is designed to last a long time and your purchase also includes a 12-month warranty for peace of mind against any malfunctions or issues.
What Others Say About the Charmast 10400mAh
Overall I'm really impressed with the build quality of this device…and it's also a really nice compact-size power bank that will fit anywhere.
Gauging Gadgets
I really like the Charmast power bank and look forward to putting it to some more good use.
Rick Coleman
Pros and Cons

Pros
QC 3.0 quick charge function
Power Delivery (PD) function

Cons
Quick charge only works for one device at a time
Final Thoughts
The Charmast 10400mAh power bank is a convenient way to boost the average smartphone around twice, making it great for a weekend getaway. It's also the perfect solution for charging multiple devices at the same time. If you're looking for a non-fancy, uncomplicated way to charge your device on the go, this power bank is a great option.
Or buy on Charmast.com or on Ebay.com
If the Charmast 10400mAh is not for you, then check out these similar power banks: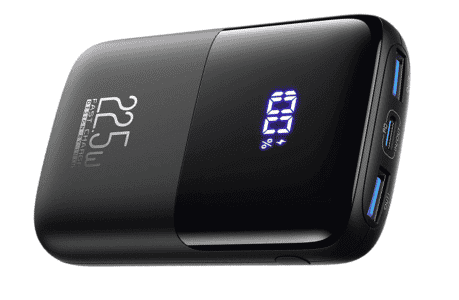 INIU BI-B61 10000mAh
The BI-B61 10000mAh power bank from INIU is a compact charging solution that also comes with a very useful phone stand.
Read More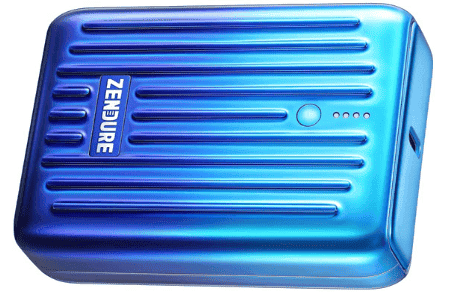 Zendure Supermini 10000mAh USB C Portable Charger
The Zendure Supermini 10000mAh USB C Portable Charger is compact and stylish. But maybe its most important feature is the fast charging USB C port with PD (Power Delivery).
Read More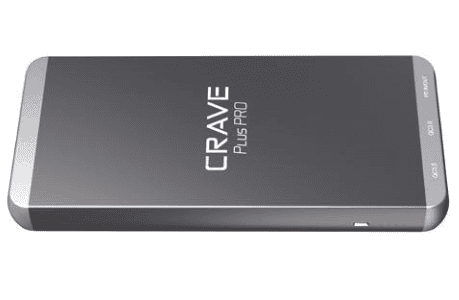 Crave PLUS Pro
The Crave Plus PRO is a sturdy power bank that comes with a generous capacity of 20000mAh. With both QC and PD charging technologies, it can even charge laptops.
Read More