If you're wondering if you're allowed to charge your phone on a plane, then the answer is short: definitely. It is allowed to charge your phone or other portable devices with low power demands. However, you will most likely need to keep your phone off during the flight, even though you'll be charging it. In order to make sure you can charge your phone during the flight and use it simultaneously, it's best to get explicit approval from a flight attendant first.
Do airlines offer power outlets or USB ports?
Unlike a decade ago, most airlines now provide USB ports and outlets for charging electronics such as phones, tablets, and laptops. But, some do not. Also, most don't provide both a power outlet and a USB charging port simultaneously. So, if you want to charge your gadgets on flights, it's a good idea to check which airlines offer this service before booking the ticket.
Here's a breakdown of the most popular airlines and their charing options:
SeatGuru is a resource that provides information about airplanes. All you need to do is type the airline's name, flight date, and flight number to obtain information, including in-flight amenities (AC power, Internet, and so on). Also, you can hover over each seat to discover whether or not that particular seat offers such amenities. Moreover, you can view the passengers' comments and photographs regarding that specific flight.
Can I bring a power bank with me on the flight?
Airlines are stringent when it comes to batteries, particularly lithium-ion batteries, due to the dangers they pose. Therefore, passengers are permitted to bring only portable chargers with a capacity of no more than 100Wh. However, some airlines accept power banks with a capacity of up to 160Wh, but you should check with the airline before boarding. Additionally, airlines allow power banks only in carry-on luggage. As a result, you should never bring them in your checked luggage since it will get you in trouble and lead you to miss your flight.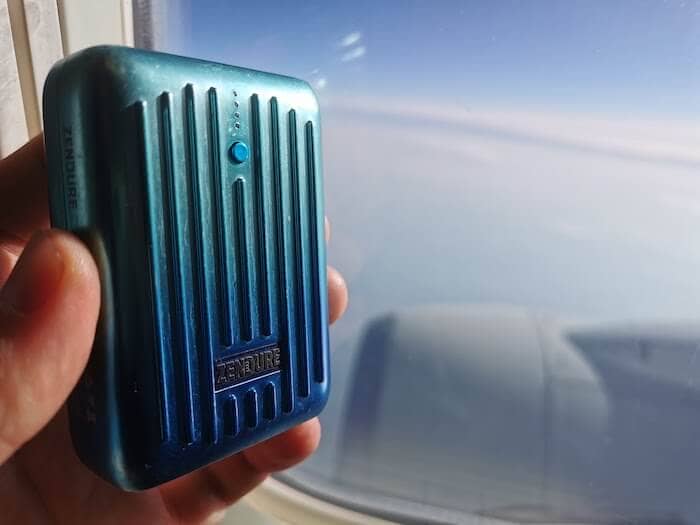 Furthermore, suppose airport security does not discover the portable charger in your checked luggage. In that case, you should consider the safety concerns, as the portable power bank might overheat and create a fire, resulting in a massive tragedy. We recommend that you check the airlines' websites prior to booking a ticket and read the airline's guidelines on power banks and batteries to avoid any problems during onboarding.
For more information, check out this article.
Can I charge my phone during the flight using a power bank?
Airlines permit passengers to board with power banks. However, power banks should not be used to charge mobile devices during takeoff, flight, or landing for safety reasons. While power banks have grown safer in recent years due to intelligent circuits incorporated into them and lithium batteries, airlines continue to forbid their use during flights rigorously. The same goes for any other type of portable battery.
Should I put my phone in Airplane mode while it charges during the flight?
The crew will always ask you to switch your phone to airplane mode when you board the flight. Therefore, regardless of whether the phone is charging or not, it should always be in Airplane Mode. According to the Federal Communications Commission (FCC), which enacted the prohibition in the early 1990s, the frequency emitted by these and similar devices might interfere with cell tower networks on the ground.
On certain international flights, cell phone receivers are available. As a result, passengers on select aircraft may make calls or send texts while in the air. On many domestic flights, you may also connect to Wi-Fi. That way, you can browse the web and send messages. However, most airlines, including American Airlines, forbid travelers from making phone calls while using in-flight Wi-Fi. "Cell phone and Voice-over-Internet Protocol (VOIP) services are not available with inflight Wi-Fi."
If you want to travel with peace of mind, we recommend that you charge all of your electronic devices, including your phone, before boarding. There are also numerous charging stations available in the airport, but for that, you'll need to have your phone charger with you.