Bluetti EB55 at a glance

Key specs
Capacity
145135 mAh
537 Wh
Dimensions (LxWxH)
10.94 x 7.87 x 7.79 in
27.79 x 19.99 x 19.79 cm

Charging technology

PBE metrics
Affordability
mAh/$
Average
357.43 mAh/$
Portability
19.39 mAh/g
549.75 mAh/oz

Ports

Output: 5V, 3A

Output: 5V, 3A

Output: 5V, 3A

Output: 5V, 3A

Output: 5V, 3A / 9V, 3A /12V, 3A / 15V, 3A / 20V, 3A / 20V, 5A (100W Max)

Output: 100-120V, 700W

Output: 100-120V, 700W

Output: 100-120V, 700W

Output: 100-120V, 700W

Output: 12V, 10A

Output: 12V, 10A

Input: 12V~28V / 8A Max / 200W Max

Output: DC Regulated 12V, 10A

Flight status
Status: Not Allowed
This power bank is over160 Wh and is not allowed on planes. Read more about it here.

Other features
Or buy on BluettiPower.com or on BluettiPower.eu

Charging capacity calculator
Use the search bar below and find out exactly how many times can the Bluetti EB55 charge your smartphone battery

Bluetti EB55 Portable Power Station Review
The Bluetti EB55 700W/110V portable power station is a punchy, well-designed generator solution from a well-known manufacturer. It's lighter and smaller than most of its Bluetti portable generators cousins (which offer also more power, if you need it) at just 16.5 pounds and can charge up to 80% in as little as an hour (if you use two charging options).
A great thing about this unit is that it still has the same features as the more expensive Bluetti portable generators (just with a smaller power output). Let's take a closer look at this bad boy…
Unboxing video
Charging technology
The EB55 offers 700W/110V (AC) output, with a capacity of 537Wh. On the front side, it features a multitude of charging ports: no less than 12 for the European version (pictured) and 12 for the US version. The US version comes with 2 extra AC outlets since the American outlet design is more compact.
The time it takes to charge the power station depends on how you are charging it, using a home outlet and solar panel combined and you can charge it to 80% in about an hour. With home-outlet charging, it takes about 3.5h to charge, while with a 200W solar-panel charging alone roughly 4.5 hours (this changes based on the amount of sunlight available). Using a 12V car outlet charger, you can expect it to top up in about 6 hours. These are very impressive charging times. There are power banks that have a fraction of its capacity and which take 3 times longer to charge.
The US version has four AC outlets to charge two 2-prong outlets and 2 3-prong outlets. Please note that sometimes large charging adapters can block another outlet in addition to the one being used. It has one 100W USB-C charging and four 5V/3A USB-A ports for smartphones and tablets, one standard 12V/10A carport, and two 12V DC barrel-type ports.
It also offers one 15W wireless charging pad on the top side. The handle conveniently folds down so you can easily place your phone on top of the power station for seamless wireless charging.
The EB55 portable charger uses a LiFecPO4 battery, along with an advanced Battery Management System—so it protects your devices from overloading, short-circuiting, overheating, and overcurrent. You will get over 2500 lifecycles (to 80% charge) from the battery—this is anywhere from three to five times longer than a typical Li-ion battery. The maximum input of the generator is 400W.
If using all 700W output you will get under an hour of use if the generator isn't being charged, but powering something small like a wireless router (just under 10W) gives two and a half days of use. Powering something like a small fridge will give you roughly four hours. It features passthrough charging, so you can charge the portable generator and your devices at the same time.
It has an eco mode that can shut the unit down after four hours.
Portability
This unit is about as portable as you get in its class. It weighs just 16.5 pounds—which for a portable power generator is quite lightweight. At just 10.94 x 7.87 x 7.79 inches in size it fits comfortably in the car, leaving room for camping equipment, work gear, beach gear, etc. You can keep the unit charging via your car's outlet or cigarette lighter—which is handy if you want to top it up while on the road.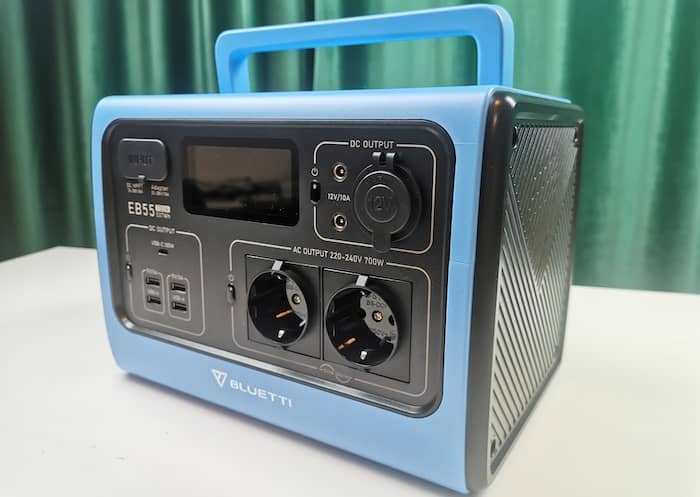 What's very important to know, however, is the fact that you cannot take the EB 55 on planes. As it's well above the 160Wh capacity limit, you won't be able to fly with it. You'll need to stick with transporting it via roads or water.
Look and Feel
The look and feel of the EB55 is reminiscent of Apples' designs, with that sleek look and luxurious to the touch. Pretty much every guy who sees it will say they need one (even if they don't). The fit and finish overall is impressive and the buttons and bright LED display feel premium and high-quality.
This power generator comes in three colors: Grey Steel, Sapphire, and Vibrant Orange. It will get dirty and smudged over time (as with everything you use outdoors), but the matte finish makes it easy to clean with a wipe (avoid soap and water so you don't corrode the input and output ports.
From the second you receive the unit you feel like you've bought something expensive and premium. It comes in a nice box with custom-molded foam inserts for protection. Once removed from the packaging you'll gravitate directly to the LED digital display. The solar panels are also very sleek-looking.
A nice feature in the design is that the handle on top fits perfectly flat in its cradle, so you can put items on top of the unit.
Included in the package are the power station, AC/DC charging adaptor, solar power charging adaptor, cigarette charging adaptor user manual, and warranty card (be sure to fill this out so it is registered for warranty)e.
Durability & Build Quality
This power generator offers a sturdy build with quality parts. It is water-resistant but not water-proof, so don't drop it in the lake. With the quality built-in fans, it keeps itself nice and cool, and you can hear they are working with the whirring sound of the unit. With its LiFePO4 battery, you'll get over 2,500 battery cycles, and it comes with a Battery Management System ensuring you don't get any short-circuiting.
The durability of the unit is proven by the fact that Bluetti offers a two-year warranty. They are also a company known for their customer, and for standing behind their products.
Pros/Cons
Pros

Can be charged using solar power

Informative LCD display screen

Cons

The display doesn't show the exact charge percentage
Final Thoughts
This lightweight, beautifully designed, power-packed, feature-rich portable power station is a top choice for those looking for a 700W (or lower) unit that is lightweight and portable. With its ease of use, it is great even for newbies to the portable generator life.
What more can you want from such a portable, durable, multi-featured powerhouse of a solar generator? Simply put, at this price point this is a best-of-breed little generator.
Or buy on BluettiPower.com or on BluettiPower.eu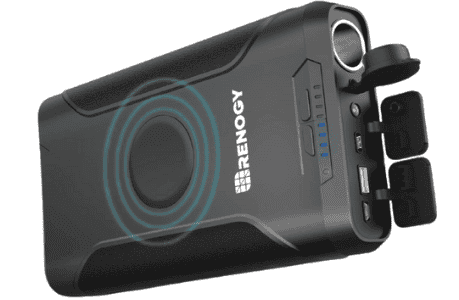 Renogy 72000mAh Laptop Power Bank
The Renogy 72000mAh is a hugely powerful power bank that's specially made for charging laptops. It comes with a multitude of ports and adaptors.
Read More
Crave PowerPack 2 50000mAh
The Crave PowerPack 50000mAh is a massive power bank that can keep you charged for days at a time. It can even charge laptops.
Read More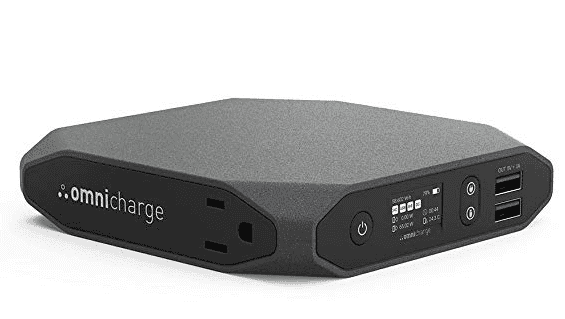 Omnicharge 20+ Power Bank Bundle
The Omni 20+ Bundle AC/DC/USB-C Power Bank is a top-class portable charger. Robust and with a 20000mAh capacity, it charges multiple types of devices in one go.
Read More