Ultra-high capacity power banks have seen a rise in demand recently because they can be a reliable power source for multiple days at a time. This means they can be used for both long camping trips in the wilderness, or as backups for power outages. You'll be able to charge phones, tablets, or even laptops without constantly thinking you'll be running out of juice.
On the other hand, because of their large capacity, these power banks tend to be rather heavy and bulky. Although technology is constantly advancing and breakthroughs like GaN and Graphene are highly encouraging, we don't yet have power banks that are light and portable and that also pack a huge capacity. So for the time being, we need to compromise capacity when we want that extra storage.
Another important aspect of these portable chargers is the fact that they are mostly over the 100Wh limit imposed by the TSA. This means that you won't be able to take them on planes. Power banks of up to 100Wh are allowed, those between 100 and 160 Wh need a dedicated permit, while any power bank over 160Wh is not allowed on board. Almost all high-capacity power banks will be over these limits. So when purchasing one, please keep in mind the travel restrictions that might come with it.
How We Made Our Picks
First of all, all the products we recommend were used by us. We actually got our hands on them for a complete user experience. In picking these products we decided to look for some key factors:
Capacity. Obviously, this was the number one feature that we looked for. We tried to find the largest capacity power bank available which was a good buy. This brings us to the next point:
Build quality. We only focused on products from reputable brands that have a long history of providing high-quality products. When it comes to high-capacity portable chargers, there are a lot of knock-off brands out there that make false promises. We steered clear of these
Fast charging. Another important aspect we took into consideration is the fast charging technologies. The overall capacity is not that important as long as your devices take forever to charge.
Multiple ports. For power banks in general, but especially for those with more capacity, it's important to be able to charge multiple devices at a time. We wanted to make sure that you can do so with at least 4 different devices simultaneously.
So, without further ado, here are the best ultra-high power banks from our point of view:
1. Renogy 72000mAh Power Bank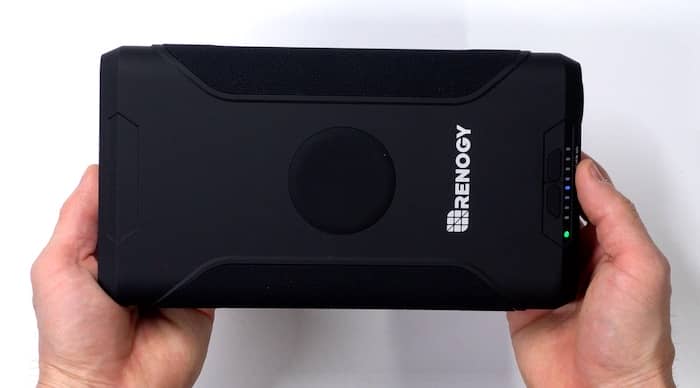 Capacity: 72000 mAh / 266 Wh
Dimensions: 9" x 4.9" x 1.7"
Weight: 52.8 oz/1496 g
Ports: 1 USB Type-A, 2 USB Type C, 1 DC, 1 car lighter
Charging Time: 4 Hours
Price: ~$200 (actual price might vary)
mAh/$ ratio: 361
Or buy on DrPrepare.com or on Newegg.com
The Renogy Laptop Power Bank is by a wide margin the highest capacity entry on this list. The combination of its high capacity and lighter style part even make it suitable for charging more powerful devices than just laptops.
That said, laptops are where this power bank shines. The DC output port supports 2V/5A, 16.5V/4A, 20V/3.5A, and 24V/2A devices, and has a modular tip with support for 19 different charging ports. It also features pass-through charging, so if the power bank is plugged in, it will charge devices from that source first.
The additional USB-A port and USB Type C port can be used simultaneously with the DC port, providing extra support for those with multi-device needs. And it has a LED power indicator, making it easy to track power consumption.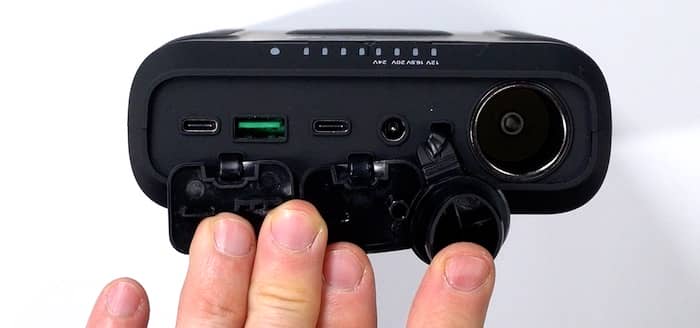 It has protection from overheating, short circuits, power surges, and overcurrents. It's not waterproof (though many aren't) and it's not quite as rugged as some others, so avoid major impacts where you can.
The only major downside to this device is when it comes to portability. Where most power banks are comparable in size to a phone, this one is closer to a large paperback book. The capacity is also well above the TSA limit for carry-on, so it can't be taken on flights.
Unboxing video
What we like about it
Largest capacity of a traditional power bank
A lot of different charging ports
Sturdy and rugged built
Good price/quality ratio
What we dislike about it
Heavy and bulky
Cannot be taken on planes
Read our full review of the Renogy 72000mAh power bank
2. CRAVE PowerPack 50000mAh
Capacity: 50000 mAh / 185 Wh
Dimensions: 8.2 x 5.4 x 1.3 in
Weight:51 oz / 1445 g
Ports: 2 USB Type A Ports, 2 USB Type C Ports
Charging Time: 5 Hours
Price: ~$250 (actual price might vary)
mAh/$ ratio: 200
Or buy on CraveDirect.com or on Ebay
The Crave PowerPack is a high-capacity portable charger that packs in 50000mAh which is the equivalent of 185Wh. This is actually the 2nd version of the same power bank that Crave has designed. This latest version comes with two fast-charging USB type C ports, alongside the two classical USB type A ports.
In terms of charging ports, it comes with 4 different options: 2 USB type A and 2 USB type C. Unlike the Renogy above, it does not feature any DC charging port, nor a car cigarette lighter socket. So it's only compatible with devices that rely on USB charging. But on the plus side, it can provide up to 100W of power through one of its USB-type C ports. That's more than enough to charge even the most power-hungry laptop.
The power bank also includes surge protection, short circuit protection, and overcurrent protection. It has an aluminum alloy shell, so it's one of the sturdier options on this list, but still not technically shock-resistant. For its capacity, it's rather compact as you can see in the image below:
Due to its large capacity (184Wh), it's well over TSA limits (100Wh).
Unboxing video
What we like about it
Generous 5000mAh capacity
Two USB type C charging ports
100W max power output
Slim and compact for its capacity
What we dislike about it
Could have had more charging ports
Cannot be taken on flights
3. ROMOSS SENSE8P+ 30000mAh Power Bank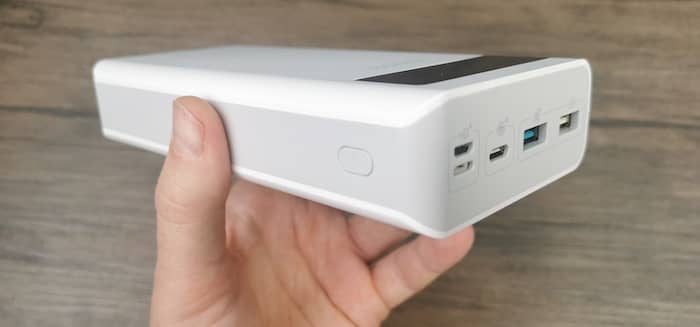 Capacity: 30000 mAh / 111 Wh
Dimensions:6.6 x 3.1 x 1.3 in
Weight:23.7 oz / 671 g
Ports: 2 USB Type-A, 1 USB Type C, 1 Lightning, 1 Micro USB
Charging Time: 11 Hours
Price: ~$43 (actual price might vary)
mAh/$ ratio: 697
Or buy on Sears.com or on Ebay.com
The ROMOSS SENSE8P+ is at the entry level of ultra-high-capacity power banks. Although it doesn't rise up to the level of the other picks on the list, it does have some noteworthy pluses. First of all, at 111Wh it can be taken on planes. Although you'll need special approval from the airline before you fly with it, that is doable, unlike the Renogy or the Crave portable chargers which are both over the maximum 160Wh limit.
At 23.7 oz, it's the lightest power bank of the bunch. So if you have to carry it around, you'll feel this one the least. And last but not least, it has a great mAh/price ratio. This means that you'll get the most mAh for your buck. You're better off buying 2-3 of these in terms of overall capacity, compared to getting either the Renogy or the Crave. So if you're on a budget and don't mind getting more power banks instead of just a single one, then this is the choice for you.
The biggest drawback of the ROMOSS SENSE8P+ however, is its slow charging time. Clocking in at 11 hours, it's slower than its competitors, although it has less capacity than either of them. If that doesn't phase you, then we believe this might be the one for you.
Unboxing video
What we like about it
Light and compact compared to other high-capacity power banks
It can be taken on planes (with special approval)
LCD screen
What we dislike about it
Lower capacity compared to the other options in this list
Slow to recharge
Read our full review of the ROMOSS Sense8P+
FAQs
What is the largest capacity power bank?
From our research, the power bank with the highest capacity is the Renogy 72000mAh. There are batteries out there with higher capacities, but they lose the classical power bank shape. Instead, they become power stations, such as the Bluetti EB 55. We weren't able to find another power bank that has a higher capacity than the Renogy. However, if you do some research, you'll even find power banks with advertised capacities of up to 100000mAh. However, in most cases, these power banks are pure scams, as discussed here.
How much of the power bank's capacity is actually usable?
Even if you're getting an ultra-high-capacity power bank, you should know that not 100% of that stored energy is actually usable. Some of it will be lost along the way because the charging/discharging process is not perfect. There will always be energy losses due to different factors. On average, you'd be safe to assume that you'd be able to use 70-80% of a power bank's capacity. For more details, check out this article.
Why Trust Us
At Power Bank Expert, we're committed to providing accurate and reliable information about power banks in general. Here's why you can trust our reviews and recommendations:
Direct Product Experience: We don't just rely on specifications or external reviews; we personally use each power bank we recommend. This hands-on experience ensures our reviews are based on real-world usage and performance.
Focus on Key Features: Our selection process is rigorous and focuses on essential aspects such as capacity, build quality, fast charging capabilities, and the number of charging ports. This comprehensive approach ensures we recommend products that meet a variety of needs.
Quality over Quantity: We prioritize power banks from reputable brands known for their high-quality products. This means you can trust the durability and reliability of our recommended products.
Practical Insights: Our reviews are grounded in practicality. We understand the limitations and advantages of ultra-high capacity power banks, such as travel restrictions due to TSA limits, and we share these insights to help you make an informed decision.
Balanced Reviews: We provide a balanced perspective in our reviews, highlighting both the strengths and potential drawbacks of each power bank. This objective approach helps you understand exactly what you're getting.
Updated and Relevant Content: Our content is regularly updated to reflect the latest trends and developments in the power bank market, ensuring you receive the most current and relevant information.
User-Centric Approach: We consider the diverse needs of our audience, from digital nomads to outdoor enthusiasts, ensuring our recommendations cater to a wide range of users.
By combining our direct experience with a thorough understanding of what makes a great ultra-high capacity power bank, we strive to provide reviews and recommendations that you can trust. Whether you need a reliable power source for long camping trips, backup during power outages, or for any other high-capacity needs, Power Bank Expert is your go-to source for trustworthy advice.
Conclusion
If you're shopping for an ultra-high capacity power bank, be sure to consider not just capacity, but also the functions and charging time. All the options on this list are excellent in terms of capacity, so pick the one that has the features that you're most likely to need.