Qualcomm Quick Charge is a fast-speed charging technology that manages power delivered over USB, mainly by communicating to the power supply and negotiating a voltage. Its main feature is that it supplies more power than the conventional 5 Volts / 2 Amps USB rate, and thus it charges batteries much faster.
If you're interested in learning more about Qualcomm Quick Charge, click here for our in-depth analysis, of its evolution, and different versions.
Qualcomm Quick Charge Power Banks
Power banks with Quick Charge technology are great because they offer multiple output values to charge devices with built-in Quick Charge compatibility according to their power requirements. A 2750mAh battery can be charged up to 50% in 15 minutes through a Quick Charge port that supports the latest version. Compatible tablets, and even laptops, are also able to take advantage of fast charging as some power banks are capable of delivering up to 100W; enough to recharge them multiple times.
As we know, the larger the capacity of a device is, the longer the time it takes to recharge. Even though we benefit from recharging our smartphones and other devices through power banks, we dislike it when they deplete, and especially waiting until they're fully charged. However, the latest power banks also come with Quick Charge Input, so the power bank recharges at a fast speed as well.
Conventional chargers (1.1 A) typically charge a big-capacity power bank, say of 20100mAh, in 20 hours, while 2.4 A chargers do so in around 8 or 10 hours; overall, a long time. But Quick Charge input allows the power bank to recharge faster, requiring as little as 4.5 hours if you use a wall charger adapter that supports Quick Charge 3.0. This represents a remarkable improvement because it means that you can count on your power bank sooner, and perhaps for more hours as well.
Why should you buy a Quick Charge Power Bank?
Qualcomm Quick Charge technology has been widely adopted by almost every main smartphone brand on the market, and as a consequence, most of their latest models charge at fast speeds. This way, Quick Charge power banks have become lifesavers because they offer what everybody is looking for: Extending the battery life of their portable devices while saving time.
So, the big question is: why should you buy a Quick Charge Power Bank if your cellphone already has that function? Well, the answer is that for maximizing the charging speed of your device, both the device and the charger/power bank need to be Quick Charge-enabled; otherwise, your device will charge at a slower speed. Besides, unlike power banks with conventional input, these power banks recharge significantly faster, and shortening the wait means that you can rely on them for a longer time.
At Power Bank Expert, we've chosen some of the most popular and reliable power banks with Qualcomm Quick Charge, considering customers reviews on Amazon, as well as the following criteria:
Power banks with multiple output ports: These can be used to power up multiple devices simultaneously.

Power banks with more than one type of output port and different charging protocols: These can be used with a broader range of devices.

Power banks with Quick Charge input ports: These are usually of bigger capacity and generally recharge faster.
Our Top Picks
1. INIU 10500 – Quick Charge 4.0 and PD
10500mAh/38.85Wh capacity
2 USB A outputs with QC 4.0
1 USB Type C output port with PD 3.0
1 USB Type C input port with PD 3.0
Size: 5.3 x 2.8 x 0.6 inches
Weight: 7.4 ounces
LCD power display
Unboxing video
Next up, we have the INIU 10500mAh power bank. It only has a capacity of 10500mAh, which isn't very high but is still sufficient. That's because it offers both the QC 4.0 and PD 3.0 charging technologies for your compatible devices. It can charge the Samsung S10 2.3 times, iPhone 8 4.0 times, AirPods Pro 13.9 times, and iPad 1.2 times.
Both USB-A ports offer Quick Charge 4.0, which has a rating of 5V/3A. One port will deliver 18W, but it provides 22W when both are in use. Overall, this will charge your Android or Apple products from 0 to 60% in just 35 minutes, which is three times faster than traditional 1A chargers. Meanwhile, you can charge your devices and the power bank itself with the USB-C input/output port, which will provide a quick charge thanks to its PD 3.0 charging technology. It will take under 30 minutes to charge the power bank if you used a 20W wall adapter.
Overall, this product measures 5.3 x 2.8 x 0.6 inches, weighing 7.4 ounces. Due to its compact size and weight, the power bank can be carried around quite easily. You can also slip it into your bag, purse, or luggage, making it easy to take with you while you're on the move. The rubberized exterior shell is quite smooth and easy to grip, making it difficult to fall out of your hand at any given moment. The case is also built with high-quality materials, which suggests that it's very durable.
All three USB ports can be found on the bottom of the power bank, just underneath the LCD screen. The power button is also located on the right-hand side of the device. Additionally, this power bank features a built-in phone holder, allowing you to stand your phone up while it's charging.
The built-in flashlight is also a handy feature if you're in an emergency, in a poorly lit area, or going on a camping trip. To turn this feature on, double press the power button. Overall, if you want a power bank that features the latest fast charging technologies, the INIU 10500mAh is a great option to consider.
What we like about it
One of the few power banks with QC4.0
Also comes with Power Delivery (PD)
LCD display screen
Phone Stand
Flashlight
What we dislike about it
The mate plastic cover is quite sensitive to smudges
Read our full review of the INIU BI-B6
2. Crave Plus 10000mAh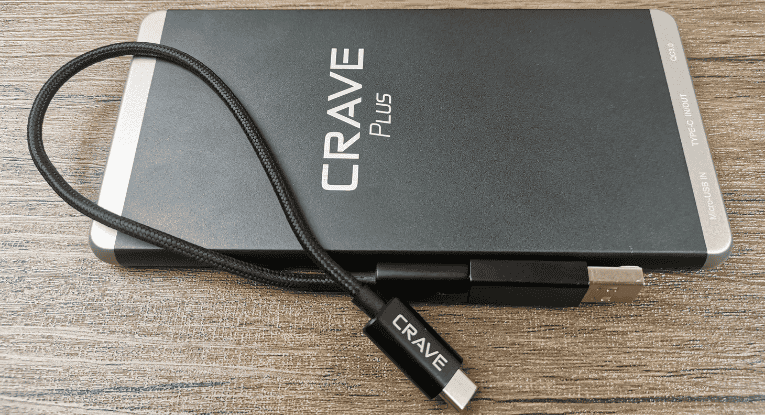 10000mAh/38Wh capacity
1 USB A outputs with QC 3.0
1 USB Type C in/output port
1 micro USB input port
Size: 6.2 x 3.1 x 0.4 inches
Weight: 8.7 ounces
Passthrough charging
Unboxing video
We chose the Crave Plus to be part of the list because of its QC3.0 compatibility. It has one USB type A port that features this charging technology. The other two ports it comes with are one type C port (input/output) and one Micro USB input port.
The Crave Plus is more of a premium power bank. Besides the fact that it's designed in the USA (and not in China as most power banks), it also comes with an all-metal casing. Made out of aluminum and with a mate finishing, it's both very strong but also resistant to scratches and smudges. You can feel the extra strong casing once you handle the product.
Moreover, since metal is much more heat conductive than plastic, the Crave Plus can keep cooler than similar power banks that have plastic casings. This means it will be able to charge at maximum speeds for longer periods of time.
It's also quite thin. Thinner that the vast majority of power banks out there. In fact, it has an overall similar size to an average smartphone, only slightly larger. This means you could easily fit it in a trouser pocket if need be.
However, its premium build quality is also reflected in the price. At around, $50, it costs around double of what you can find in other power banks with the same battery capacity. But if you prefer higher quality products, then the extra investment is worth it.
What we like about it
The USB type A port is QC3.0 compatible
It features passthrough charging
All-metal sturdy case
Premium build
Very slim
What we dislike about it
It would have been better to come with a type C port instead of a Micro USB
It's rather pricey
Read our full review of the Crave Plus
Final Thoughts
In conclusion, Qualcomm Quick Charge power banks are a must in today's fast-paced world. They not only provide an optimum fast charge, but they also present you with great choices in the form of compatible USB ports, and USB-powered devices, helping you stay away from power outlets for some time. Before making a purchase, make sure that it's Qualcomm Quick Charge certified, and that it's compatible with the specifications, and Quick Charge version of your device.