Most power banks deliver the standard 5V power output. However, if you require to charge a device that requires a 12V input, then you need to get a power bank that is capable of delivering the extra power. Usually, this is done via a USB port, a 12V DC port, or via a car cigar lighter type of port.
This is why we have created this curated list of what we believe to be the best 12V power banks that you can buy today.
How We Selected The Power Banks
12V Output Efficiency: The efficiency and reliability of the 12V output were our top priorities. We looked for power banks that provide a stable and consistent 12V output, essential for devices that require this specific voltage.
Overall Capacity: We focused on power banks that offer a high overall capacity, ensuring they can deliver prolonged 12V power, which is vital for extended use or for powering more demanding devices.
Build Quality and Durability: Knowing these power banks might be used in various settings, including outdoor and rugged environments, we emphasized robust build quality and durability in our selection.
Safety Features: Safety is always a concern with high-capacity power banks. We chose models with comprehensive safety features to protect against overcharging, overheating, and short-circuiting.
1. Renogy 72000mAh 12V Power Bank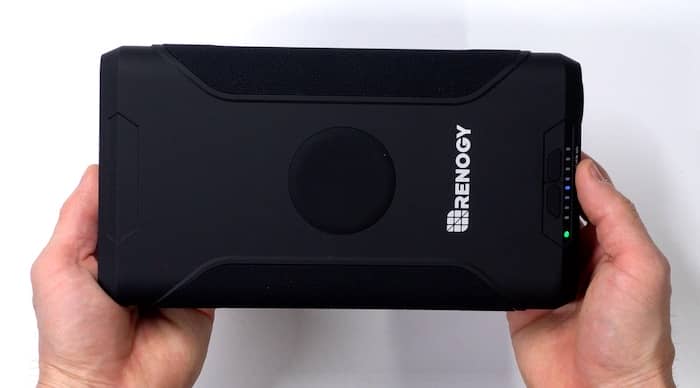 Capacity: 72000mAh
Ports: 1 USB Type-A, 2 USB Type C, 1 DC, 1 car lighter
Max output: 150W
Weight: 52.8 oz / 1496 g
Recharging time: 4 hours
mAh/$: 450
Or buy on DrPrepare.com or on Newegg.com
Our first pick is a five-port power bank introduced by Renogy. The most notable characteristic of this power bank is that it features two 12V outputs, one of which is a DC 12V/5A (150W max), and the other one is a 12V/15A cigarette lighter. What makes the cigarette lighter distinctive is that you can attach it to CPAP machines when there is no wall outlet nearby.
Additionally, Renogy equipped this model with a 72000mAh battery and a 150W output power to ensure the consumer sleeps better while away from home. However, keep in mind that a CPAP adaptor (also known as a car power inverter) is required and not included in the packaging.
The DC port also functions as an input for charging the Renogy. This port supports an input voltage of 18-24V/4A (84W maximum), and the battery can be recharged using solar panels rated between 20 and 100W. Renogy can be recharged in 4 hours or less using solar panels, which is incredibly fast compared to other power banks of similar size.
Furthermore, Renogy added three additional ports, two of which are USB-C and one of them is USB-A. In addition to being an output port, one of the USB-C ports also serves as an input connector, allowing you to recharge the power bank even if you don't have the DC cable around. Also, the USB-C port is rated at 60W, allowing for fast charging of laptops. It's worth noting that this Renogy power bank is only compatible with non-gaming laptops because of the high power consumption of gaming laptops.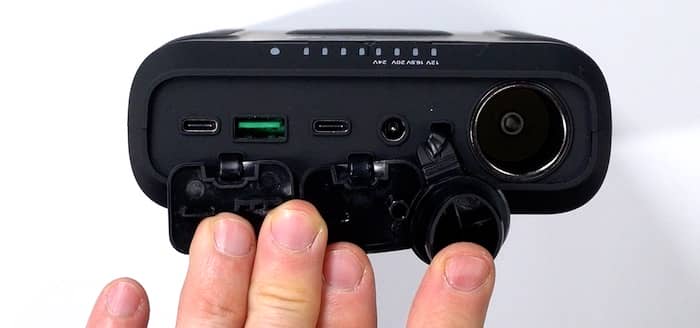 When comparing the USB-C port's recharge time to the DC port's, the USB-C port is around an hour slower than the DC input. Both USB-C ports support Power Delivery, allowing for the quickest possible charging of your devices. The other USB-C port on this model is 27W, while the USB-A port is 5V/4.5A, making them ideal for devices with lower power requirements.
Also, Renogy has included a 10W wireless charging pad with this power bank, so you can keep charging your compatible devices even if the ports are all taken. Besides, this model allows for the simultaneous charging of multiple devices.
Last but not least, Renogy's 7200mAh battery can charge a phone with a 2815mAh battery around 14.8 times, a tablet with a 7729mAh battery approximately 5.8 times, a 45W laptop around 5, and a 43.6Wh drone about 4.9 times.
Unboxing video
What we like about it
Two 12V output ports: DC & Cigarette
Ultra-high capacity
Multiple charging ports
Rugged power bank
What we dislike about it
Cannot be taken on planes
Read our full review of Renogy 72000mAh 12v Power Bank
2. Omnicharge 20000mAh Power Bank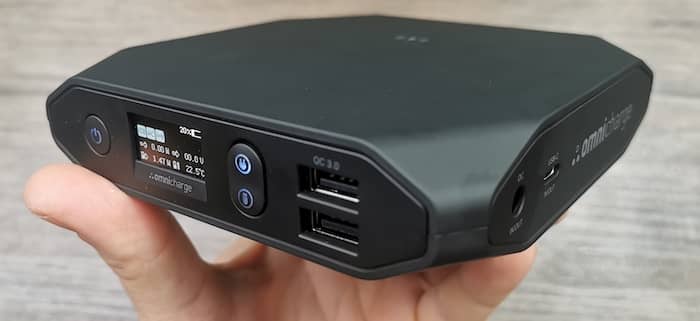 Capacity: 20000mAh
Ports: 1 USB type C, 1 DC, 2 USB type A
Max output: 100W
Weight: 22.4 oz / 635 g
Recharging time: 3 hours
mAh/$: 67
Or buy on Omnicharge.com or on Ebay
The Omni 20+ power bank from Omnicharge is one of the most famous power banks on the internet. When it first came out, it blew the competition out of the water with its advanced technology. And although it's been a few years since its release, it's still one of the most advanced portable chargers you can buy. This power bank is in a league of its own.
Like all the power banks in this list, it comes with a 12V DC port. This is both an input and output port that can deliver up to 100W of power. This is more than enough to charge power-intensive devices such as laptops or CPAP machines.

However, the Omni 20+ comes with so much more besides the 12V DC port. As you can see in the image above, next to it, there's a USB type C port that can output a max of 60W. Then, it also features 2 USB type A ports and one AC port. The AC port can be used as a regular wall socket and it can also output a max of 100W. It also features a wireless charging pad on the top side of the device. The entire charging port options make the Omni 20+ one of the most versatile 20000mAh power banks you can buy.
It also features a very informative LCD screen, unlike the vast majority of power banks that have 4-5 LEDs to showcase the charging level. The LCD screen of the Omni 20+ showcases much more information than just the charging level. For example, you can see which ports are currently in use and exactly how much power is flowing through each of them.

The outer casing of the Omni 20+ is made out of a rubbery plastic that is not prone to fingerprint marks. It feels like it's built with premium materials. Even the overall black color hints towards luxury. And the reality is that this is indeed a more luxurious power bank which is also reflected in the price. It's also twice as expensive as the Renogy which has almost 3 times the capacity. But the overall build quality alone more than makes for the price difference.
Unboxing video
What we like about it
100W 12V DC input/output port
AC port
LCD Screen
Premium build quality
What we dislike about it
Quite pricy for the capacity
Read our full review of the Omni 20+ Power Bank
3. TalentCell Rechargeable 12V 6000mAh/5V 12000mAh DC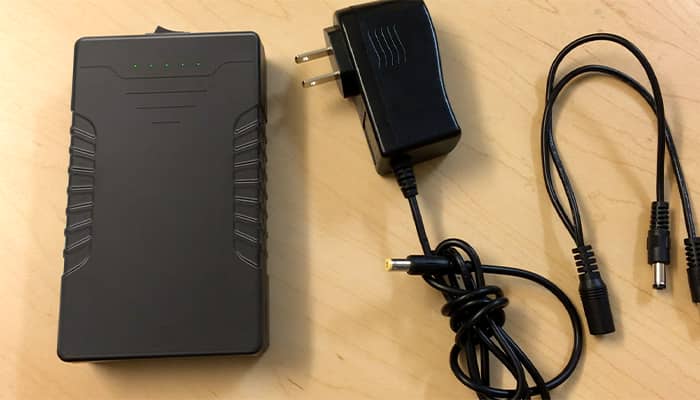 Capacity: 6000mAh
Ports: 1 USB-A, 1 DC
Max output: 36W
Weight: 13.4 oz / 380 g
Recharging time: 6 hours
Check price on Amazon.com
If you don't have a lot of gadgets to charge and merely want a power bank with a medium capacity and a 12V DC output, this TalentCell power bank is ideal for you. This power bank features a 6000mAh lithium-ion battery with a DC port that serves as both an output and input. The output function operates between 9V and 12.6V and can deliver a maximum current of 3A.
Additionally, the TalentCell's power bank's input capability supports a maximum of 12.6V/3A. In contrast to the DC port, which can be used to power up gadgets such as routers, LED strip lights and IP cameras, the USB-A port with the 5V/2A output is better suited for charging devices with lower power consumption, such as phones.
Furthermore, it has safety features such as over-charging, over-discharging, and short-circuit protection to safeguard the power banks and connected devices. TalentCell's power bank is 3.35×1.1×5.7 inches, which is smaller than the other power banks on our list, making it easier to carry in your backpack. Also, the LED indicators on the power bank display the battery level.
What we like about it
12V DC power output
ON/OFF button
Why Trus Us?
At Power Bank Expert, we are dedicated to providing the most reliable and comprehensive reviews of power banks, including ones with 12V outputs. Here's why you can trust our expertise and recommendations:
Focused Expertise: Our team specializes in understanding power banks in general, including the unique requirements of power banks with 12V output.
Rigorous Selection Criteria: We carefully select power banks based on critical factors such as 12V output efficiency, overall capacity, build quality, durability, and safety features. This thorough approach ensures that we recommend only the best products.
Balanced and Detailed Reviews: Our reviews are comprehensive and balanced, highlighting both the strengths and potential limitations of each power bank. We aim to provide a clear and honest assessment to help you make an informed decision.
Practical and Relevant Advice: We understand the practical needs of our users, from powering CPAP machines to charging laptops and other devices requiring 12V input. Our reviews and recommendations are tailored to meet these practical considerations.
Updated and Dynamic Content: Our list of recommended power banks with 12V output is regularly updated to reflect the latest models and technological advancements in the market.
User-Centric Approach: We value the feedback and experiences of our readers, incorporating their insights into our reviews to ensure they are comprehensive and relevant.
Commitment to Quality: We prioritize power banks that offer reliability and durability, ensuring that you get a product that not only meets your technical needs but also lasts long.
By combining our technical knowledge of 12V power banks with a rigorous testing and review process, we strive to be your trusted source for recommendations in this category. Whether you need a power bank for specific devices or for outdoor and rugged use, Power Bank Expert is here to guide you to the best choices.