Most power banks deliver the standard 5V power output. However, if you require to charge a device that requires a 12V input, then you need to get a power bank that is capable of delivering the extra power. Usually, this is done via a USB port, a 12V DC port, or via a car cigar lighter type of port.
This is why we have created this curated list of what we believe to be the best 12V power banks that you can buy today.
1. Renogy 72000mAh 12v Power Bank
Capacity: 72000mAh
Ports: 1 USB Type-A, 2 USB Type C, 1 DC, 1 car lighter
Max output: 150W
Weight: 52.8 oz / 1496 g
Recharging time: 4 hours
Our first pick is a five-port power bank introduced by Renogy. The most notable characteristic of this power bank is that it features two 12V outputs, one of which is a DC 12V/5A (150W max), and the other one is a 12V/15A cigarette lighter. What makes the cigarette lighter distinctive is that you can attach it to CPAP machines, such as the Philips Dreamstation, Resmed Airsense/Aircurve 10, or Resmed S9, when there is no wall outlet nearby.
Additionally, Renogy equipped this model with a 72000mAh battery and a 150W output power to ensure the consumer sleeps better while away from home. However, keep in mind that a CPAP adaptor (also known as a car power inverter) is required and not included in the packaging.
The DC port also functions as an input for charging the Renogy. This port supports an input voltage of 18-24V/4A (84W maximum), and the battery can be recharged using solar panels rated between 20 and 100W. Renogy can be recharged in 4 hours or less using solar panels, which is incredibly fast compared to other power banks of similar size.
Furthermore, Renogy added three additional ports, two of which are USB-C and one of them is USB-A. In addition to being an output port, one of the USB-C ports also serves as an input connector, allowing you to recharge the power bank even if you don't have the DC cable around. Also, the USB-C port is rated at 60W, allowing for fast charging of laptops. It's worth noting that this Renogy power bank is only compatible with non-gaming laptops because of the high power consumption of gaming laptops.
When comparing the USB-C port's recharge time to the DC port's, the USB-C port is around an hour slower than the DC input.
Both USB-C ports support Power Delivery, allowing for the quickest possible charging of your devices. The other USB-C port on this model is 27W, while the USB-A port is 5V/4.5A, making them ideal for devices with lower power requirements.
Also, Renogy has included a 10W wireless charging pad with this power bank, so you can keep charging your compatible devices even if the ports are all taken. Besides, this model allows for simultaneous charging of multiple devices.
Last but not least, Renogy's 7200mAh battery can charge a phone with a 2815mAh battery around 14.8 times, a tablet with a 7729mAh battery approximately 5.8 times, a 45W laptop around 5, and a 43.6Wh drone about 4.9 times.
Read our full review of Renogy 72000mAh 12v Power Bank
2. MAXOAK 50000mAh Laptop Power Bank
Capacity: 50000mAh
Ports: 4 USB type A, 3 DC
Max output: 100W
Weight: 44.3 oz / 1255 g
Recharging time: 7 hours
The MAXOAK 50000mAh is the following product on our list of the best portable power banks with 12V output. This power bank has six output ports: one DC 20V/5A, one DC 12V/5A, two USB-A with 2.1A, and two USB-A with 1.0A. On the other hand, this model features a single DC input rated at 16.8V/2.5A and can be recharged in 6-8 hours.
MAXOAK constructed this power bank using Lithium-ion Polymer battery cells with a capacity of 50000mAh. While the DC 20V/5A port is suitable for charging electronics with high power consumption, such as laptops, the 12V/2.5A port is ideal for charging smaller devices such as cameras, routers, and LED lights. In addition, USB-A ports can be used to charge phones and tablets.
Moreover, the battery's capacity of 50000mAh and a maximum output of 130W allows you to charge 65W laptops around 2.5 times and phones approximately 11 to 18 times, which more than compensates for the battery's hefty size and weight.
Plus, MAXOAK has incorporated various safety protections to make the power bank and connected devices safe, including overload protection, over-current protection, low-current protection, and so on.
Furthermore, this model is compatible with a broad range of laptop brands and models thanks to the inclusion of 14 different types of connections in the box. Another advantage of this power bank is that it can charge many devices simultaneously; so, if you own a few gadgets, you won't have to charge them separately.
Read our full review of MAXOAK Laptop Power Bank
3. Krisdonia 50000mAh Laptop Power Bank
Capacity: 50000mAh
Ports: 2 USB type A, 1 USB type C, 2 DC
Max output: 90W
Weight: 40.8 oz / 1156 g
Recharging time: 6 hours
This power bank from Krisdonia features a single DC input and four outputs, including one USB-C, one DC, and two USB-A. What distinguishes this power bank is its adjustable DC output port, which operates between 5V and 20V. To adjust the voltages, simply double-tap the power button.
You can charge laptops from a variety of manufacturers by setting the output to 5V 8.4V 9V 12V 3A; 16V(16.5V) 20V(19V, 19.5V) 4.7A. Using the DC output, you can charge laptops requiring 90W of power thanks to the battery's 50000mAh capacity and 185Wh power output.
The power bank's capacity is sufficient to last for several days. So, for example, you may charge a MacBook Pro 13″ 2015 once, an iPhone X ten times, or an iPad Mini 4 four times before it runs out of battery life.
Additionally, the USB-C port on Krisdonia's power bank supports 5/9/12V 3A output, which means it cannot be used to charge a 20V laptop. Both USB-A ports support 5/9/12V 3A and are integrated with Qualcomm's Quick Charge 3.0 technology, enabling you to charge compatible devices up to 80% in just 35 minutes.
Furthermore, the power bank can be recharged in 6 to 8 hours due to the 19V/2A DC input. This power bank from Krisdonia features Pass-Through charging technology, enabling you to charge the power bank and the connected devices simultaneously.
Moreover, this feature saves you time by allowing you to charge the power bank and a few other devices at the same time when you only have one outlet available. To enable this function, hold the power bank's button for two seconds as it recharges.
Plus, Krisdonia has included 28 connections inside the power bank's packaging that support a variety of laptop brands and models, eliminating the need to purchase a separate cable. There's also a bag provided, which makes it easy to carry the power bank and all the cables and connectors.
4. Goal Zero Sherpa 100PD AC Portable Power Bank
Capacity: 25600mAh
Ports: 2 USB type A, 1 USB type C
Max output: 60W
Weight: 22.4 oz / 635 g
Recharging time: 2.5 hours
If you're looking for a large capacity and high output power bank that meets TSA requirements, we recommend the Goal Zero Sherpa 100PD. This power bank is equipped with three ports, one of which is a USB-C that functions as an input and output and two USB-A ports. The USB-C port accepts voltages between 5V and 20V/3A, which means it can deliver a maximum of 60W of power.
By utilizing its USB-C output port, you can power up your laptop or any other high-power consumption device while on the go or during a blackout without the need to look for a wall outlet.
This USB-C has the added benefit of supporting Power Delivery technology, which detects and delivers the fastest charging speed available for the connected device.
Additionally, Goal Zero's power bank has a capacity of 25600mAh and can be fully recharged in just 2.5 hours, thanks to the USB-C output. For charging mobile devices like smartphones and tablets, Goal Zero included two USB-A ports stacked on top of each other, with an output of 12W.
Apart from these ports, the Goal Zero Sherpa 100PD is equipped with a wireless charger. If you're charging several devices with USB-A and USB-C ports, you can leverage the wireless charging function to charge any other device that supports wireless charging. With overheating, short-circuits, and over-current protection built-in, the Goal Zero Sherpa 100PD leaves no room for worry in the minds of its consumers. Notably, given that it's TSA-approved, you can bring it to the flight in checked baggage.
Read our full review of Goal Zero Sherpa
5. TalentCell Rechargeable 12V 6000mAh/5V 12000mAh DC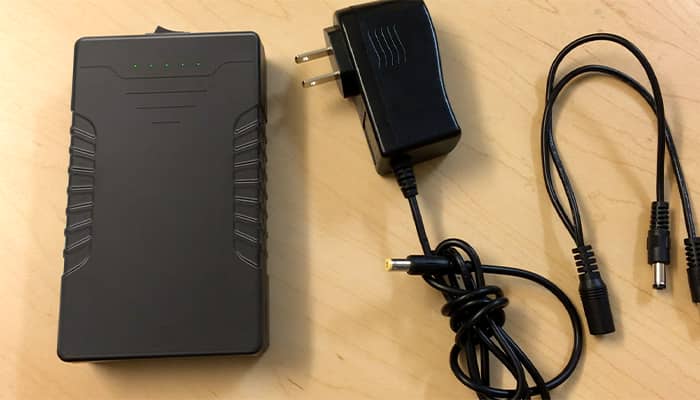 Capacity: 6000mAh
Ports: 1 USB-A, 1 DC
Max output: 36W
Weight: 13.4 oz / 380 g
Recharging time: 6 hours
If you don't have a lot of gadgets to charge and merely want a power bank with a medium capacity and a 12V DC output, this TalentCell power bank is ideal for you. This power bank features a 6000mAh lithium-ion battery with a DC port that serves as both an output and input. The output function operates between 9V and 12.6V and can deliver a maximum current of 3A.
Additionally, the TalentCell's power bank's input capability supports a maximum of 12.6V/3A. In contrast to the DC port, which can be used to power up gadgets such as LED strip lights and IP cameras, the USB-A port with the 5V/2A output is better suited for charging devices with lower power consumption, such as phones.
Furthermore, it has safety features such as over-charging, over-discharging, and short-circuit protection to safeguard the power banks and connected devices. TalentCell's power bank is 3.35×1.1×5.7 inches, which is smaller than the other power banks on our list, making it easier to carry in your backpack. Also, the LED indicators on the power bank display the battery level.
So there you have it, the best power banks with 12V output. Let us know if you believe any other power bank model should mak