Although buying a portable charger might seem pretty straightforward at first sight, once you start looking into the different models and options you can easily get caught in a quagmire of information and choice. The multitude of features and specifications can quickly lead to analysis paralysis.
This is why we put together this list of the best portable chargers currently on the market. And by "best" we mean the ones that use the latest technologies, have the most advanced features, and overall high production quality.
Here are some more details about what types of portable chargers we included in our list:
Fast charging technologies. Fast charging technologies are a real time-saver, helping you fully charge your devices in a much shorter time. Some of the most popular are Qualcomm Quick Charge, Power Delivery, PowerIQ, VOOC, Dash, etc.
USB type C port. As USB type-A ports start losing popularity, the USB type C port is shaping up to the port of the future being adopted by most companies in their newest devices. Even Apple is rumored to adopt it sometime in the future.
Fast recharging time. Nobody wants to wait 10+ hours for their portable charger to reach a full charge, so we included this aspect into our research too.
New technologies. Battery technology is slowly evolving. This is is why we seek to include the portable chargers that are leading the way with innovation.
1. Best mid-range: RAVPower 20000mAh 60W PD 3.0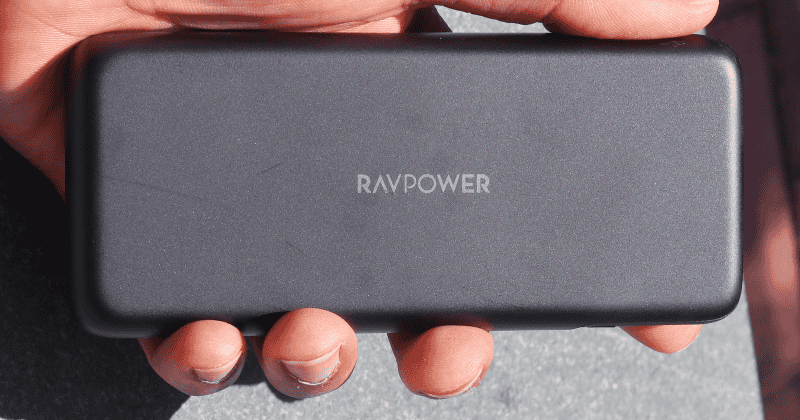 Capacity: 20000mAh
Max output: 60W
Ports: 1 USB type C, 1 USB type A
Fast charging: PD 3.0, QC
Weight: 14.4 oz / 408 g
Recharging time: 3 hours
Price: ~$50 (actual price might vary)
mAh/$ ratio: 400
This is a new release by RAVPower which has seen great initial success. And rightfully so. The RAVPower 20000mAh 60W PD is maybe one of the most balanced external batteries out there. It comes with a generous capacity and a strong 60W power output, enough to charge most laptop models including some MacBook Pro models. In fact, you could charge a MacBook Pro 13″ from 0% to 60% in just 1h. Please note that it's not compatible with the 16″ Macbook Pro though.
In terms of fast charging technology, it features Power Delivery 3.0 (which is the latest iteration in the Power Delivery series) but also Quick Charge. Each fast charging option corresponds to one of its two ports: one USB type C and one USB type A. In terms of power output per port, the USB C can deliver a maximum of 60W, while the USB type A can deliver up to 18W.
It's worth mentioning the fact that if you use both ports simultaneously, the total output is limited to 60W. So in this case, both ports will perform at a lower rate than they would if they'd function individually.
The 3 hour recharging time is also pretty good for a power bank this size. It's worth mentioning though that this can only be reached if you use a 30W PD wall charger. Otherwise, it might take longer to recharge.
What we like about it
It has both Power Delivery 3.0 and Quick Charge
Generous charging capacity
It can charge laptops
One of the best mAh/$ ratios
What we dislike about it
For its capacity, it could have had 1-2 extra output ports
If you want to find out more details, head on to our full review of the RAVPower 20000mAh 60W PD 3.0.
---
2. Fastest: Elecjet PowerPie PD20 20000mAh
Capacity: 20000mAh
Max output: 45W
Ports: 1 USB type C, 1 USB type A
Fast charging: PD 3.0, QC
Recharging time: 2.5 hours
Price: $68
mAh/$ ratio: 294.16
The PowerPie PD20 by Elecject is currently the fastest charging power bank available on the market. It can recharge itself in just 2.5 hours! This is crazy fast considering that the average portable charger takes more than 7h to recharges, sometimes up to 9+ hours. The PowerPie PD20 is part of a range created by Elecjet, which started life as an Indiegogo campaign that managed to receive more than 130k in funding from 930 backers.
Being compatible with both PD and QC 3.0, it can charge an iPhone 8 up to 50% in 30 min. On the downside, the Elecjet PowerPie PD20's is a bit pricey given the capacity.
What we like about it
It can be recharged in under 3 hours
45W output is enough even for charging laptops
Includes a lot of safety features
What we dislike about it
Expensive for the capacity.
---
3. Best with AC plug: RAVPower PD Pioneer 20000mAh 80W
Capacity: 20000mAh
Max output: 80W
Ports: 1 USB type C, 1 USB type A, 1 AC outlet
Fast charging: PD 3.0, QC 3.0
Weight: 23.3 oz / 660 g
Recharging time: 3 hours
Price: ~$87 (actual price might vary)
mAh/$ ratio: 229.91
If having an AC plug is a big thing for you then the RAVPower PD Pioneer 20000mAh 80W is your best choice. Easily charge laptops and tablets by plugging them directly into the portable charger. It's also a good solution for powering other devices such as drones, cameras, or gaming consoles such as the Nintendo Switch. However, household appliances such as a hairdryer are out of its maximum power output range.
In terms of charging technologies, besides the AC 80W output, it also features a bidirectional USB type C port with Power Delivery 3.0 and a USB type A output port with Quick Charge 3.0. It's also super fast to recharge at only 3.1 hours if you're using a fast-charge adaptor.
Maybe the only disadvantage of this unit is the fact that it could have had a slightly higher capacity. This is because it's mainly meant to charge laptops and other devices that require an AC plug, which usually have higher power needs. The ideal size would have been around 27ooomAh or 100Wh which is the maximum capacity allowed on flights.
What we like about it
The AC socket can be very useful, especially for charging laptops
High output power (80W)
It features both Power Delivery and Quick Charge 3.0
For more details, read our full review of the RAVPower PD Pioneer 20000mAh 80W.
---
4. Most stylish: Zendure SuperMini 10000mAh 18W PD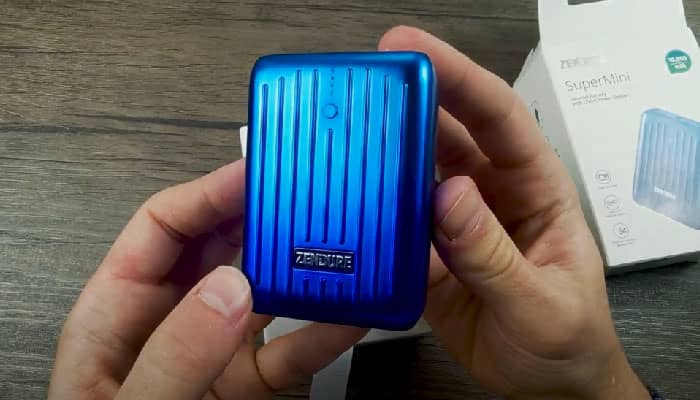 Capacity: 10000mAh
Max output: 18W
Ports: 1 USB type C, 1 USB type A
Fast charging: PD, ZEN+2.0
Weight: 6.3 oz / 178 g
Recharging time: 3 hours
Price: ~$50 (actual price might vary)
mAh/$ ratio: 200
As the name implies the Zendure SuperMini 10000mAh is a compact portable charger that is roughly as big as a deck of cards. It too started as a crowdfunding project on Indiegogo where Zendure managed to secure almost $340.000 in funding before the actual release.
What sets the SuperMini apart is its stylish look. The sturdy metal casing with embossed ridges reminds us of an airplane's design. Furthermore, it comes in three different colors: silver, black, and blue horizon. This makes the Zendure SuperMini a great accessory for iPhones and other high-quality stylish smartphones.
In terms of charging technology the Zendure SuperMini 10000mAh comes with two ports:
an input/output USB type C with 18W Power Delivery
an output USB type A with ZEN+2.0, also capable of delivering 18W
Furthermore, it also features pass-through charging and low current charging. The low current charging feature allows you to recharge items such as Bluetooth speakers, training bracelets, or smartwatches which typically require lower power outputs than regular portable chargers can supply.
In terms of charging time, it takes 3 hours to get the Zendure SuperMini back to 100%. For a 10000mAh power bank, this is a good recharging time.
What we like about it
Sleek and stylish design
Durable metal casing
It features Power Delivery and ZEN+2.0
Very compact and lightweight
For more details, read our full review of the Zendure SuperMini 10000mAh.
---
5. Best slim portable charger: Crave Plus 10000mAh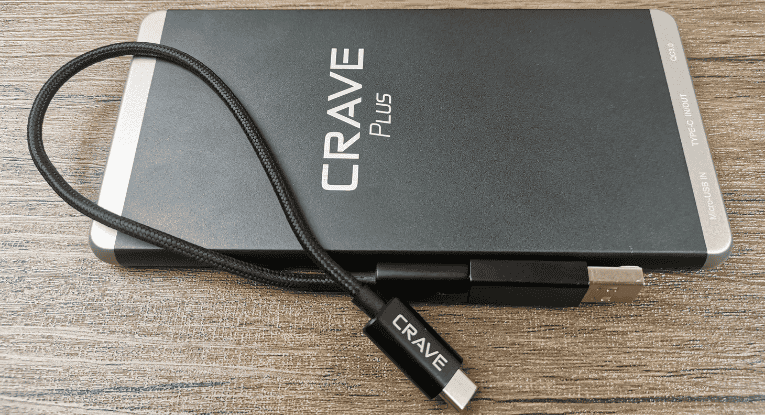 Capacity: 10000mAh
Max output: 18W
Ports: 1 USB type C, 1 USB type A, 1 Micro USB
Fast charging: QC 3.0
Weight: 9 oz / 255 g
Recharging time: 7-8 hours
Price: ~$50 (actual price might vary)
mAh/$ ratio: 200
Compared to the majority of power banks you can find on the market, the Crave Plus 10000mAh is not built using cylindrical battery cells. Instead, it uses a flat battery cell that allows it to be only 0.4 inches thick. Its overall size is very similar to that of an average smartphone.
It comes with Quick Charge 3.0 and has 3 different ports: Micro USB, USB type C, and USB type A. It can provide up to 2.2 charges to the iPhone XS Max, 2.4 charges to the Google Pixel 3 and 2.3 charges to the Samsung S10e.
The main appeal of this portable charger is that its highly portable due to its thin profile. It's ideal for people that want a power bank that can fit in a laptop sleeve or in a tight backpack pocket. The Crave Plus 10000mAh is designed in the USA and build using the highest quality materials. And with its 18-month warranty, you can be sure you're getting a solid deal.
What we like about it
Very thin profile
Built out of high-quality materials
Designed in the USA
What we dislike about it
It does not feature Power Delivery for fast charging
For more information on the Crave Plus 10000mAh, read our full review.
---
6. Largest capacity: Renogy 72000mAh Laptop Portable Charger
Capacity: 72000mAh
Max output: 60W
Ports: 2 USB type A, 2 DC barrel ports, 1 cigarette lighter
Weight: 44.6 oz / 1264 g
Recharging time: 8 hours
Price: ~$160 (actual price might vary)
mAh/$ ratio: 450.02
The Renogy 72000mAh is a beast of a portable charger. It has the highest capacity of any power bank that we know of and that still looks like one. Now, there are devices with greater capacities out there but they all have the electric generator boxy-type of frames, whereas the Renogy 72000mAh still maintains that slim profile we're so familiar with in power banks.
This portable charger has been mainly built to power larger devices such as laptops, drones, or CPAP machines. In fact, it comes with a wide array of adaptors for various laptop models. Another important feature that sets it apart is the 12V/13A car cigarette lighter socket, which is very rare to see in a portable charger.
But what the Renogy 72000mAh offers in sheer capacity, it lacks in the charging technology aspect. Unfortunately, it does not feature any fast charging option, nor does it feature a USB type C port. Furthermore, due to its 266Wh capacity, it's not something you'd be allowed to board a plane with, as the maximum TSA limit is 100Wh.
What we like about it
It has a huge capacity
It comes with some unique ports
The best $/mAh ratio (you get the most mAh for per spent dollar)
What we dislike about it
Cannot be taken on flights
Does not have any fast charging technologies
Very heavy
For more details, read our full review on the Renogy 72000mAh.
---
Honorable mentions
Halo Bolt 15900mAh with jump starter
Capacity: 15900mAh
Ports: 2 USB type A, 1 120V AC socket, 1 DC barrel port
Weight: 26.5 oz / 751 g
Recharging time: 9 hours
Price: ~$110 (actual price might vary)
mAh/$ ratio: 144.54
The Halo Bolt is pretty unique as it's a portable charer with jump starter. This can prove to be very handy to have in your car if you ever need a jump starter and you're not close to a power source. Another useful feature is its 120V AC outlet, which you can use to plug in your laptop or gaming console.
It also features two USB type A output ports each delivering a maximum of 2.4A. Unfortunately, it does not have any fast charging technology so it doesn't score any points in this chapter. On its side, it has a floodlight that can be useful in case of emergency or for lighting up your work area during the nighttime.
One of its other perks is that you can choose various design styles and patterns. It's quite rare to see a portable charger having so many different stylish options to choose from. But all-in-all this is an external battery to mainly buy as a backup jump starter. If you're not interested in that feature, then there are better deals out there than the Halo Bolt.
What we like about it
It comes with a jump starter feature
You can choose from multiple design styles
It features an AC outlet plug
What we dislike about it
It does not have any fast charging technologies
Low dollar per mAh value
No USB type C ports
Get a better look at it by reading our full review on the Halo Bolt.
---
Here's why you should trust us
At Power Bank Expert, we live and breathe power banks and portable chargers. We spend hundreds of hours researching and reviewing the latest and best portable charger models. You can find all our individual product reviews on our dedicated review page (btw you can also use our custom filter to quickly find what you're looking for!).
During our research and review process, we come across some portable chargers that stand out for various reasons. Either because of their charging technologies, their price/quality ratio, overall build quality, innovation, etc. So it's pretty easy for us to single them out and create this curated list of what we believe are truly the best portable chargers.
Furthermore, unlike many other sites, we continuously update this list. So if you come back in 3 months' time, you might see a different listing altogether provided that in the meantime we found some better alternatives.
But what about objectivity? Is this list completely objective? Well, since we're humans just like you (Hello! :*) we're obviously prone to subjectivity and human error. However, we make a conscious effort to be as objective as possible. We think of ourselves as being manufacturer-agnostic and we try to put data before brand names. However, if you think we can improve from this point of view, do get in touch and let us know.
Short buying guide for portable chargers
Whether or not you decide to get on the devices on our curated list, you might want to know what to look for when choosing the best portable charger for your needs. Please bear in mind that this short guide had been made for the average customer, not for highly experienced technical connoisseurs. Our intention was to keep it as simple as possible while still delivering the most important information.
So without further ado, here are some key features you should know about:
Battery capacity
This is basically the amount of energy that is being stored in a portable charger. It's most commonly measured in mAh (milliampere-hour) or sometimes in Wh (watt-hour). Almost all portable charger manufacturers, but also smartphone producers too, state their capacities in mAh, so it's maybe the easiest benchmark you can use to compare different devices.
However, sometimes you might need to know the capacity in Wh, such as when flying. There is a capacity limit of 100Wh for batteries that are allowed on planes, so you should know just how many Wh your portable charger has. In case that is not clearly stated, you can use our mAh to Wh calculator to quickly figure it out. The 100Wh limit is implemented by the TSA, FAA and other aerospace regulators in order to minimize the risk of accidents due to exploding power banks.
Another fact that you should be aware of is that the stated capacity is usually around 20% larger than the actual capacity of a battery. This happens for various reasons we discuss in length here. So for example, if you have a smartphone with a 2000mAh battery and you'd like to buy a portable charger that could provide 4 full charges, don't get a power bank that has a listed capacity of 8000mAh. Instead, get one with a capacity of 10000mAh or more. Check out this article for more details on how many mAh you need for charging your phone.
Power output and charging technologies
If capacity refers to the amount of electricity the portable charger can store, power output refers to how fast and how much it can deliver at a time. The output is usually specified in W(watts). If you're just looking to charge a phone then a 12W or 18W portable charger should be enough. However, if you want to charge a laptop or a power-thirsty gaming console such as the Nintendo Switch, then you should get a charger that can deliver at least 60W.
In terms of fast charging technologies, the most common are Qualcomm Quick Charge and Power Delivery. There have been several versions of each of them and currently, Quick Charge is at version 4.0 (there are still no power banks with QC 4.0 though) and Power Delivery is at 3.0. So you should aim to purchase a device that ideally has the latest version.
Other fast charging technologies are more brand-related and have a more reduced spread. Some of the more popular ones are PowerIQ, iSmart, VOOC, Dash, etc.
Input and output ports
In terms of ports, you should also choose the latest technology if possible. In this case, it's the USB type C which is slowly being accepted as the new standard as the USB type A slowly fades away. So it does not really make sense to invest in portable chargers that only have a USB type A ports if you plan on keeping the device for several years.
The number of ports is also a factor to consider. It can be very useful to have several ports available in some situations in which you need to charge more than one device simultaneously.
Last but not least, you might be interested in other ports than simply a USB type C. Some of the external batteries we reviewed have Lightning ports for iPhones and other Apple products, AC outlets, or even car cigarette lighter ports. So depending on your actual needs, the port layout of a portable charger can be a decisive factor.
Recharging time
Another very important aspect is to look for a power bank that doesn't take ages to recharge. There are some situations in which you definitely need to get your charger topped up fast, for example in an airport while waiting for your flight. If you have a portable charger that takes up to 8 hours to get to 100%, then it won't be of much help to you.
However, if you have a device that recharges in one hour, such as the HyperJuice power bank described above, then you have much more flexibility. In general, any portable charger that takes 3-4 hours or under that to recharge is a good choice.
And remember that due to the nature of batteries in general, the charging rate from 0% to 80% is higher than the charging rate from 80% to 100%. So in case you're in a hurry, charging your power bank to 80% will make the most of your time.
Portability
When it comes to portability you need to pay attention to 3 main things:
Volume: Do you want to fit in your pocket? Then you need to get a device with a small volume. This usually means a smaller capacity too.
Weight: Do you mind carrying the equivalent weight of brick in your backpack? If yes, then you should take this aspect into consideration before making that buying decision
Capacity in Wh: Do you want to be able to take the portable charger on a plane? Then you need to make sure it has a capacity of under 100Wh
Overall the more portable a device is, the most likely it is that you'll need to sacrifice on the capacity side of things. It's up to you to decide which is the perfect balance between portability and capacity.
Other aspects
Here are some other things to look for in a portable charger that might influence your buying decision:
Case Material. Usually, power banks with a metal case are more durable and scratch-resistant than ones made out of plastic.
Safety Features. Check if the device has in-built safety features to prevent it from overcharge, surcharge, short-circuit, overheating, etc.
Charging cycles. Not many manufacturers disclose how many charging cycles on average their devices can last. But some do. If you find a power bank that is guaranteed to get at least 1000 cycles before it dies out, then you're golden. 500 cycles are the lower acceptable limit in this case.
Warranty: Aim to get a portable charger that has a long warranty. Generally speaking, 18 to 24 months is the upper limit when it comes to power banks. Power banks that offer warranties for 3 or more years are very rare.
A word on wall chargers
One of the aspects that not all prospective buyers are aware of, is the fact that almost all portable charges come without accompanying wall chargers. If a wall charger is included in the package, this is very visibly advertised and it's also reflected in the overall price.
Some people purchase external batteries thinking that they also come with wall chargers and end up being unpleasantly surprised when their package finally arrives. Unfortunately, this is due to an unrealistic expectation on the side of the buyer. But if you're educated on the subject, you should avoid having such unpleasant surprises.
Another important fact to know about wall chargers is that they can greatly influence the charging speed of your power bank. It doesn't matter if the portable charger features the latest fast charging technology, if you're using a low-quality wall charger that can deliver just 2A of power, then it will take a long time for your device to get to 100% charge.
The solution is to invest in a fast-charging adaptor, which can deliver a lot of power in a short amount of time. A fast charger can help you to save time when charging both your power bank and your smartphone or any of your other devices. For this reason, we created an article about the best GaN wall chargers and another one on the best wall chargers with QC 3.0 and 4.0. Any fast charging adaptor listed in either of the two articles should help you achieve the quickest recharging times possible on both your phone and portable charger.
Frequent questions:
Final note: Is there something you don't agree with on this list? Do you think a specific portable charger should have made the list but it's not present? Do let us know!