Some portable chargers can be bulky, heavy and a nuisance to transport. However, lipstick portable chargers are a miniature alternative that resembles the common fashion items in size and shape. They're designed to easily fit in handbags, though they're also small enough to carry in a pocket. These devices come in handy when you're out of the house, but don't want to carry a bulky charger with you. So they're ideal for parties and other social events of this type.
Although they are slightly larger than a lipstick and aren't always round, their similarities make them an ideal gift to women. Lipstick power banks usually look sleek, feminine, and frankly, not embarrassing to whip out and use in public. With plenty of designs to choose from – including colors, shapes, patterns, and lids – they bring a more feminine touch to a traditionally technologically-focused device.
As they're built for people on the go due to their lightweight dimensions, most devices are scratchproof to prevent any damage while they sit in your pocket or handbag. Lipstick portable chargers typically offer a charge capacity ranging from 2500mAh to 5000mAh, which is enough to charge a smartphone once fully.
These glamorous-looking portable chargers often come with compatibility for a large range of smartphones. This includes small electronics, such as iPhones, Samsungs, and more. Simply attach the micro USB cable to your device to boost its battery.
On the other hand, due to their limited capacity and power, they're not suitable for charging laptops or tablets. Also, since they typically pack around 5000mAh, you'll likely only get one full charge out of the unit. This doesn't make them appropriate for long journeys or in situations where you'll regularly need to use your smartphone. As they're an inexpensive alternative to high-powered charges, they typically lack some features.
Why You Can Trust This Review
Here, at PowerBankExpert.com, we just about power banks and portable chargers. This is what we do all day. We get products, test them out and rate them so that would-be customers know exactly what they'll get before buying a product.
We're also up to date with the latest and newest power bank releases, technology updates, and industry trends. We know the hot items out there, the best price/quality ratio ones and the ones you should not even touch with a pole.
All the power banks in this review were actually bought and tested out by us. We made sure they fit our criteria and that they deliver what the manufacturer is promising on their sales pages.
How We Made Our Picks
Lipstick power banks have a very specific place in the marketplace and potential clients are interested in them because of some special features. So we made sure to prioritize the items on our list according to the following characteristics:
Shape
We looked for power banks that are as close to a lipstick shape as possible. Although they might be slightly larger and wider than an actual real-life lipstick, we selected only the most compact power banks that come the closest to the ideal shape.
Brand
There are numerous products out there, some of which might be much more compact than the ones on our list. However, most of them are produced by no-name brands with questionable quality. Since we want only to present the best possible product for our readers, we have ignored brands that we can't stand behind.
Weight
Weight is an important factor because these are the type of devices you don't really want to feel that you're carrying. In the end, this is one of the main things about their appeal. So we prioritized only the lightest models.
The Best Lipstick Portable Chargers
We've done the research for the best lipstick portable chargers based on performance, design, battery life, and more. Here are our top preferences.
1. Anker PowerCore 5000mAh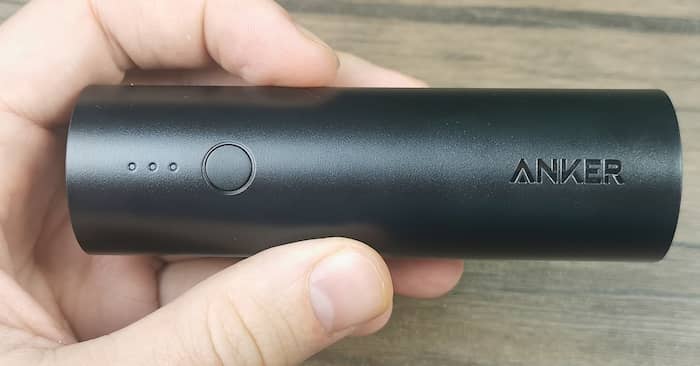 Capacity: 5000mAh
Charging time: 3h
Dimensions: 4.2 x 1.3 x 1.3 in
Weight: 4.8 oz
Charging time: 3h
12-month warranty
Or buy on Anker.com or on Ebay.com
The Anker PowerCore 5000mAh is at the top of our list because it's one of the quintessential lipstick power banks. This is also one of Anker's most popular products ever, raking in over 28k reviews on Amazon since it was first launched. Its success comes down to the fact that it brings a level of overall quality that is hard to beat at the price that Anker is selling it for, which is around $18.
So for under $20, you get a 5000mAh power bank that is able to charge a smartphone once, or maybe once and a half if the phone doesn't have a very large battery. More than that, it also comes with PowerIQ fast charging technology which will charge your phone faster than the average 5V/2A run-of-the-mill USB type port. The power bank itself can get charged in 3h which is quite fast as well.
It features two ports: the micro USB input port and the USB type A output port. If there's anything to diss about this power bank is the fact that it comes with a micro USB input port instead of a more modern USB type C port.
In terms of size and weight, this power bank is larger than standard lipstick, but it can definitely fit in a pocket, not to mention a purse or a bag. It also fits in the palm of your hand and can be easily manipulated. Check out the image below: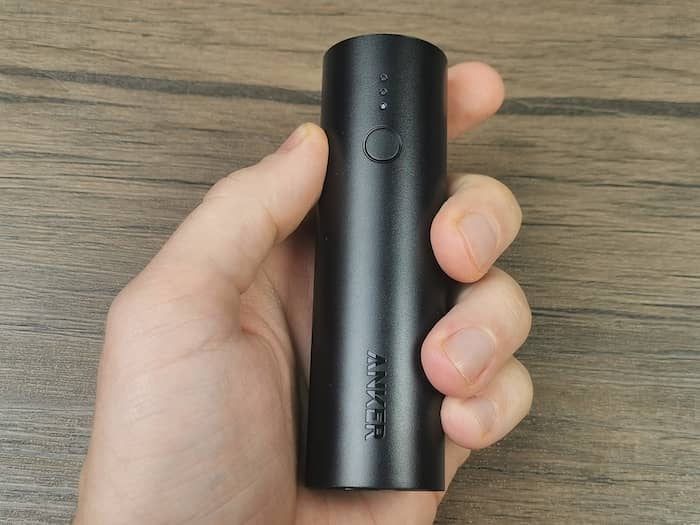 Overall, the Anker PowerCore 5000mAh provides a price/quality ratio that is very difficult to beat by other important manufacturers. The only power banks that come close, usually make big quality cuts.
Unboxing video
What we like about it
Very cheap at under $20
Fast charging technology
Only 4.8 oz
What we dislike about it
Micro USB instead of USB type C
Read our full review of the Anker PowerCore 5000mAh
2. Zendure SuperMini 5000mAh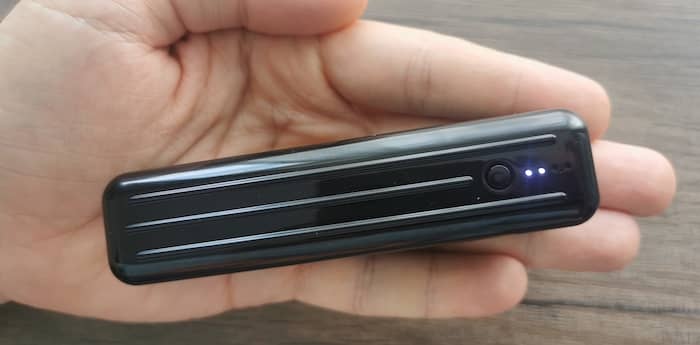 Capacity: 5000mAh
Ports: 1x USB type C; 1x USB type A
Weight: 3.9 oz
High-speed charging (PD)
Pass-through charging
Metal casing
Or buy on Geekbuying.com or on Zendure.com
Compared to the Anker PowerCore, the Zendure SuperMini 5000mAh is a more premium model. It still has the same 5000mAh capacity and does the same things, but it's more stylish and modern. First of all, it comes in a slick metal casing that is more durable than the plastic casing of the Anker PowerCore. Then and maybe the most important difference between the two is the fact that it comes with a USB type C charging port.
Here are the key benefits that the type C port brings in:
It charges both your phone and the power bank itself faster. The Anker PowerCore can be charged in 3h, but it only takes 2h for the Zendure SuperMini to reach a full charge
The type C port is both an input and output port. This means that you can use both ports of the power bank to charge devices. So while the Anker PowerCore can charge a single phone at once, the Zendure SuperMini can charge two phones simultaneously
Now, of course, the extra features and overall quality improvement reflect themselves in the product price. While you can get the Anker for under $20, the Zendure SuperMini cost almost double, at around $36. This the price increase worth it? We think so. But different people have different priorities, so both models can make sense given specific requirements.
Where the Zendure SuperMini falls a bit short, is its lipstick-ness factor. Because it doesn't have that cylinder shape, we can say that the Anker PowerCore is closer to an actual lipstick than the Zendure SuperMini. On the other hand, the fact that it has rectangular edges prevents it from accidentally rolling and possibly falling off tables and other similar surfaces.
Unboxing video
What we like about it
It rocks the USB type C input/output port
Takes only 2h to charge
It can charge two phones simultaneously
What we dislike about it
Rectangle shape that is not very lipsticky
Read our full review of the Zendure SuperMini 5000mAh
Conclusion
Lipstick power banks are quite popular mostly due to their reduced size and weight. Because of their high portability feature, they're easy to carry around, especially at parties, social gatherings, and during day-to-day activities. In this article, we strove to present the most worthwhile models from our point of view. If you have any questions or suggestions, please let us know in the comment section.