Depending on what your requirements are, there are a lot of options for EDC power banks. In this article, we put together a curated list of power banks that can be considered for everyday carry. We mainly focused on selecting products that had one or more of the following criteria: small and portable, durable, quick to recharge, and with extra useful features.
1. Smallest: Keychain EDC power bank
Capacity: 5000mAh
Max output: 18W
Weight: 6.4 oz / 181 g
Recharging time: 6 hours
Built-in USB-A and Lightning cable
This compact power bank can be easily worn just as a regular keychain due to its built-in carabiner. It also comes with two built-in charging cables: a USB Type-A cable for charging the power bank itself and a Lightning cable for charging other devices. Because it has a Lightning output port this keychain power bank is mostly suited for iPhones. However, if you'd like to use it to charge other devices or Android phones, you can easily do so if you get an adaptor.
With a capacity of 5000mAh, you can expect about 1-2 charges to your iPhone, depending on the model. Maybe what makes this device the most attractive for everyday carry is the fact that it's small and light. You'll barely feel that you have it on you and you go about your day. Using the carabiner, you can clip it onto your pants on maybe a backpack. You could even attach your keys if you so wish.
2. Best EDC power bank with flashlight: Xcentz 5000mAh
Capacity: 5000mAh
Max output: 15W
Ports: 1 USB type C, 1 USB type A
Fast charging: PD, QC 3.0
Weight: 4.5 oz / 127 g
Recharging time: 3 hours
The Xcentz 5000mAh is light and compact, it can easily fit in a pocket. The main feature you'd want to consider this power bank for EDC is the fact that it comes with a very bright built-in flashlight, which has a power of up to 100 lumens. With this power bank, you'll replace the need of carrying a dedicated flashlight, which can be very handy.
Besides the flashlight, this power bank has some other cool features too. For example, it comes with both Power Delivery and Quick Charge 3.0, fast charging technologies that will help you get very fast charging times for your devices. The power bank itself also charges up pretty quickly in just 3 hours, so you'll not spend ages waiting for it to top up.
3. Fastest charging: Apollo Traveller Graphene Power Bank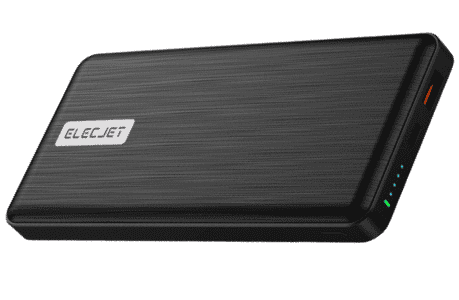 Capacity: 5000mAh
Max output: 30W
Ports: 1 USB type C, 1 USB type A
Fast charging: PD 3.0, QC
Recharging time: 18 minutes
If you're looking for an EDC power bank that can get charged really fast, then this is your best option. With an outstanding recharging time of just 18 minutes, it's currently the fastest power bank on the market. This ultra-fast charging speed was achieved by Elecject because they used one of the cutting-edge charging technologies available: graphene. However, as usual, new technologies are expensive, so be prepared to pay a premium price tag for this battery.
Besides the charging speed, what makes the Apollo Traveller a great EDC portable charger option is the fact that it's also small and lightweight. You can easily carry it in your backpack on a daily basis. Furthermore, its metal casing gives it extra durability, while the guaranteed 3000 recharge cycles mean you can count on it for many years.
4. Best for carrying in a backpack: RAVPower 60W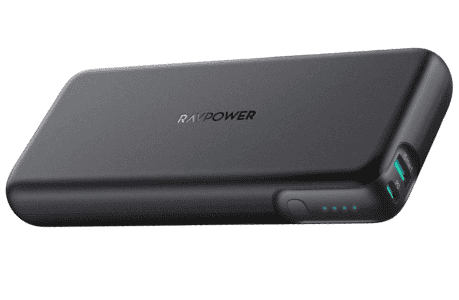 Capacity: 20000mAh
Max output: 60W
Ports: 1 USB type C, 1 USB type A
Fast charging: PD 3.0, QC
Weight: 14.4 oz / 408 g
Recharging time: 3 hours
If you're looking for a power bank with a bigger capacity which you can carry in your backpack, then the RAVPower 60W is the perfect choice. It's a true workhorse. This is a very sturdy and dependable portable charger for EDC, which can keep your phone powered up for days if need be.
Furthermore, with a maximum power output of 60W, it can also power up almost all laptop models. If you're also considering powering up your laptop, then this is an extra reason to consider the RAVPower 60W.
It comes in a mate-black casing made out of very durable industrial plastic. Its overall design is minimalistic and simple, which gives it a premium look. You won't be embarrassed to use it in a public cafe, for example…on the contrary, it can be a conversation piece. Consider RAVPower 60W if you're looking for a well-rounded power bank for everyday carry.
5. Best to keep in your car: Halo Bolt 58830mWh
Capacity: 15900mAh
Ports: 2 USB type A, 1 120V AC socket, 1 DC barrel port
Weight: 26.5 oz / 751 g
Recharging time: 9 hours
Comes with jump starting cables
The Halo Bolt is a great option for a portable charger to keep in your car. It's a medium-sized power bank that has a lot of useful features. But the one that sets it apart from the rest, is the fact that it comes with jumpstarting cables. So it's powerful enough to jumpstart your car if need be. This makes it a perfect EDC object to keep in your car just in case your get stranded in some remote place.
Of course, if you decide to keep it in your car, you must choose a place which is not under direct sunlight. So keeping it in your trunk makes the most sense. Either way, the last spot you'd want to leave it is on your dashboard on a sunny day.
Another cool feature of the Halo Bolt is the AC outlet. You can use it to directly plug in other devices such as a laptop. It can be very convenient especially if you want to charge a device that cannot be powered via a USB port.
Wrap-up
These are our suggestions. However, if you happen to know a good power bank for EDC which is not included in this list, do get in touch. We're always happy to hear feedback from our readers.