5000mAh power banks can be useful whether you're on the go or need something for general-purpose everyday use. They're often extremely lightweight, small, dependable, reliable, and safe to use. Plus, their compact design is an added bonus since they can be carried around in your pocket, bag, or purse quite easily, making them some of the most portable power banks. There is also always enough juice to last throughout the day, providing a full charge or two to most smartphones available on the market.
If you're looking to get the best 5000mAh power bank for your needs, you should at least ensure it has fast charging technology. This feature is very useful in portable chargers because it provides quick power-up whenever you need it the most for connected devices and the power bank itself. The two main types of fast charge technology are Power Delivery and Quick Charge, but those aren't the only ones available. Other technologies like PowerIQ, i-Swift, VOOC, etc. are also available in various power banks, depending on the manufacturer.
Since these features are more reliable to use in our everyday lives, we chose to review portable chargers that have fast charging technology.
Why you should trust this review
Here at PowerBankExpert.com, this is basically what we do all day. We try out different power banks and rate them accordingly. In fact, we have used all the power banks in this list in real life. We actually take them around our day-to-day activities and use them when they're needed. This way we can observe all their features and quirks as actual end-users.
In the end, we point out what we like and what we don't like about each of them. Granted, sometimes these observations might be subjective in nature, but they come from actual experience.
Our top picks
1. Anker PowerCore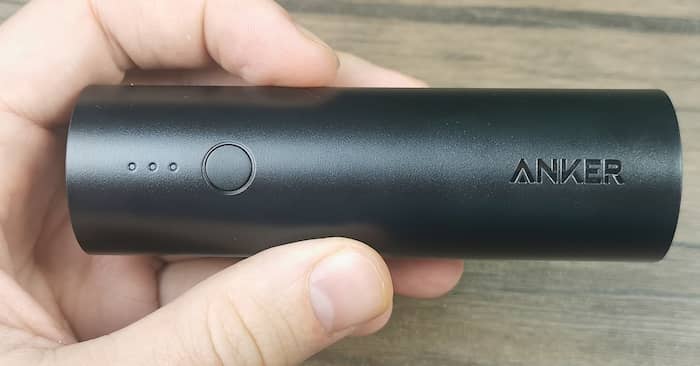 USB-A PowerIQ output port
VoltageBoost technology
USB-C input port
Built-in safety features
Size: 3″ x 1.3″ x 4.3″
Weight: 4.8 ounces
18-month manufacturer's warranty
Or buy on Anker.com or on Ebay.com
The Anker PowerCore 5000mAh is one of the all-time best-selling power banks. It's been a hit ever since it was first produced by Anker and it's been selling like hotcakes ever since. This is the reason why it raked in more than 28k verified user reviews on Amazon.
It comes with only one option to power up your gadgets. The PowerIQ USB-A output port provides the quickest possible charge with a maximum rating of 5V/2A. It even has VoltageBoost technology, which delivers more power to the output to overcome cable resistance, ensuring a rapid charge throughout its use.
It's also compatible with most USB devices, including Apple (Lightning cable required) and Android products except for the iPod Nano and iPod Classic. The built-in safety features provide protection against surges, short circuits, and much more to keep your devices safe. This charger has enough juice to power up an iPhone 6S two times, Galaxy S6 1.3 times, and an iPhone 6S Plus a single time.
Unboxing video
What we like about it
VoltageBoost fast charging technology
Very cheap at under $20
Only 4.8 oz
What we dislike about it
Type C would have been better instead of micro USB
Read our full review of the Anker PowerCore 5000mAh
2. Zendure SuperMini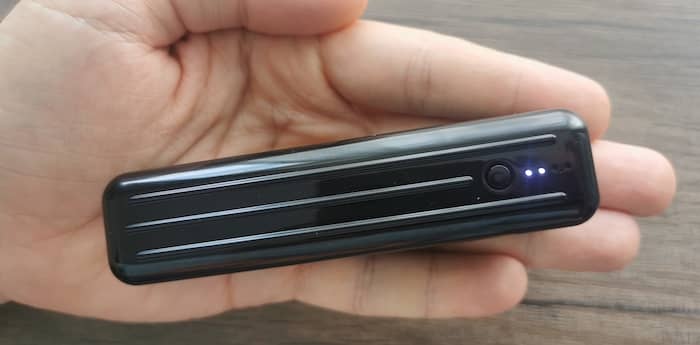 PD Fast Charging Technology
Ports: 1x USB type C; 1x USB type A
Metal casing
Size: 4.3″ x 1.10″ x 1.02″
Weight: 3.9 ounces
2-year warranty
Or buy on Geekbuying.com or on Zendure.com
The Zendure SuperMini is a more high-end 5000mAh power bank. It has a premium build that is easily recognizable by its metal casing, as opposed to the classic hard plastic casing that the majority of power banks are using. But the quality build goes further than the simple metal casing.
You see, the Zendure SuperMini comes with an input/output USB type C port, which is PD compatible and which can deliver up to 18W of power. Compared, for example, to the Anker PowerCore that comes with a micro USB instead, the type C is miles better. Besides the fact that it's faster, it also features a dual in/out purpose, whereas the micro USB can only be used as an input port.
This means that you can use the Zendure SuperMini to charge two different devices simultaneously. Not so with the Anker PowerCore which can charge only a single device at a time. Granted, given the modest capacity, you won't be able to load two devices for a very long time, but it's still a big improvement in terms of flexibility.
The improvement in terms of features and build quality comes at a price though. The SuperMini costs almost double compared to the PowerCore. While the Anker power bank is just under $20, the Zendure charger costs almost $40. If you want to get the extra bells and whistles you need to be prepared to pay for them.
Unboxing video
What we like about it
USB type C in/out port
It can charge two devices at the same time
PD compatible
Metal casing
Read our full review of the Zendure SuperMini 5000mAh
3. RavPower MagSafe
MagSafe Wireless Charging
One USB type C port
10W max power output
Size: 4.4″ x 2.7″ x 0.5″
Weight: 4.9 ounces
18-month warranty
Or buy it on Ebay or Xcite.com
The RavPower MagSafe power bank is one of the best choices for charging your phone wirelessly while on the go. Using the MagSafe technology, you can simply attach this portable charger to the back of your iPhone for example. It's so thin that you won't really tell the difference. You'll be able to slip both your phone and the charger into your pocket with ease.
Because they needed to keep it as thin and as compact as possible, RavPower reduced all other features to the minimum. So besides the wireless charging feature, it only comes with a single USB type C charging port. This is both an input and output port, so it can be used both ways. It can deliver a maximum of 10W of power whereas the wireless charging feature can deliver a max of 7.5W. That's not much but they should get the job done.
One thing that we noticed while reviewing this power bank is that the plastic casing is quite prone to scratches. This can also be observed in the attached image. We don't consider this to be a deal-breaker, but we know it's important for some people, so we thought we should mention it.
Unboxing video
What we like about it
Wireless charging
USB type C in/out port
Very slim and compact
What we dislike about it
Just a single charging port
Scratches easily
Read our full review of the RavPower MagSafe Power Bank
How many charges will a 5000mAh power bank provide?
In order to calculate how many times will a 50000mAh power bank charge your phones, you'll first need to know two things:
the actual capacity of the power bank
the capacity of your phone's battery
For reasons already discussed on this site, the actual capacity of a power bank is different than its listed or advertised capacity. In order to calculate the exact capacity as per this article, you'll first need to actually own the device. In case you don't already own it and are just looking to buy one, then your best bet is to estimate it.
In general, it's safe to assume that the real capacity is somewhere around 2/3 of the listed capacity. So in the case of a 5000mAh portable charger, that would be somewhere around 3333mAh. Now you can more easily estimate how many charges you'll get out of a 5000mAh power bank. So for example, an iPhone 12 has a 2227mAh battery, which means that you could realistically power it about 1.5 times.
Here's a table with some common mAh values, so that you can easily estimate just how many times you'd be able to recharge your phone:
| Phone battery capacity | Number of chargers by 5000mAh power bank |
| --- | --- |
| 1500mAh | 2.2 |
| 2000mAh | 1.6 |
| 2500mAh | 1.3 |
| 3000mAh | 1.1 |
| 3500mAh | 0.9 |
| 4000mAh | 0.8 |
| 4500mAh | 0.7 |