Next to 10000mAh power banks, the 20000mAh ones are some of the most popular capacity models. They are perfect for people that want a bit more range than the 10000mAh chargers provide, but still want to have a relatively lightweight and portable device.
If for example, on a 10000mAh power bank you can charge an average smartphone 2-3 times, with a 20000mAh power bank you can increase that range to 5-6 times. Not to mention the fact that you can charge a laptop such as the MacBook Pro around 2.5 times, provided they have the right amount of output power.
In this curated list we strived to include some of the best 20000mAh power bank models available today. Depending on your needs you might find some to be more suitable than others. What we looked for in these devices was for them to have some of the latest and best charging technologies possible.
How we made our picks
First of all, all the power banks on the list have been physically tested by us. We've actually used them to charge devices in real life. This way we got insights that are not present on the manufacturer's presentation pages. But here are some of the exact features we kept a close eye on, besides the 20000mAh capacity:
Fast charging technologies. This is a key feature when it comes to a decent-sized power bank like the ones on this list. First of all, you don't want to wait for ages to charge your phone, and similarly, you don't want to wait hours on end to charge the power bank itself.
Size and weight. 5000mAh and 10000mAh power banks are usually so compact that you don't even notice you them on you. But when you get to 20000mAh, weight, and size tend to become very noticeable. So we prioritized power banks that rank better on portability.
Multiple ports. Power banks this size have the ability to charge a smartphone at least 4-5 times. That's quite a lot of charge that at some point you might want to share, or maybe you'd like to charge several different devices simultaneously. That's why we considered that power banks with more charging ports are generally better.
Built quality. Like most other products, power banks come in different quality levels too. You can get very cheap ones from no-name brands with low-quality standards, or you can get a portable charger from a brand that is known for its quality. You will pay more for the extra quality, but that will make all the difference, especially considering the potential downsides. In this list, we only included high-quality products.
With all this being said, here are the models we're currently recommending.
Top 20000mAh Power Banks
1. INIU BI-B5 20000mAh Power Bank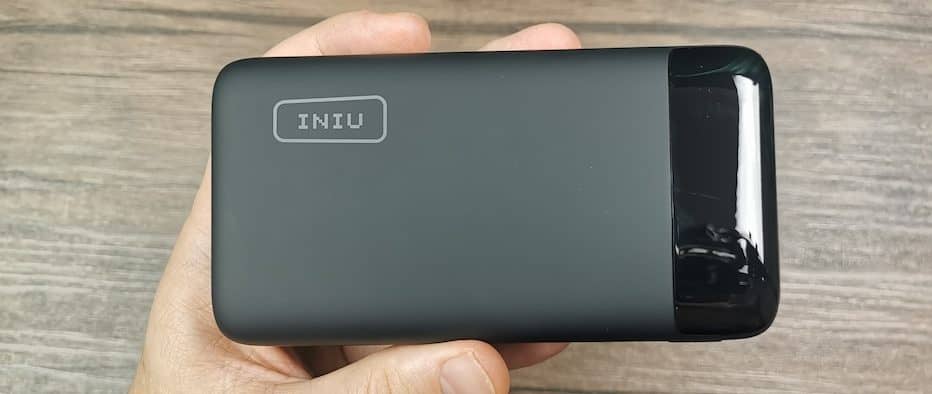 Capacity: 20000mAh
Max output: 22.5W
Ports: 1 USB type C, 2 USB type A
Fast charging: PD 3.0, QC4.0
Weight: 12.8 oz / 362 g
Recharging time: 6 hours
Price: ~$33 (actual price might vary)
mAh/$ ratio: 606
Or buy on Iniu.com or on Ebay.com
We believe that the INIU BI-B5 is one of the best 20000mAh power banks you can buy today considering the features it comes with and its price. First of all, it features a PD3.0-compatible in/out USB type C port that can deliver up to 20W. Besides that, it comes with 2 USB type A ports that are QC4.0-compatible. It's worth noting, that there are currently very few power banks that can provide QC4.0 on their charging ports. This is one of the very few that feature this new charging tech.
Because of the QC4.0 feature, the USB type A ports can deliver an amazing 22.5W each. You'll have a very hard time finding power banks that can deliver this much power from their USB type A ports. This, you'll be able to charge your devices blazingly fast with the BI-B5 portable charger.
One key feature that sets it apart from a lot of other power banks in this segment is the LED display screen. The majority of its competitors simply come with 3-5 LED lights to show charging levels. These individual lights can be quite vague and you're never sure of the exact level. But with this display screen, you'll know precisely how much charge there is in your power bank at any given time.
Last but not least, the BI-B5 also features a handy flashlight. It's a quite powerful one too! You'll be able to use it to navigate your way through dark environments. Even though it might not be a key feature that you might be looking for, you can never know when something like this will be of actual help.
Unboxing video
What we like about it
Comes with both PD3.0 and QC4.0
LCD display screen
Very good price/quality ratio
Built-in flashlight
What we dislike about it
Long recharging time (6h)
Read the full review of the INIU BI-B5
---
2. RAVPower PD Pioneer 20000mAh Power Bank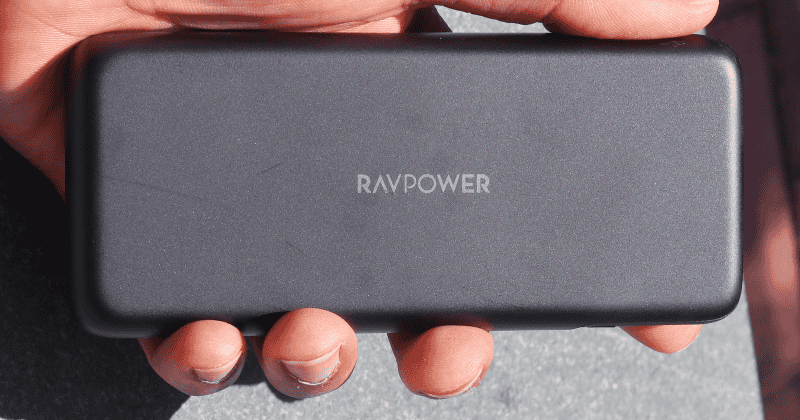 Capacity: 20000mAh
Max output: 60W
Ports: 1 USB type C, 1 USB type A
Fast charging: PD 3.0, QC
Weight: 14.4 oz / 408 g
Recharging time: 3 hours
Price: ~$50 (actual price might vary)
mAh/$ ratio: 400
Or buy at Walmart.com or Ebay.com
The RAVPower PD Pioneer 20000mAh is one of the latest and best models in the PD Pioneer series launched by RAVPower. As the name implies, these power banks are created around the Power Delivery technology which allows them to both charge other compatible devices and recharge themselves in very short amounts of time, compared to traditional power banks.
For example, the RAVPower PD Pioneer 20000mAh can be recharged in 3 hours, which is roughly half the time of a non-PD power bank. It can also charge the MacBook Pro 13″ from 0% to 60% in just one hour. These are some good charging speeds by any account.
Besides the USB type C PD port, it also features a USB type A port with Quick Charge capable of delivering 18W of power output. This is a great solution for quickly charging just about any smartphone.
Unboxing video
What we like about it
It features both PD and QC
It can easily charge most laptop models
Premium-looking design
What we dislike about it
It could do with one or two extra output ports
Read the full review of the RAVPower 60W PD Pioneer
---
3. Crave Plus Pro 20000mAh Charger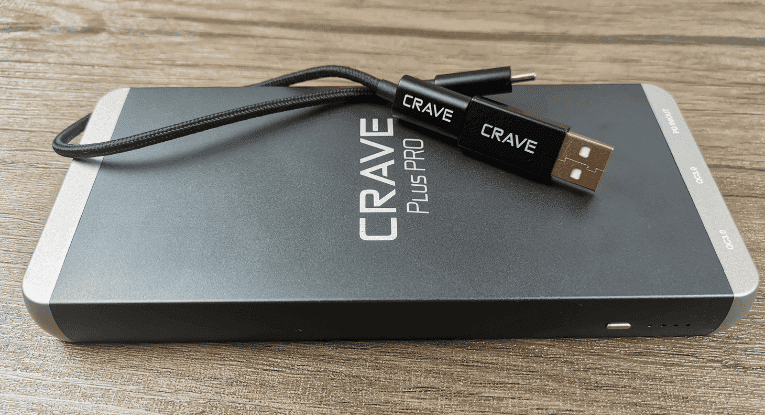 Capacity: 20000mAh
Max output: 45W
Ports: 1 USB type C, 2 USB type A
Fast charging: Power Delivery
Weight: 17.6 oz / 498 g
Recharging time: 4 hours
Price: ~$100 (actual price might vary)
mAh/$ ratio: 200
Check Price on CraveDirect.com
Or buy from Amazon.com or on Ebay.com
Unboxing
The Crave Plus Pro is one of the more premium power banks on this list. Starting from the design stage which was made in the USA, and ending with the premium build, the Plus Pro offers an overall higher than average product quality. This is also reflected in the price, which is twice or even 3 times as much as some power banks with the same capacity.
The feature that is the easiest to notice and which sets it aside from it's main competitors is the all-metal casing. You can feel that it's more sturdy and solid than power banks built with all-plastic casings. This also helps with cooling since metal is a better heat conductor than plastic, so heat dissipates easier. And cooler power banks run faster than ones that heat up quicker.
In terms of ports, the Crave Plus Pro features the classic 1 USB type C and 2 USB type A ports. The USB type C is PD-compatible and can deliver up to 45W, which is enough to charge a laptop such as the MacBook Pro.
What we like about it
Premium build quality
All-metal casing
Up to 45W of power (PD)
What we dislike about it
More expensive than the average 20000mAh power bank
Read the full review of the Crave Plus Pro

How many charges will a 20000mAh power bank provide?
If you want to calculate just how many times a 20000mAh power bank can charge your phone, you should not use the advertised capacity. As discussed before, due to several factors, only a portion of the power bank capacity will actually reach your device's battery. The actual available capacity can vary between producers as it depends on exactly how the power hank is being built. But in general, you can expect the real capacity to be around 2/3 from the advertised one. So in the case of a 20000mAh power bank, its real capacity is somewhere around 15000mAh.
So if you calculate 15000mAh instead of 20000mAh, you can get a better estimation regarding the number of times you can expect the power bank to charge your phone. Here are some common phone battery capacities and their afferent charging times from a 20000mAh power bank:
| Phone battery capacity | Estimated charges from a 20000mAh power bank |
| --- | --- |
| 1500mAh | 10 |
| 2000mAh | 7.5 |
| 2500mAh | 6 |
| 3000mAh | 5 |
| 3500mAh | 4.2 |
| 4000mAh | 3.75 |
| 4500mAh | 3.3 |
20000mAh power banks vs 10000mAh power banks
20000mAh power banks, alongside with 10000mAh power banks are maybe the most popular capacities. Of course, capacity is the biggest differentiator between the two options, but there are several factors that should be taken into consideration before making a decision. This is why I put together a video discussing this topic. Please have a look and hopefully, it will help shed light on which type of power bank is best for you.
Can you take a 20000mAh power bank on a flight?
Yes! 20000mAh power banks are rated at 74Wh, which is well under the 100Wh limit. If you're looking for a power bank that has the highest capacity possible within the TSA limits, then check out this article on the best 100Wh power banks.