Next to 10000mAh power banks, the 20000mAh ones are some of the most popular capacity models. They are perfect for people that want a bit more range than the 10000mAh chargers provide, but still want to have a relatively lightweight and portable device.
If for example, on a 10000mAh power bank you can charge an average smartphone 2-3 times, with a 20000mAh power bank you can increase that range to 5-6 times. Not to mention the fact that you can charge a laptop such as the MacBook Pro around 2.5 times, provided they have the right amount of output power.
In this curated list we strived to include some of the best 20000mAh power bank models available today. Depending on your needs you might find some to be more suitable than others. What we looked for in these devices was for them to have some of the latest and best charging technologies possible.
Elecjet PowerPie 20000mAh 45W USB C PD
Capacity: 20000mAh
Max output: 45W
Ports: 1 USB type C, 1 USB type A
Fast charging: PD
Weight: 13.8 oz / 391 g
Recharging time: 2.5 h
Price: ~$69.99 (actual price might vary)
mAh/$ ratio: 285.75
The Elecjet PowerPie is an all-around very well-built unit that comes with Power Delivery compatibility. This allows it to both charge itself very fast (just 2.5 hours) and also to quickly change other devices. For example, you could use it to charge an iPhone 11 Max up to 50% in just 30 minutes.
With a 45W power output, it can easily charge most laptop models, including the MacBook Pro but also the Nintendo Switch, even during its TV mode.
In terms of other charging technology features, it comes with pass-through charging and a low current mode, which enables you to charge devices that require low current outputs such as Bluetooth headphones and smartwatches.
What we like about it
Recharges in just 2.5h
It's PD compatible
Can charge most laptop models
Comes with pass through & low current charging
What we dislike about it
Not compatible with Lenovo's X series laptops
---
RAVPower PD Pioneer 20000mAh Power Bank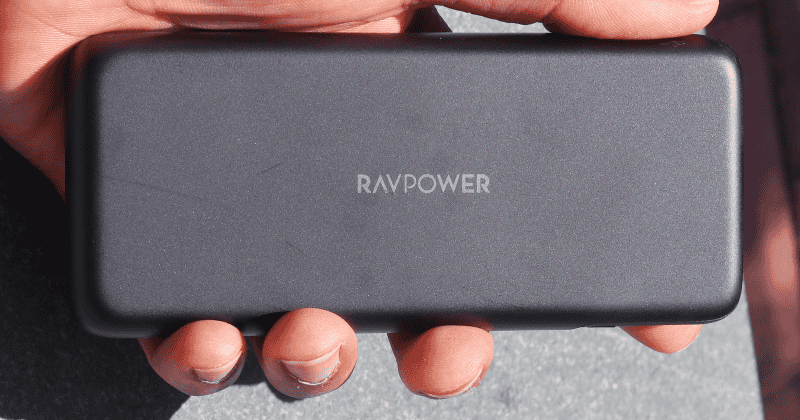 Capacity: 20000mAh
Max output: 60W
Ports: 1 USB type C, 1 USB type A
Fast charging: PD 3.0, QC
Weight: 14.4 oz / 408 g
Recharging time: 3 hours
Price: ~$50 (actual price might vary)
mAh/$ ratio: 400
The RAVPower PD Pioneer 20000mAh is one of the latest and best models in the PD Pioneer series launched by RAVPower. As the name implies, these power banks are created around the Power Delivery technology which allows them to both charge other compatible devices and recharge themselves in very short amounts of time, compared to traditional power banks.
For example, the RAVPower PD Pioneer 20000mAh can be recharged in 3 hours, which is roughly half the time of a non-PD power bank. It can also charge the MacBook Pro 13″ from 0% to 60% in just one hour. These are some good charging speeds by any account.
Besides the USB type C PD port, it also features a USB type A port with Quick Charge capable of delivering 18W of power output. This is a great solution for quickly charging just about any smartphone.
What we like about it
It features both PDand QC
It can easiliy charge most laptop models
Premium-looking design
What we dislike about it
It could do with one or two extra output ports
Read the full review of the RAVPower 60W PD Pioneer.
---
ZMI 20K Pro 20000mAh 65W Power Bank
Capacity: 20000mAh
Max output: 65W
Ports: 1 USB type C, 2 USB type A
Fast charging: PD, QC
Weight: 15.5 oz / 439 g
Recharging time: 3 hours
Price: ~$89 (actual price might vary)
mAh/$ ratio: 222
The ZMI 20K Pro is one of the best-looking 20000mAh power banks. It's easy to tell that the design team put in a lot of work to come up with this minimal and stylish metal case. But besides its looks, the ZMI 20K Pro is also a very powerful portable charger, capable of a maximum power output of 65W, which is enough to charge most tablet and laptop models.
It features a total of 3 ports: one input/output USB type C with Power Delivery and two output USB type-A with Quick Charge. It's also capable of charging 3 devices simultaneously out of the 3 ports.
One of ZMI 20K Pro's most unique features though is that it can be turned into a USB hub if needed. In order to do that, just connect the power bank to your laptop using the USB type C port. Then the remaining two USB type-A ports will function as extensions to your laptop ports. This means that you can place your wireless mouse USB or a USB storage disk into the power bank ports and your laptop will be able to recognize them.
What we like about it
Can charge laptops
Premium build with elegant design
Can function as a USB hub
Comes with both PD and QC
Read the full review of the ZMI 20K Pro power bank.
How many charges will a 20000mAh power bank provide?
If you want to calculate just how many times a 20000mAh power bank can charge your phone, you should not use the advertised capacity. As discussed before, due to several factors, only a portion of the power bank capacity will actually reach your device's battery. The actual available capacity can vary between producers as it depends on exactly how the power hank is being built. But in general, you can expect the real capacity to be around 2/3 from the advertised one. So in the case of a 20000mAh power bank, its real capacity is somewhere around 15000mAh.
So if you calculate 15000mAh instead of 20000mAh, you can get a better estimation regarding the number of times you can expect the power bank to charge your phone. Here are some common phone battery capacities and their afferent charging times from a 20000mAh power bank:
| Phone battery capacity | Estimated charges from a 20000mAh power bank |
| --- | --- |
| 1500mAh | 10 |
| 2000mAh | 7.5 |
| 2500mAh | 6 |
| 3000mAh | 5 |
| 3500mAh | 4.2 |
| 4000mAh | 3.75 |
| 4500mAh | 3.3 |
20000mAh power banks vs 10000mAh power banks
20000mAh power banks, alongside with 10000mAh power banks are maybe the most popular capacities. Of course, capacity is the biggest differentiator between the two options, but there are several factors that should be taken into consideration before making a decision. This is why I put together a video discussing this topic. Please have a look and hopefully, it will help shed light on which type of power bank is best for you.
Can you take a 20000mAh power bank on a flight?
Yes! 20000mAh power banks are rated at 74Wh, which is well under the 100Wh limit. If you're looking for a power bank that has the highest capacity possible within the TSA limits, then check out this article on the best 100Wh power banks.