100Wh is one of the most common configurations you'll see for a power bank. There are a few reasons, some having to do with it being a good capacity for charging multiple phones (or one phone multiple times), or even providing a full charge for a tablet or laptop. 100Wh is a good capacity, and with very few exceptions you'll get more than enough use out of a power bank of that size.
All that aside, the main reason that so many power banks are 100Wh is that it's the largest capacity that's allowed on an airplane without special permits or certification. So if you frequently travel by air (honestly one of the most compelling reasons to consider a power bank) then a 100Wh power bank is the largest you can be guaranteed to not have any issues with.
How We Selected The Power Banks
FAA Compliance: The foremost criterion was compliance with FAA regulations for air travel, which stipulate that power banks must be under 100Wh. We ensured all our selections meet these standards for hassle-free travel.
Portability and Design: We focused on power banks that are not only compact and lightweight but also designed for the convenience of travel, fitting easily into carry-on luggage or a backpack.
Charging Efficiency: We looked for power banks that offer efficient charging capabilities, with fast charging options to quickly power up devices during layovers or in-flight.
Versatile Charging Options: We valued power banks that provide multiple charging ports and support a variety of devices, making them ideal travel companions for keeping all your electronics charged.
Here are our top picks for the best 100Wh power banks currently available.
1. Charmast 26800mAh/100Wh Power Bank with PD & QC 3.0
Capacity: 26800mAh / 100Wh
Dimensions: 7.75" x 3.7" x 0.55"
Weight: 0.69 lbs
Ports: 3 USB Type-A Ports, 1 USB Type C Port, 1 Lightning Port
Charging Time: 7 Hours
Passthrough Charging: Yes
Or buy on Ebay.com or on Walmart.ca
The main appeal of the Charmast PD power bank is that it's scarcely larger than the phone you'll be charging with it. It has numerous charging ports, including a USB-C port, lightning port, and smart quick charge enabled port.
It has passthrough charging, but charging speed and output will be severely limited while doing so.
It has a 4-point LED display, allowing you to monitor the current battery level to within 25%.
It also includes multi-layer safety protections, including overheating, overcurrent, and overcharge. It's not shock or impact-resistant, though none of the options on this list are.
What we like about it
Exactly at the 100Wh limit
Very thin given its capacity
4 different ports
---
2. Goal Zero Sherpa 25600mAh/94.72Wh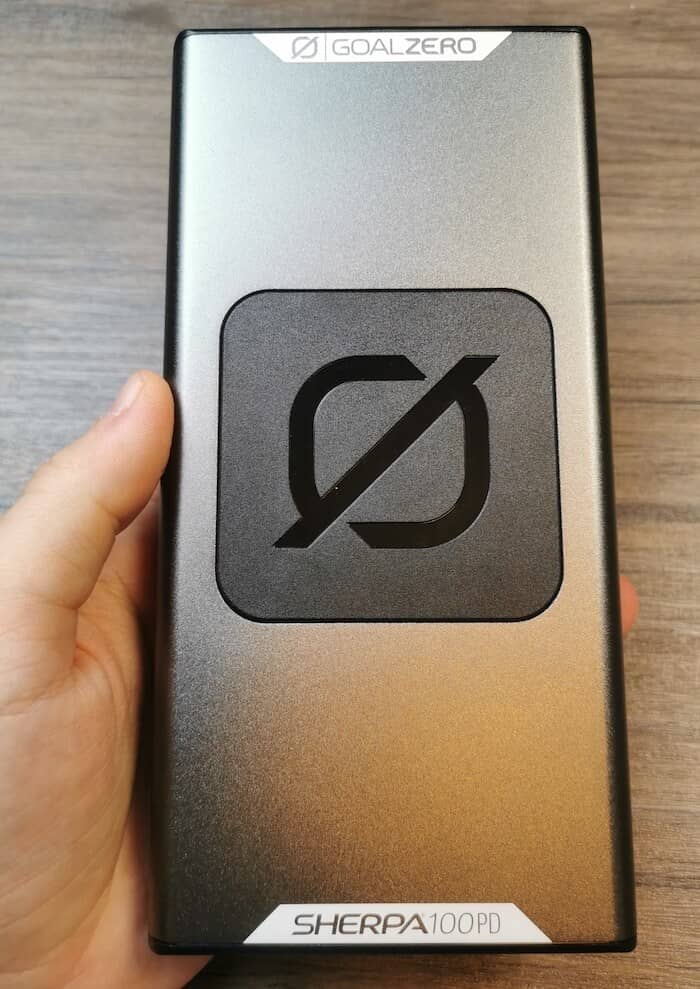 Capacity: 25600mAh / 94.72Wh
Dimensions: 7.5″ x 3.7″ x 1″
Weight: 22.4 oz
Ports: 2 USB Type-A Ports, 1 USB Type C Port
Charging Time: 3 Hours
Passthrough Charging: Yes
---
Or buy on GoalZero.com or on BestBuy.com
While the Goal Zero Sherpa is not exactly at 100Wh, it's very close to the capacity at just about 94.72Wh. We added it to the list because this is a very versatile power bank that would be a great companion on any type of travel. But especially so, if you plan to visit remote areas.
The Goal Zero has been specially built for the outdoors. It features a very sturdy metal case, which makes it more durable than your run-of-the-mill power bank. Furthermore, it can charge directly via solar power if you happen to have such a device with you. The vast majority of power banks would not be able to charge directly via solar.
It's also a portable charger that can deliver a good deal of power. The in/out USB type C port can output a max of 60W, which is enough to charge most laptop models. The USB type C is complimented by two USB type A ports that can deliver up to 3.4 A, more than enough to fast-charge your smartphone.

On its top side, it also features a wireless charging pad. Simply place your phone on the power bank with this feature activated and it will start charging immediately without having to plug in any cables.
Last but not least, this is a power bank that charges itself in a very short amount of time, given its capacity. In just about 3h with a fast-charging adaptor, you're basically ready to go. There are very few power banks of similar capacity that can reach a full charge this fast.
Unboxing video
What we like about it
High-quality & resistant case
Excellent power output
It can be charged via solar power
Wireless charging pad
LCD display screen
What we dislike about it
The wireless charging is slow
---
3. Hiluckey Solar Power Bank 25000mAh / 92.5Wh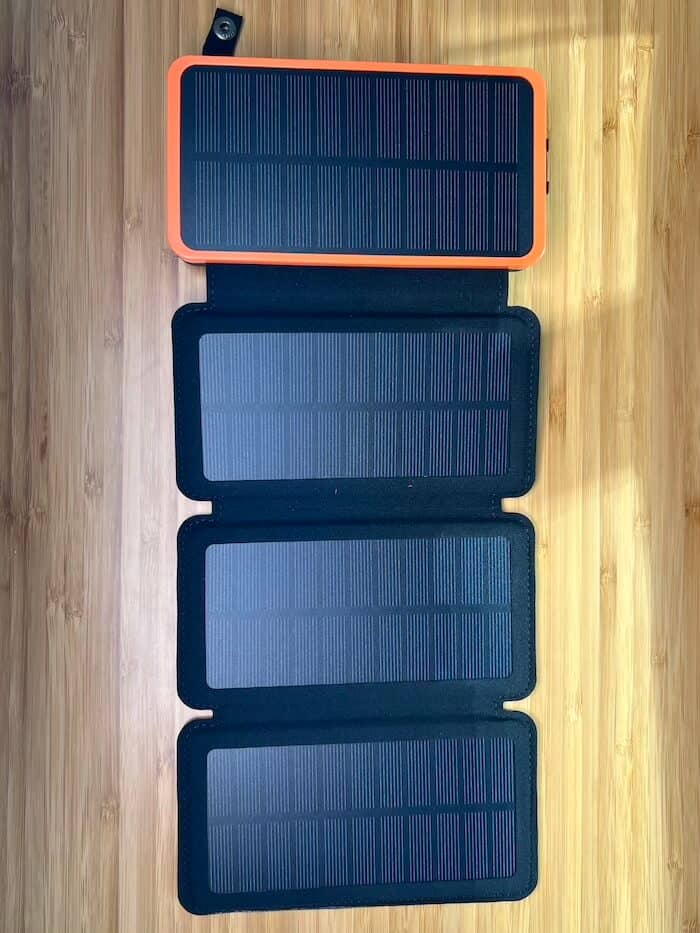 Capacity: 25000mAh / 92.5Wh
Dimensions: 6.1″ x 3.4″ x 1.4″
Weight: 17.6 oz
Ports: 2 USB Type-A Ports, 1 Micro USB
Charging Time: 15 Hours
Passthrough Charging: Yes
---
Or buy on Ebay.com or on Hiluckey.com
The Hiluckey 25000mAh power bank comes quite close to the 100Wh limit imposed by the TSA, ranking in at 92.5Wh. The key feature of this portable charger is its four foldable solar panels. They can allow you to charge the power bank solely using sunlight. Although it can take several days of direct sunlight exposure in order to reach a full charge, it's still quite an achievement, especially if you're traveling to remote areas without access to grid power.
It also features two USB type A output ports. You'll be able to charge two different devices at the same time. Unfortunately, they don't feature a fast charging option, so don't expect blazing-fast speeds.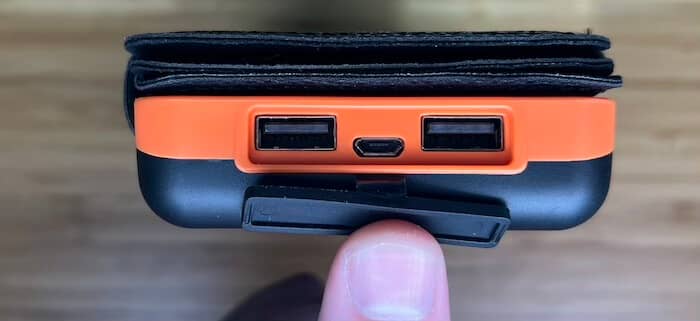 The Hiluckey can get charged via its Micro USB port too. This way, it will take about 15 hours of plugged-in time. Not the fastest charging time, but given the fact that it does have the ability to supplement its power via sunshine, it does make for an reliable travel partner.
Unboxing video
What we like about it
Comes with four solar panels
Can be charged by solar power only
Water-resistant
What we dislike about it
Only two output ports
Slow recharge time
Read our full review of the Hiluckey solar power bank
---
What You Should Know Before Flying With a Power Bank
Maximum Capacity
You already might be aware of the fact that only power banks under 100Wh can be permitted on flights without restrictions. However, you may still be able to check in a larger power bank provided you get it approved beforehand. The rules allow for power banks between 100Wh and 160Wh to be accepted on board, but only if they have specific approval from the airline.
Amount or Power Banks
There is no mentioned amount of power banks you can take with you if they're under 100Wh. So basically, you can carry as many as you want. However, power banks between 100Wh and 160Wh are only allowed in the amount of two pieces per person.
Clear Specifications
Although you may have a power bank that is under 100Wh, please make sure that it clearly states so on the device itself before boarding. Some airports (especially international ones) will want to see where the exact capacity is stated. In case they can't determine that then it's possible for the battery to be confiscated. The vast majority of power banks usually have the capacity printed on their back. Make sure yours has it as well.
Storage Requrements
You'll be expected to store your power bank in the overhead compartment. It should be enclosed in a protective case and it should be shut down. You're not allowed to use power banks during the actual flights.
Why Trust Us
At Power Bank Expert, our commitment to guiding you through the selection of the ideal 100Wh power bank for air travel is rooted in a deep understanding of the unique challenges and requirements of traveling with electronic devices. Here's why you can trust our expertise:
Air Travel Compliance Expertise: We focus on ensuring all our recommended power banks adhere to FAA regulations, making them perfect travel companions for air passengers. Our expertise in these regulations means we only suggest products that you can carry on flights without any hassle.
Emphasis on Practical Design: Recognizing the needs of travelers, we select power banks that are not just powerful but also embody portability and ease of use. Our choices are designed to fit effortlessly into your travel gear, be it a backpack or carry-on luggage.
Efficiency in Charging: We understand the importance of quickly charging your devices in transit. Our selected power banks are efficient, with fast charging capabilities to keep your devices powered during layovers or flights.
Diverse Charging Solutions: Catering to the modern traveler's array of gadgets, we value power banks that offer a range of charging ports. This versatility ensures that whether you're charging a phone, tablet, or laptop, our recommended power banks have you covered.
Travel-Friendly Features: Our selections are informed by the needs of frequent travelers, focusing on features that enhance the travel experience, such as compact size, lightweight design, and robust construction for durability.
Informed and Unbiased Reviews: Our reviews are based on thorough research and unbiased assessments, providing you with honest insights into each product's performance and suitability for air travel.
Dynamic and Current Recommendations: We continuously update our recommendations to include the latest and most efficient power banks suitable for air travel, ensuring you have access to current and relevant options.
Reader-Centric Approach: We listen to and incorporate feedback from our community of travelers, ensuring our recommendations resonate with the real-world experiences and needs of our readers.
By leveraging our specialized knowledge in FAA compliance, efficiency, and travel-friendly design, Power Bank Expert is dedicated to helping you find the perfect 100Wh power bank for your air travel needs. Trust us to power your journeys with confidence and convenience.