AUKEY 20000mAh at a glance

Key specs
Dimensions (LxWxH)
6.2 x 2.9 x 0.75 in
15.75 x 7.37 x 1.91 cm

Charging technology

PBE metrics
Affordability
444.54 mAh/$
Average
327.45 mAh/$
Portability
59.88 mAh/g
1694.92 mAh/oz

Ports

Output: 5V/3A, 9V/2A, 12V/1.5A

Output: 5V/3A, 9V/2A, 12V/1.5A

Input: PD 5V/3A, 9V/2A, 12V/1.5A
Output: PD 5V/3A, 9V/2A, 12V/1.5A

Input: 5V/3A, 9V/2A, 12V/1.5A

Flight status
Status: Safe
The power bank is safe to take on board. It's under the specified TSA limit of 100 Wh. Read more about taking power banks on planes.

Other features

Charging capacity calculator
Use the search bar below and find out exactly how many times can the AUKEY 20000mAh charge your smartphone battery

Aukey 20000mAh Power Bank Review
Looking for a high-capacity charger that lives up to its charging claims? The Aukey 20000mAh Power Bank might just be the charger for you. With USB Type C and Micro USB inputs, a solid, neat design, and a whopping 20000mAh, it's certainly an option to consider. But is it perfect? Read on to find out!
Capacity & charging speed
At 20000mAh, it's enough to count on it for several days if you're an average smartphone owner. It features four different ports: 2 USB type A, one in/out USB type C, and one micro USB for input only. This means you can use this Anker portable charger to top up 3 different devices simultaneously.
The USB type C port features 18W PD fast-charging, which means that you'll be able to take advantage of faster charging times if you have a compatible phone. For a more comprehensive list of power banks that feature PD fast charging, check out this article.
However, with a big battery comes long charge times, expect to wait between 10-20 hours if you're using a low-power adaptor. But with an 18W PD charger, this time can be reduced to only 6.8 hours. Even so, this is not something to write home about, especially since there are a lot of power banks with faster charging times.
Look and feel
The Aukey 20000mAh has a nice shape and looks quite modern. The 3D cubes pattern on top of the power bank adds to its aesthetics. The pattern is actually made out of small grooves, which offer the device a non-slip feature. Overall, in terms of looks, it's a sleek power bank which you won't be ashamed to use in public…on the contrary!
On the top side of the power bank, in the opposite corner of the Aukey logo, there are 4 LED battery indicators. The led lights represent the remaining battery in 25% increments. For more information about how to read these LED lights, click here.
Durability & construction
Overall, the Aukey 20000mAh has a sturdy built, the casing being made out of resistant, industrial-strength plastic. The circuitry is made using Silicone Nanowire technology which has three main benefits: it's smaller, lighter, and has better connectivity. As a result, the power bank is more compact than average and it doesn't heat up so much during use.
Another important aspect worth mentioning is that the Aukey 20000mAh comes backed up by a 24-month warranty. This is quite generous considering that the average portable charger only comes with a one-year warranty.
Portability
The Aukey 20000mAh power bank is quite slim and can easily fit in a pocket. Considering the capacity of this unit, it's clear that Aukey has taken pains to keep the size down. It's relatively light and a fair bit smaller than something like the RAVPower 20000mAh power bank.
Furthermore, it's worth noting that at 20000mAh this is a power bank that you can easily take on your flights. According to the TSA, the maximum limit is 100Wh, and this Aukey is comfortable under that, at 74Wh. For more info, read this article.

Pros
Great size to power ratio
Excellent battery efficiency
Comes with PD and QC fast charging
It can charge 3 devices simultaneously

Cons
Takes a long time to charge
Higher than average price
Final thoughts
The Aukey 20000mAh is an all-around solid power bank that you can depend on for daily use but also when traveling. It features PD fast charging and it comes with high tech Silicone Nanowire, making it truly a new generation power bank. The drawbacks of this device are the over-average price and charging time. Overall, this is a good buy that you'd not regret, but it's not something you'd write home about. For alternatives, check out the power banks listed below.
Anker Portable Charger PowerCore Essential 20000mAh
The PowerCore Essential 20000 is one of the latest Anker portable charger models. It features an updated look and premium design. With a generous capacity, it can keep you charged for days.
Read More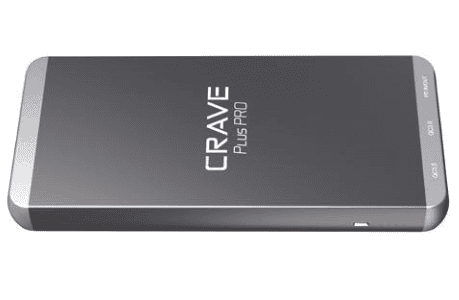 Crave PLUS Pro
The Crave Plus PRO is a sturdy power bank that comes with a generous capacity of 20000mAh. With both QC and PD charging technologies, it can even charge laptops.
Read More
ZMI 20K Pro 20000mAh 65W
With a USB-C and two USB-A ports, the ZMI 20K Pro 20000mAh 65W is powerful, sleek, and fast. A great choice for Quick Charge 3.0 and PD compatible phones.
Read More