Anker Powerhouse 100 at a glance

Key specs
Capacity
27000 mAh
100 Wh
Dimensions (LxWxH)
7.91 x 4.72 x 1.21 in
20.09 x 11.99 x 3.07 cm

Charging technology

PBE metrics
Affordability
135.01 mAh/$
Average
327.45 mAh/$
Portability
31.36 mAh/g
888.16 mAh/oz

Ports

Output: 5V/3A

Output: 110V/0.91A

Input: 5V/3A, 9V/3A, 15V/3A, 20V/2.25A
Output: 5V/3A, 9V/3A, 15V/3A, 20V/2.25A

Output: 110V/0.91A

Flight status
Status: Safe
The power bank is safe to take on board. It's under the specified TSA limit of 100 Wh. Read more about taking power banks on planes.

Other features

Charging capacity calculator
Use the search bar below and find out exactly how many times can the Anker Powerhouse 100 charge your smartphone battery

Anker Powerhouse 100 Review
The Powerhouse 100 by Anker is a stylish and compact power bank perfect for people on the move. It can charge a wide selection of gadgets such as smartphones, cameras, drones, and even your laptop! And its high-capacity battery of 27000mAh ensures that power limitations never hold you back.
Let's take an in-depth look at all its features that make it a great option to consider.
Unboxing video
Charging Technology
The Anker Powerhouse 100 features the PowerIQ charging technology that intelligently identifies the connected devices and safely manages the output voltage accordingly. It is equipped with four charging ports designed to deliver optimal charge to a variety of gadgets.
It comes with two USB-A ports with 15W of power for small devices such as smartphones and tablets. It also has a Type-C with a max output of 45W that you can use to charge your laptop. It can charge a MacBook Air entirely in under two hours, which is 35 percent more efficient than standard Apple chargers. But that's not all.
The highlighting feature of this power bank is its 100W AC outlet that you can use to connect your camera, drone, or laptop chargers directly. You can also use it to power household appliances like portable fans, LEDs, speakers. This socket features a pure sine-wave inverter that is designed to reduce any voltage fluctuations in order to deliver a stable power supply.
All four of these outlets allow simultaneous charging without compromising the output, ensuring you get the most out of your power bank. And if you think all this is too much for a small portable power bank, then you can keep your concerns aside as its 27000mAh battery can easily take the load.
The Powerhouse 100 is able to recharge a MacBook Air 2020 up to 1.5 times and an iPhone 11 more than five times entirely. The battery also supports fast charging, as it is based on the VoltageBoost technology that minimizes any cable resistance.
Another notable feature is its passthrough charging support. In simpler words, you can charge this power bank while using it to charge your gadgets simultaneously. Speaking of which, it comes with a 45W wall adapter that can recharge the Powerhouse 100 in only under three hours to provide an entire workday worth of backup.
Portability
If you are a digital nomad or a travel blogger, who is constantly surrounded by gadgets, you can easily carry the Powerhouse 100 in your backpack all day. It has a slim body that is only 7.91 x 4.74 x 1.21 inches in dimension. For reference, it is about the size of a small book. And even after being one of the most powerful devices in the market, it weighs only 1.9lbs.
The power bank body has a textured rubber end for improved grip, and it comes with a handy lanyard that makes traveling very comfortable. To make things even easier, you also get a spacious travel pouch for carrying the charging adapter, cables, and the power bank.
Look and Feel
The Anker Powerhouse 100 has a plastic build with a smooth dark gray coating. It perfectly complements the black rubberized grip and gives this power bank a sleek and professional look. The color palette of this power bank allows it to blend in with all types of devices with different themes and styles.
Additionally, the corners of this device are rounded to provide a laid-back look and make it easier to lay down on flat surfaces. The plastic body does not feel cheap. However, it is prone to scratches. That is why we recommend always using the travel pouch to keep it safe from accidental knicks.
Durability and Build-Quality
Even though the Powerhouse 100 has a plastic architecture, it is a sturdy device that can easily withstand day-to-day wear and tear and waist height drops. It is also shock-proof as plastic is a poor conductor of electricity. Furthermore, all the sockets and ports are fit tightly, eliminating the risk of accidental short circuits.
You also get a USB-C to USB-C and a USB-A to USB-C cable in the package. It is a thoughtful inclusion that spares you from the hassle of making aftermarket purchases. The quality of these cables is on par with the power bank, and their high bending radius can bear day-to-day strain without breaking.
The average lifespan of the Anker Powerhouse 100 lies between 3-4 years. However, if you want to get the most value out of its battery, we recommend charging it only up to 80 percent. Similarly, do not let it discharge below 20 percent. This way, you can get the best performance from this power bank.
To add an extra layer of protection to your power bank, Anker also offers an 18-month warranty with every purchase. And their active customer service offers lifetime support for all the issues you might have with the Powerhouse 100.
Pros and Cons
Here is a list of all the pros and cons of buying the Anker Powerhouse 100 power bank:

Pros
Massive 27000mAh battery life
Simultaneously charge up to 4 devices

Cons
Final Thoughts
If you like to travel a lot and carry multiple gadgets with you, such as smartphones, cameras, drones, or even laptops, you can trust the Anker Powerhouse 100 to keep your devices juiced up all day. Its 27000mAh fast-charging battery can fuel up to four devices at a time, and its pass-through technology allows you to charge the power bank itself without any interruption.
The Powerhouse 100 is a reasonably portable device, and to sweeten the deal, you also get a travel pouch with it, making it even easier to store and carry. Additionally, all the connectors and cables are included in the package, eliminating the need to make any external purchases. It offers the best overall features in the market, which makes it an ideal option for tech nomads.
Check out these similar power banks:
iMuto Smart Power X4G 20000mAh
The iMuto Smart Power X4G 20000mAh is one of the best options if you need a massive power output that can easily charge a laptop and that's allowed on a plane.
Read More
Goal Zero Sherpa 100PD With Qi Wireless Charging
The Goal Zero Sherpa 100PD is a rugged power bank that also comes with Qi wireless charging. With a hefty capacity of 25600mAh, it can keep you powered up for days.
Read More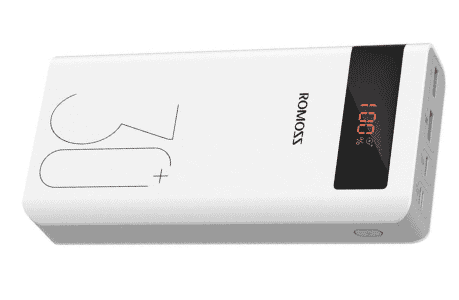 ROMOSS SENSE8P+ Power Bank
The colossal ROMOSS SENSE8P+ Portable Charger comes with a 30000mAh capacity and many ports. It's a great solution for extending the battery life of your devices.
Read More