Anker PowerCore 13400 at a glance

Key specs
Dimensions (LxWxH)
3.8 x 3.1 x 0.9 in
9.65 x 7.87 x 2.29 cm

Charging technology

PBE metrics
Affordability
231.87 mAh/$
Average
324.97 mAh/$
Portability
52.14 mAh/g
1472.53 mAh/oz

Ports

Output: 5V/1.5A

Input: 5V/3A, 9V/2.5A, 15V/1.4A, 20V/1A
Output: 5V/3A, 9V/2.5A, 15V/1.5A

Flight status
Status: Safe
The power bank is safe to take on board. It's under the specified TSA limit of 100 Wh. Read more about taking power banks on planes.

Other features

Charging capacity calculator
Use the search bar below and find out exactly how many times can the Anker PowerCore 13400 Nintendo Switch Power Bank charge your smartphone battery

Anker PowerCore 13400mAh Nintendo Switch Power Bank Review
Anker's PowerCore 13400mAh is a small, lightweight portable charger that's compatible with Nintendo Switch (officially licensed product), Apple, and Android devices. It can power-up devices multiple times and allows you to refresh two gadgets at the same time. You can even carry it around with you very easily since it comes with a drawstring pouch. Built with high-quality materials, the device is very durable and has a wide range of built-in safety features.
Charging technology
Anker's PowerCore 13400 Nintendo Switch Power Bank has two ports, USB-C and USB-A. USB-C output port for Power Delivery 2.0 has a rating of 22.5W (5V/3A, 9V/2.5A, 15V/1.5A). Meanwhile, the USB-C input port for Power Delivery has a rating of 20W (5V/3A, 9V/2.5A, 15V/1.4A, 20V/1A). The standard USB-A output port has a reading of 7.5W (5V/1.5A, 2.4A for Apple devices).
Not only is the device compatible with Nintendo Switch, but it also allows you to connect Android and Apple products. It can charge an iPhone 6/7/8 five times, iPhone Plus/X/XR/ three times, Samsung Galaxy S8/S9 three times, Galaxy S10 two times, and a Macbook one time.
Power Delivery charging can be used to replenish the Nintendo Switch (up to 1.7 times, 10 hours of playtime) along with smartphones and laptops to provide the quickest possible charge via USB-C PD port. You can charge the Switch while playing it, which will refresh at max rate. The charge rate while in sleep-mode is 12W instead of 10W, which is above normal. On the other hand, charging via the PowerIQ port offers a rapid charge to other devices that support it via the standard USB-A port.
In order to connect an iPhone to the charger, you will need to use a USB-C to Lightning cable (not included) for the fast charging standard (2.4A). Older iPhone models (4-7) can fast charge via USB-A. The latest iPhone models will power-up 15 minutes quicker via USB-C. For Android devices, you will need to use a USB-C to USB-C cable.
You can recharge the PowerCore unit by connecting it to the USB-C port, which will take approximately 3.5 hours. However, you will not be able to use the USB-A port while the device is charging. It does not come with an AC wall adapter for Power Delivery, but you can use the Nintendo Switch's AC adapter to replenish the device. Without it, recharging times can reach up to 20 hours.
Portability
Anker's PowerCore 13400mAh Nintendo Switch Power Bank measures 3.8" long, 3.1" wide and 0.9" thick, which is also built with curved easy-grip contoured edges. This allows you to easily store it away in a pocket, pouch, bag and can snuggly fit into your palm, making it the perfect travel companion. Weighing just 9.1 ounces, which is less than the Nintendo Switch itself, the device is lightweight and quite easy to carry around with you, even if it's tethered to your bag.
You can safely take the charger with you on a flight, anywhere you wish to go. It has 50Wh, which is halfway below the 100Wh restriction set by the TSA.
Compared to other devices, the PowerCore 13400mAh is lighter than the 20100 version and a bit smaller (6.6" x 2.4" x 0.9", weighing 12.7 ounces), which is to be expected given the higher capacity. It's a bit heavier and smaller than Anker's PowerCore 10000 PD charger, which measures 4.5" x 2" x 1" and weighs 6.8 ounces.
Look and feel
This PowerCore device has a very stylish design, which uses a rubberized coating with a sleek matte finish surrounding the body, giving the unit a durable and rugged feel that keeps scuff marks/fingerprints off. It also boasts a simple and minimalist appearance; on the back of the unit, you'll see an embossed Nintendo Switch logo, and on the front face, you'll find a circular button with eight LED lights, and the Anker logo. To complement it even further, the device comes bundled with a drawstring pouch containing the Anker logo.
Pressing the button will cause the LED lights to illuminate, revealing how much juice is remaining in the PowerCore. LED lights will shut off on their own after ten seconds. When it's 100% charged, all 8 lights will glow, 4 at 50% and 2 at 25%. The LED lights, which can also determine the charging progress, will stay lit up as your Nintendo Switch, phone, laptop or tablet is refreshing. While the PowerCore is being replenished, all LED lights will continuously flash until it reaches 100% and afterward, it will stay illuminated for 10 minutes before shutting off on its own.
You will also see two ports, USB-A and USB-C, on the right-hand side of the charger with a decent amount of space between the two. This will allow you to connect your cables without the hassle of getting them tangled up whenever you want to charge more than one device at the same time. You will be able to charge the PowerCore device using the USB-C port and with the USB-A port, you can power up anything else, such as your smartphone, laptop or even tablet. If you want to charge your Nintendo Switch, you can use the 3-foot long Anker PowerLine USB-C to USB-C 2.0 cable that comes packaged with the PowerCore. The cable can also be used for the PowerDelivery USB-C port.
Durability & build quality
With the tough, rubberized coating, you're assured the device will stay durable throughout its life. The high-quality materials also make it resistant to damage if you ever drop it. This also has one lithium-ion battery that helps to provide a safe charging experience.
The PowerCore 1340 won't generate extra heat while it's powering any of your devices, or while playing the Nintendo Switch as it's replenishing, which is impressive for such a small battery pack. Additionally, all eight LED lights will flash for ten seconds if the battery temperature exceeds 140°F / 60°C. In turn, the USB-A output port will completely shut off to prevent damage and it will then continue operating once temperatures drop below 140°F / 60°C.
With Anker's MultiProtect System, you're guaranteed a bundle of safety features in your portable charger. They include Input/Output high-voltage protection, Input/Output current regulation, Automatic current matching, Input/Output short-circuit protection, Static resistance, Device overcharge protection, Battery overdischarge protection, and Output temperature control.
Your purchase will include an 18-month warranty. If you're unsatisfied with the undamaged device, you can simply return it for a full refund within 30 days of receiving it. The refund process will start as soon as the device arrives at Anker's warehouse, but the return must include original packaging and all accessories that came with the device. If you discover a defect in your charger, Anker will provide a replacement of equal value, either a refurbished model or a brand new one. If you do not wish to receive a replacement or it's not available, Anker will allow you to partially refund the device, depending on how often it was used.

Pros
Dedicated for the Nintendo Switch
Also compatible with Android and Apple
Fast charging (Power Delivery and PowerIQ)
Charges the Nintendo Switch while playing it
It can replenish two devices at the same time

Cons
Low output rating for the USB-A
Does not have pass-through charging
Final Thoughts
The Anker PowerCore 13400mAh Nintendo Switch Power Bank is a great power bank that can provide up to an additional 10 hours of playtime for your Switch. It also offers PowerIQ for a quick charge experience for the USB-A port for supported devices and Power Delivery for the USB-C port. This charger is perfect for you if you're looking for something very easy to carry around and is compatible with the Nintendo Switch, Android and Apple products.
Read more about Anker, or see other Nintendo switch portable chargers.
Alternatively, check out these other Anker products:
Anker PowerPort Atom III – 60W Fast Charger
Well-built, highly compatible, and equipped with PowerIQ, the Anker PowerPort Atom III Dual USB Charger features a 45-watt USB-C port and a 15-watt USB-A port
Read More
Anker PowerCore 13000mAh Portable Charger
The Anker PowerCore 13000mAh portable charger excels in capacity, portability, size, and price if you look for a card size power bank that can juice two devices simultaneously.
Read More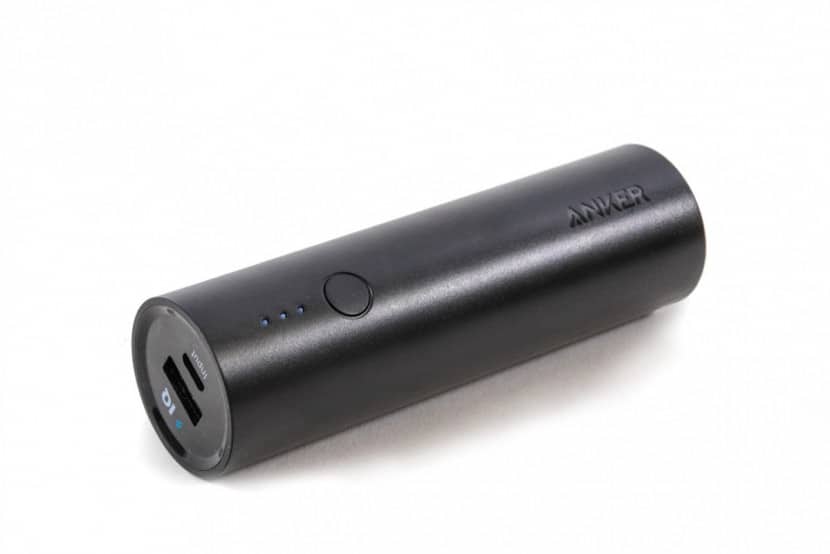 Anker PowerCore 5000mAh
The Anker PowerCore 5000mAh is the answer for giving your device an effective boost of energy. Size is its super-power, so you can use it even when jogging.
Read More