Anker PowerCore 13000mAh at a glance

Key specs
Capacity
13000 mAh
46.8 Wh
Dimensions (LxWxH)
3.8 x 3.1 x 0.9 in
9.65 x 7.87 x 2.29 cm

Charging technology

PBE metrics
Affordability
mAh/$
Average
324.97 mAh/$
Portability
50.98 mAh/g
1444.44 mAh/oz

Ports

Output: 5V/3A

Output: 5V/3A

Input: 5V/2A

Flight status
Status: Safe
The power bank is safe to take on board. It's under the specified TSA limit of 100 Wh. Read more about taking power banks on planes.

Other features

Charging capacity calculator
Use the search bar below and find out exactly how many times can the Anker PowerCore 13000mAh charge your smartphone battery

Anker PowerCore 13000mAh Portable Charger Review
In the never-ending search for improvement, Anker has come up with the Anker PowerCore 13000. This improved version of the Anker PowerCore 10000 excels in capacity, portability, size, and price, and it's a great addition to the PowerCore series. If you're looking for a card-sized power bank able to juice 2 devices at the same time, you should pay close attention to this review.
Capacity & Charging speed
Featuring Voltage Boost and PowerIQ, Anker's signature technology, this power bank can deliver 13000mAh. However, what's more, impressive is the fact that it boasts an impressive 93% conversion rate, which is one of the highest real battery capacity any brand has to offer. This means that it is capable of delivering 12000mAh approximately. In reality, this number is closer to 10500mAh, which is still enough to provide up to five charges for the average smartphone.
You can expect the PowerCore 13000 to charge iPhones from 0 to 50% in about 30 minutes and Samsung smartphones in under 50 minutes. It has enough power to juice the Samsung Galaxy S7 3.5 times and the iPhone 6 Plus 3.8 times. While other higher capacity devices, like tablets and even the USB-C 12 inch Macbook, will not be fully charged, this charger will extend their battery life by at least 70%.
Despite not having Quick Charge, a pretty common flaw in Anker, it's still fast enough to charge smartphones that support Quick Charge 2.0 such as the Galaxy S7, as well as those with Quick Charge 3.0 like the Nokia 6.
Charging two devices at the same time had never been so easy. In contrast to the PowerCore 10000, the PowerCore 13000 is a 2-port power bank with a maximum output of 5V/3A. However, don't think that 3A will be pulled from each port; in fact, 3A is the total amount of power delivered.
The power bank will recognize the two devices connected to each port and will split the 3A evenly. This will incur a longer charging time for devices that charge above the 1.5A mark. Basically, having two ports is great for charging multiple devices, but it might not be the most time-saving option.
The Anker PowerCore 13000 portable charger can also be recharged pretty quickly through a 2A micro-USB input port, with a total time of no more than 8 hours when using a 2A wall charger. Logically, it'll take up to 16 hours to be fully charged if a 1A charger is used instead.
Like many other power banks from Anker, pass-through charging is not one of the Anker PowerCore 13000's functions. While some users consider this feature to be very handy, Anker claims that this could have detrimental effects on the life of their internal batteries, and the plugged-in device as well.
Look and feel
The shell of the PowerCore 13000 is made of plastic, and it has a smooth surface with a black matte finish that protects it against smudges, scratches and fingerprints. It retains the rectangular and curved edges trend of earlier designs that also have the ports on the side.
Although no novelty has been introduced in this design, it comes with the traditional power indicator in the form of 4 LED lights paced on the top. Each light represents 25%, and it helps users estimate the remaining charge. However, it's not the first time that users have complained about how difficult it is to know with exactitude how much power is left in store. So, we can only hope that in future models, Anker decides to incorporate LCD screens to please them.
Durability & Construction
Anker advertises on its website that the Anker PowerCore 13000 has been tested against impacts, extreme temperature, and vibration. Besides, premium materials and components have been used to manufacture it, including LG battery cells. You would think that the case material is not plastic because of how sturdy it is, but we can confirm that it's quality built and strong enough to stand up a few drops.
The Anker PowerCore 13000 portable charger is backed by a MultiSafe Protection System, which provides over-heating, over-current and short-circuits protection. Few customers have reported dissatisfaction with its performance or design, except for common losses of power and extended time to recharge two devices at once.
Portability
The Anker PowerCore 13000 portable charger is the size of a card and can be held in a single hand, which is awesome if you also consider how much power it can deliver through its dual output feature.
3.8 x 3.1 x 0.9 inches make this one of the most portable external batteries in its range. At 9 ounces, however, it feels a little heavy for its size and material. This is nothing to worry about because there are power banks of much lower capacity that are both heavier and bigger.
For what it's worth, the Anker PowerCore 13000 portable charger is very compact and you can slip it into your pocket or backpack without much trouble.

Pros
Great capacity-size ratio
Two output ports for simultaneous charging
Excellent conversion rate

Cons
Slightly heavy for its size
Does not support QuickCharge
Does not deliver 3A per port
Ceck out these other Anker portable chargers:
Anker PowerCore 10000mAh
The Anker PowerCore 10000mAh is a reliable companion that will recharge your phone 2.2 up to 3.6 times. It gives the perfect quality-price-look-feel ratio!
Read More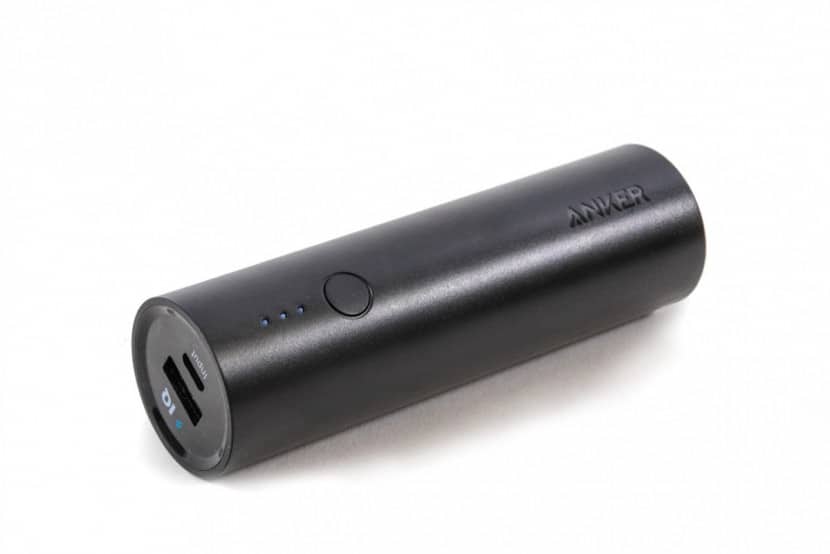 Anker PowerCore 5000mAh
The Anker PowerCore 5000mAh is the answer for giving your device an effective boost of energy. Size is its super-power, so you can use it even when jogging.
Read More
Anker PowerCore 26800
The Anker PowerCore 26800 mAh is a beast of a portable charger. It powers up 3 outlets at the same time, but speed and duality are what make it stand out.
Read More
Anker Portable Charger PowerCore Essential 20000mAh
The PowerCore Essential 20000 is one of the latest Anker portable charger models. It features an updated look and premium design. With a generous capacity, it can keep you charged for days.
Read More