Anker PowerCore 10000 PD Redux at a glance

Key specs
Dimensions (LxWxH)
4.17 x 2.05 x 0.98 in
10.59 x 5.21 x 2.49 cm

Charging technology

PBE metrics
Affordability
mAh/$
Average
324.40 mAh/$
Portability
52.08 mAh/g
1470.59 mAh/oz

Ports

Output: 5V/2.4A

Input: 5V/3A, 9V/2A, 15V/1.2A
Output: 5V/3A, 9V/2A, 15V/1.2A

Flight status
Status: Safe
The power bank is safe to take on board. It's under the specified TSA limit of 100 Wh. Read more about taking power banks on planes.

Other features

Charging capacity calculator
Use the search bar below and find out exactly how many times can the Anker PowerCore 10000 PD Redux charge your smartphone battery

Anker PowerCore 10000 PD Redux Review
Anker is a manufacturer that needs little introduction. They're well known for their power solutions, from home chargers to power banks to simple power strips, and PowerCore is their flagship power bank line. We're about to look at the PowerCore 10000 PD Redux, a compact power bank with a 10,000mAh battery. Let's see what it has to offer!
Unboxing video
Charging Technology
The PowerCore 10000 PD features one USB Type-C port with Power Delivery (PD) and one USB Type-A port with PowerIQ. From the USB Type-A port, you can get up to a maximum of 12 watts and the Type-C PD port will supply a maximum of 18 watts. The overall maximum capacity is capped at 18 watts when both ports are in use.
As a useful feature, it supports pass-through charging on both ports. So you can charge with either port while simultaneously charging your power bank.
Depending on the type of power adaptor you'll use, the PowerCore 10000 PD will charge in widely varying times. If you use a high-speed charger with a USB Type-C PD connection, you can top up the battery in just 3 hours. However, if you charge it with a classic USB type A adaptor, you'll be limited to about a nine-hour charge time. Still, that's sufficient for topping up the charger overnight, particularly if you want to charge your phone at the same time. A USB Type-C to Type-C cable is included with the kit. However, there's no charging block included. You need to provide your own.
The 18-watt limit is sufficient for fast charging any modern smartphone. For instance, you can fully charge an iPhone 11 in just over an hour, or charge it to 50 percent in 30 minutes. The 10000mAh capacity is enough to recharge your iPhone about 2 ½ times, or your Samsung about 2.1 times.
There's even a trickle charge mode for low-powered devices like wireless earbuds. That said, 18 watts is insufficient for charging a laptop while it's in use. And even if you fully drain your power bank's battery, most laptops will only get about a 30 percent charge or less.
Portability
The PowerCore 10000 PD Redux measures 4.17 inches long, 2.05 inches wide, and just a hair under an inch thick. At about the size of a folding wallet, it's comfortable to carry in the palm of your hand, and it's easy to carry, even at 6.4 ounces. You can carry it just about anywhere: in your pocket, in a bag, or in the mesh carrying case that comes with the kit.
At 36.3 watt-hours of power, the battery is less than half of the way to the TSA's limit for luggage. You can freely fly with the PowerCore 10000 PD Redux.
Look and Feel
The PowerCore 10000 PD Redux is constructed from an industry-standard black ABS plastic. There's nothing exceptionally tough about it, but the textured front and black panels provide plenty of grip. The matte black edges serve as a contrast and are fairly easy to keep clean. Both charging ports are located on the short end of the charger, and both feature a light blew tab on the inside. This is a valuable feature on the USB Type-A port since it makes it easy to tell which way to plug in your device.
On the front of the power bank, there's a round, glossy black button. When you press it, a row of LED lights will illuminate along the bottom of the button. There are four of these lights in total, and they indicate the current charge level of the battery.
Durability & Build Quality
In terms of physical construction, the PowerCore 10000 PD Redux is somewhere in the middle of the road. On the one hand, it doesn't have any official shock-resistance rating. On the other hand, it seems sturdy enough, and we haven't seen any complaints of it getting broken from a simple drop. Just be reasonably careful, and you should be fine. Like most full-sized power banks, there's no water-resistance rating. Similarly, there's no rating for how many cycles the battery will last, but we haven't seen complaints of premature failure.
One thing the PowerCore 10000 PD does include is Anker's MultiProtect system. It's safe from overheating, short circuits, overvoltage, over-discharge, and several less common features. In addition to all of this, the PowerCore 10000 PD comes with an 18-month manufacturer's warranty. This warranty will cover any defects in materials or workmanship, provided you've followed the instructions.

Pros
Can charge from either USB Type-C or Type-A
Supports pass-through charging from either port
TSA-approved for air travel

Cons
Not powerful enough for laptop charging
Charging block not included
Final Thoughts
The Anker PowerCore 10000 PD Redux is one of the more innovative chargers we've seen. This is mostly due to the availability of two different power inputs. It's also well-engineered, with an easy-to-transport design. Unless you need to charge a laptop, it's a solid choice.
Or check out these similar power banks:
AUKEY Basix Pro
The AUKEY Basix Pro is a unique power bank that besides the fact that it comes with QC 3.0, PD, and wireless charging, it also doubles as a highly practical phone stand.
Read More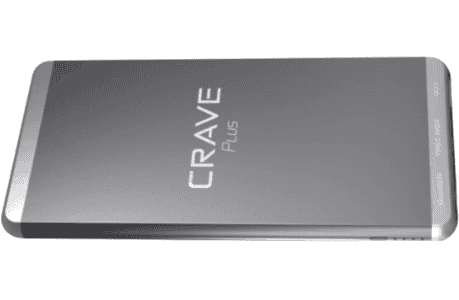 Crave Plus 10000mAh
The Crave Plus 10000mAh is a slim portable charger with QC 3.0 and also comes with an aluminum frame
Read More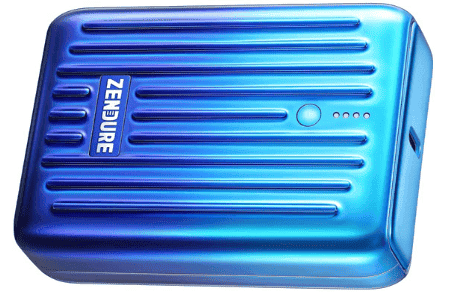 Zendure Supermini 10000mAh USB C Portable Charger
The Zendure Supermini 10000mAh USB C Portable Charger is compact and stylish. But maybe its most important feature is the fast charging USB C port with PD (Power Delivery).
Read More