Anker PowerCore Essential 20000mAh at a glance

Key specs
Dimensions (LxWxH)
6.4 x 2.9 x 0.7 in
16.26 x 7.37 x 1.78 cm

Charging technology

PBE metrics
Affordability
mAh/$
Average
332.00 mAh/$
Portability
58.31 mAh/g
1652.89 mAh/oz

Ports

Output: 5V/3A

Output: 5V/3A

Input: 5V/2A

Input: 5V/2A

Flight status
Status: Safe
The power bank is safe to take on board. It's under the specified TSA limit of 100 Wh. Read more about taking power banks on planes.

Other features

Charging capacity calculator
Use the search bar below and find out exactly how many times can the Anker PowerCore Essential charge your smartphone battery

Anker Portable Charger PowerCore Essential 20000mAh Review
Anker is well-known for producing quality power banks, so we have high expectations for the PowerCore Essential 20000. As the name suggests, this power bank has a capacity of 20000mAh. It's also compact for its capacity. But does it live up to Anker's reputation? We're about to find out.
Unboxing video
Charging Technology
The Anker portable charger PowerCore Essential 20000mAh has two USB Type-A ports for charging your devices. Both of these ports can be used simultaneously, so you can charge two devices simultaneously. The output is limited to 5V at 2.4A, for a total of 12 watts on each port. The total output of both ports is limited to 15 watts. As a result, if you're simultaneously charging two devices, they will charge slower than they would on their own.
The PowerCore Essential 20000 utilizes Anker's PowerIQ technology, which adjusts the voltage automatically to meet your device's requirements. There's also a trickle charging function, for charging low-power devices like wireless earbuds. To use this mode, press and hold the power button for 2 seconds, until the LED turns green.
The 20,000mAh battery carries enough juice to recharge an iPhone X 5 times or a Samsung Galaxy S10 about 4.8 times. You can even charge an iPad Mini 5 2.5 times. That said, since the power output is limited to 12 watts, you won't be able to use the PowerCore Essential 20000 to recharge a laptop. Most laptops require a minimum of 30 watts of output, so if this important to you check out these laptop power banks.
There's also no support for pass-through charging, which means you can't charge your device while simultaneously charging the power bank.
The PowerCore Essential 20000 comes with a Micro USB cable, which can be used to recharge the power bank in about 10.5 hours. There's also a USB Type-C input port, which can be used for even faster charging. That said, there's no Type-C cable included in the kit. You'll also need to provide your own AC adapter.
Portability
The PowerCore Essential 20000 is compact enough for easy transport. At 2.9 inches wide, 6.4 inches tall, and 0.7 inches thick, it's only slightly larger than your average smartphone with a case. This makes it small enough to slip into a backpack or laptop bag, although it's a bit large to carry in your pants pocket. It weighs 12.1 ounces, which is heavier than you'd expect for the size, about twice the weight of an iPhone.
This power bank has an overall capacity of 72 watt-hours. This is less than the TSA limit of 100 watt-hours, so it's safe to bring in your carry-on luggage.
Look and Feel
The front and back of the PowerCore Essential 20000 are constructed from a textured black ABS plastic. It has a matte finish, which is resistant to staining or smudging. The texturing also makes it easy to grip without dropping it. The edges of the power bank are glossy, which provides an attractive contrast to the matte front and back. While the overall profile is rectangular, the edges and corners are softly curved. This prevents the power bank from digging into your body or other devices while you're carrying it.
The front of the PowerCore Essential 20000 has a small, glossy Anker logo imprinted near the top. Towards the bottom, you'll find the power button, which is slightly recessed into the surface. The button has four small LED lights built into it. When the button is pressed, these lights will illuminate, giving you an idea of the current charge level. When you're using the trickle charge option, the fourth light will remain illuminated regardless of the charge level. This is a quality of life feature, to ensure that you don't accidentally leave trickle charging activated when you want a full charge.
On the bottom of the power bank, you'll find four USB ports. By arranging them all on the same side of the power bank, Anker makes it easy to charge your devices while it's in a backpack pocket. The two USB Type-A ports are on the left, with the USB Type-C and Micro USB port are on the right. Keep in mind that you can't use the Type-C and Micro USB ports simultaneously. You can charge through one or the other, but not both.
Durability & Build Quality
The PowerCore Essential 20000 is neither waterproof nor shock-proof. It's designed for indoor use and traveling, not for camping or backpacking. That said, we haven't seen any complaints about damage due to dropping. For everyday use, it should be more than tough enough. And if you do have any issues, you're protected by Anker's 18-month manufacturer's warranty. So if something does go wrong, you can get a refund or replacement. Similarly, Anker does not state how many charge cycles the power bank is rated for, but we haven't seen any complaints about premature failure.
The PowerCore Essential 20000 implements all of Anker's protective systems to keep the power bank and your devices safe from damage. It features temperature control, so it will automatically shut off if it gets too hot. It also has overcurrent protection, overcharge protection, smart current regulation, and short-circuit protection. This ensures that a faulty wire or failed battery won't damage your iPhone or other devices.

Pros
Large capacity for the size
Can charge 2 devices simultaneously
Supports trickle-charging for low-power devices
18-month manufacturer's warranty
TSA-approved for air travel

Cons
Does not have PD or QC technologies
No pass-through charging support
Final Thoughts
So, is the Anker portable charger PowerCore Essential 20000 worth your money? It depends on what you're trying to do. If you're looking for an outdoor power supply for camping or hiking, the answer is no. You're going to want a water-resistant power bank. It's also not suitable for charging laptops. That said, if you're using your power bank for travel or everyday use, it's a great choice. The large capacity means it can get you through several days before you need to recharge, and the compact size makes it easy to carry.
Before you go, check out these other Anker products:
Anker PowerPort Atom III – 60W Fast Charger
Well-built, highly compatible, and equipped with PowerIQ, the Anker PowerPort Atom III Dual USB Charger features a 45-watt USB-C port and a 15-watt USB-A port
Read More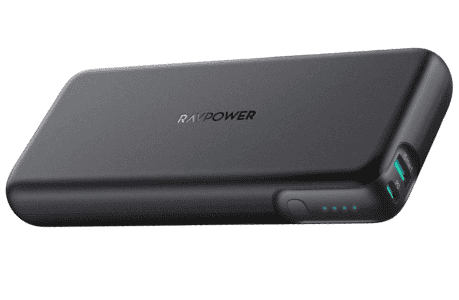 RAVPower 20000mAh PD 60W
Compact, portable, well-built, and equipped with PD and QC, the RAVPower 20000mAh is the perfect companion to charge your devices.
Read More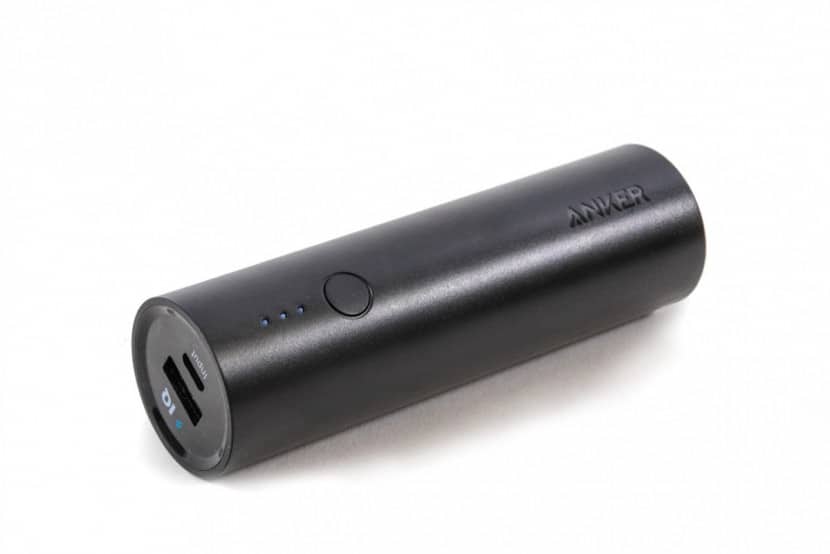 Anker PowerCore 5000mAh
The Anker PowerCore 5000mAh is the answer for giving your device an effective boost of energy. Size is its super-power, so you can use it even when jogging.
Read More