AirBank 5500mAh at a glance

Key specs
Dimensions (LxWxH)
2.36 x 2.16 x 1.18 in
5.99 x 5.49 x 3.00 cm

Charging technology

PBE metrics
Affordability
134.15 mAh/$
Average
322.56 mAh/$
Portability
40.44 mAh/g
1145.83 mAh/oz

Ports

Output: 5V/2A (10W Max)

Input: 5V/2A (10W Max)

Flight status
Status: Safe
The power bank is safe to take on board. It's under the specified TSA limit of 100 Wh. Read more about taking power banks on planes.

Other features

Charging capacity calculator
Use the search bar below and find out exactly how many times can the AirBank 5500mAh charge your smartphone battery

In a world where smart devices are everywhere, you need a way to keep your batteries topped off. Enter the AirBank Power Bank. The AirBank Power Bank markets itself as the "World's Smallest Fast Wireless Power Bank." True to its name, it's a tiny power pack that is capable of wireless charging with compatible devices. The AirBank has a sizable 5500mAh capacity which is on par with most other power banks on the market nowadays. Where the AirBank distinguishes itself is the tiny design and wireless charging capabilities, things not commonly seen in your run-of-the-mill battery pack.
Charging Technology
The AirBank Power Bank is equipped with inductive charge plates that allow it to charge compatible batteries simply by being placed on top of it. Wireless charging is supported by most of the newer major smartphone models. Like most wireless charging devices, the AirBank takes advantage of the Qi (pronounced "chee") open interface standard for wireless charging. It is capable of a max charge of 10W, which is on par with most other kinds of wireless and wired chargers.
The AirBank has a 5500mAh capacity, which is enough to charge the newest iPhone 12 Pro 3 twice before needing a recharge. The AirBank uses a sophisticated IP5332 SoC (System on Chip) processor that can modulate chagrin performance based on the type and capacity of the connected battery,
To charge devices, simply turn the AirBank on and attach it to the device you want to charge. The AirBank uses suction cups instead of magnets as suction cups provide a firm grip and magnetic fields can interfere with wireless charging and decrease efficiency.
You can also use the durable included 4-in-1 cable to charge devices. The AirBank comes with a very unique charging cable that has 4 attachments for different devices. The 4-in-1 design comes with attachments for USB-A, USB-C, Micro USB, and Lightning adaptors so you don't have to keep multiple cords handy. Wired charging is capable of 10W of power as well. The adaptors are magnetic so they are easy to attach and remove.
As far as the battery pack itself, you have to charge it with the included cable. The power input jack on the bank is designed specifically for that cable. The battery pack takes about 2 hours to charge completely and can add an extra 22 hours of battery life if used as an extension pack.
Portability
Another major feature of the AirBnak is the high degree of portability. The AirBank really just may be the smallest wireless charging bank in the world and measures just 6 cm tall and 5 cm wide. It is about the size of an AirPods case but has nearly 13 times more power. It will easily fit on the back of most modern smartphones and fit in your bag, backpack, or jacket pocket when not in use. It is also even more portable as you don't have to carry around a bunch of cables to use it.
The AirBank also has dual use as a stand. Attach it to the back of your phone and you can lean it upright while watching videos. So it is useful when you are on the go and want to watch something on your phone,
Overall, the AirBank is extremely portable. It is actually even smaller than you might expect, simply because most power banks tend to be big and bulky. It is pretty awesome that they managed to pack high-quality wireless charging in something so small, so clearly, AirBank knows its stuff.
Look and Feel
If you are looking for something discrete, then the AirBank Power Bank is a good choice. It is very small and has a simple black matte finish with no annoying logos or markings. It looks just like a small black box that sits on the back of your phone and doesn't have any obnoxious blinking lights.
The plastic of the case is sturdy and feels durable. The corners are also rounded too, so there are no sharp edges for things to get cough on. The battery senses when it is attached to a compatible device and turns on automatically, so there is no power button.
On the right-hand side underneath the charging port is a small screen that tells the remaining battery percentage. The screen is small but the numbers are clear and unambiguous, so you will always know exactly how much battery charge you have left.
Durability & Build Quality
The AirBank also manages to be durable and tough. Despite the small size and low weight, the charging bank has a certain kind of body and density to it, so it does not feel flimsy. The black casing seems very sturdy and does not seem to flex under mechanical pressure. The battery itself is equipped with the standard fare of protection features, including over-charge and over-voltage protection.
The included charging cord is also made from a durable braided cord and has magnetic attachments. The magnet attachments are sturdy and will not randomly fall off or break. The charging cord is also reinforced near the ends, which is typically the weakest part of a charging cable.
Overall, the AirBank has a very sturdy, durable design that is perfect for a power bank. It has a weight feel and solid casing that should protect it from any falls or drops.
Pros/Cons
Pros

Very compact, only about the size of an AirPods case

5500 mAh battery capacity

Qi-standard wireless fast charging and wired fast charging

Suction cup attachment instead of magnets

Comes with durable 4-in-1 charging cable

Cons

The capacity is not too generous
Conclusions
So, do we recommend the AirBank Power Bank? Yes, it is a great choice for a wireless charging bank and might actually be the smallest one to date. The fast wireless or wired charging is a great accessory to have when you are on the go and need an emergency power supply for your devices.
Check out these similar power banks: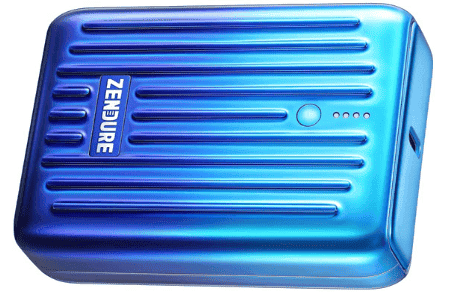 Zendure Supermini 10000mAh USB C Portable Charger
The Zendure Supermini 10000mAh USB C Portable Charger is compact and stylish. But maybe its most important feature is the fast charging USB C port with PD (Power Delivery).
Read More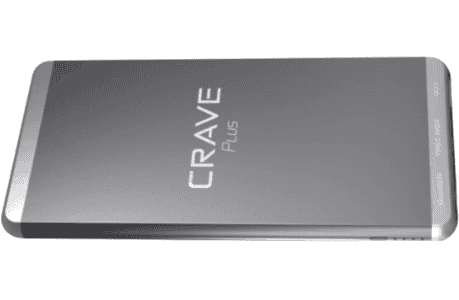 Crave Plus 10000mAh Slim Portable Charger
The Crave Plus 10000mAh is a slim portable charger with QC 3.0. Built with an aluminum frame, this stylish power bank is the size of the iPhone X.
Read More
Anker PowerCore 10000 PD Redux Review
Small, light, powerful, and premium quality. These are the key details of the Anker PowerCore 10000 PD Redux. You simply can't go wrong with it.
Read More