E EGOWAY 27000mAh at a glance

Key specs
Capacity
27000 mAh
100 Wh
Dimensions (LxWxH)
7.3 x 3.5 x 1.2 in
18.54 x 8.89 x 3.05 cm

Charging technology

PBE metrics
Affordability
337.54 mAh/$
Average
322.56 mAh/$
Portability
44.55 mAh/g
1261.68 mAh/oz

Ports

Output: 5V/2.4A

Output: 5V/3A, 9/2A, 12V/1.5A

Input: 5V/3A, 9V/3A, 12V/3A, 15V/3A, 20V/3A, 20V/5A
Output: 5V/3A, 9V/3A, 12V/3A, 15V/3A, 20V/3A, 20V/5A

Input: 5V/3A, 9/2A, 12V/1.5A

Flight status
Status: Safe
The power bank is safe to take on board. It's under the specified TSA limit of 100 Wh. Read more about taking power banks on planes.

Other features

Charging capacity calculator
Use the search bar below and find out exactly how many times can the E EGOWAY 27000mAh charge your smartphone battery

E EGOWAY 27000mAh 100W Power Bank Review
The E EGOWAY 27000mAh 100W power bank can charge an iPhone 11 by 50 percent in 30 minutes, which is faster than the majority of portable chargers we've reviewed. Moreover, due to its high output, you can easily charge laptops such as the MacBook Pro or other power-intensive devices like drones or gaming consoles.
Charging Technology
The E EGOWAY 27000mAh power bank is compatible with a range of USB and USB-C devices, including an iPad Air, iPhone XS Max, Kindle, MacBook, and more. In fact, there are very few devices it isn't compatible with. This small power bank offers 27000mAh of power, enabling it to charge an iPhone 8 Plus 5-6 times, a Samsung Galaxy S9 4-5 times, and a MacBook Pro once. These numbers are impressive, meaning you could use this power bank for a weekend away and use it amongst two people with no issues.
Recharging the E EGOWAY power bank is quick and convenient, as it provides multiple charging options such as using an AC adapter, car charger, Type-C wall charger, or USB C charger and connect it to your laptop. Charging it with a regular adapter will take around 30 hours. However, for a quicker charge, it'll reach 100% battery in 14 hours using a fast charge wall charger with a mico port. Or, if you're using an 87W charger with a USB C port, then it the E EGOWAY 27000mAh can charge in as little as 2 hours!
The main fast charging technology powering the E EGOWAY 27000mAh 100W power bank is Power Delivery, which allows you to boost an iPhone 11 Pro's battery by 50 percent in 30 minutes. You can also fully charge a MacBook 2016 in 4.5 hours.
In terms of ports, it features 4 different options:
Micro USB input
USB type C in/out with Power Delivery
USB type A 18W
USB type A 12W
With the 3 output ports available, you can charge multiple devices at the same time.
Portability
The E EGOWAY power bank measures 7.3 x 3.5 x 1.2 inches, which is 2 inches longer than the iPhone X, and longer and deeper, too. Compared to other power banks with a similar capacity, such as the Sdoutech charger, it's 1 inch longer, which might make it inconvenient to store in your pocket while you're boosting your smartphone.
At 1.3 pounds it's not the lightest power bank we have reviewed. As a result, this weight can make it inconvenient for holding the device while charging, such as at a festival or while walking and charging your phone. Fortunately, the size dimensions allow you to keep it in your backpack.
Look and Feel
The E EGOWAY 27000mAh 100W power bank is finished in a striking black with a slight sheen, though, it's not available in other colors or designs. The E EGOWAY name is showcased in the middle in a contrasting white font.
The curved edges make it feel softer in your hand and prevent the device from bashing into other belongings in your bag.
The E EGOWAY is designed with a scratch-resistant metal shell, as opposed to plastic, allowing it to remain durable, so you don't have to worry about placing it on hard surfaces. This material also feels smooth to touch.
On the side of the unit are LED indicators that monitor the power status—a handy feature for seeing how much charge remains. These indicators are small, which adds elegance and can make it useful if you use the power bank even at night. The percentage for each indicator is 20%, thus you won't be notified of a low battery at the last minute, which is extremely helpful. Each stage will glow a brighter blue than the other lights, though, the contrast isn't too much and we'd prefer if the remaining lights were dimmed more.
Durability and Build Quality
This device comes with many safety features that make it secure for everyone to use:
Short-circuit protection.

Overheat protection.

Over-charging protection.

Over-current protection.
There aren't any further features such as being shockproof and waterproof, but the main focus is clearly on the device's quick-charging technology. Plus, the durable metal shell makes it less prone to breaking if you drop it on the floor.

Pros
It features Power Delivery
Sturdy build with metal case

Cons
Final Thoughts
The E EGOWAY 100W power bank is powerful and charges your devices quickly and safely. It sticks to its promises and will protect your smartphone during charging, too. Its larger than average weight can be off-putting for those who want a lighter unit to store in their purse or hold on the go while using. Though, its versatility for a range of devices makes it a winner in our eyes.
Or check out these similar power banks:
Excitrus 9600mAh 45W Power Bank
The Excitrus 9600mAh 45W Power Bank is an exciting device with packs the latest charging technologies (PD 2.0 and QC 3.0) in a very compact package.
Read More
Sdoutech 20000mAh with Dash/VOOC Charging
The Sdoutech 20000mAh Dash Charge/VOOC Power Bank is sleek, slim, and powerful. With 5 different ports, it's one of the most versatile power banks you can buy.
Read More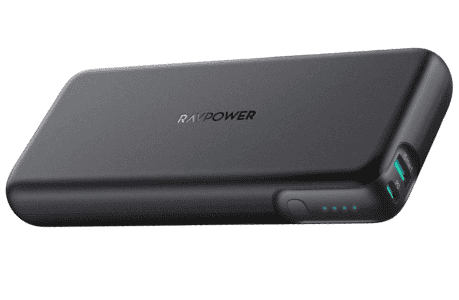 RAVPower 20000mAh PD 60W
Compact, portable, well-built, and equipped with PD and QC, the RAVPower 20000mAh is the perfect companion to charge your devices.
Read More